Sir Jack Brabham: Tributes paid to 'inspirational' world champion
Last updated on .From the section Formula 1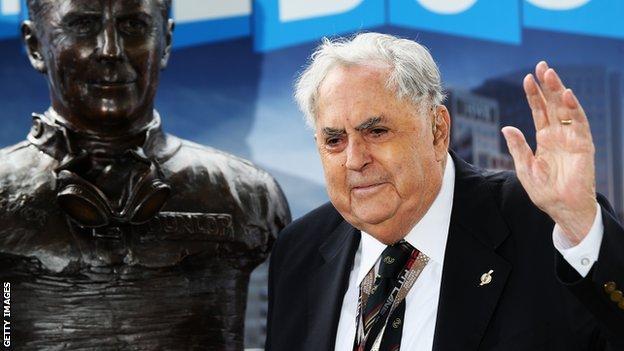 Sir Stirling Moss and Ron Dennis have led the tributes to Sir Jack Brabham, who died on Monday aged 88.
The Australian won three Formula 1 world titles and is the only man to have won the championship driving a car bearing his name.
Moss, a rival of Brabham's during their racing days, called him a "wonderful guy" and a "terrific driver".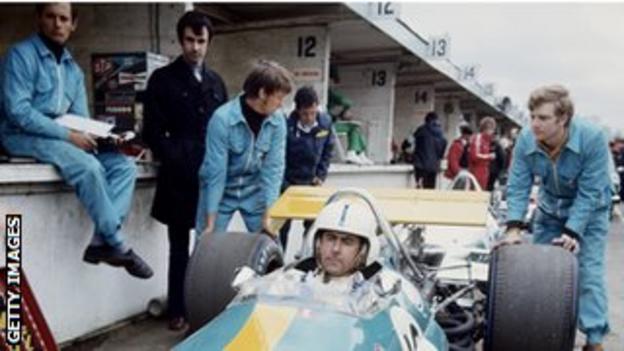 McLaren boss Dennis said the use of the word "legend" to describe Brabham was "entirely justified".
Brabham became the first Australian to win the Formula 1 title, pushing his car uphill to the finishing line to secure that success after running out of fuel on the final lap of the 1959 US Grand Prix at Sebring.
He retained the title the following year and added a third six years later, guiding a Brabham car he designed and built along with compatriot Ron Tauranac to the crown at the age of 40.
The duo were responsible for the design and construction of more than 500 Brabham racing cars at the team's Surrey base in the 1960s.
Moss, regarded as one of F1's greatest drivers, told BBC Radio 5 live: "My career would have been far less if it had not been for him because every race we would fight against each other.
"He was a terrific driver, a really hard guy to race against. He was a man I enjoyed being with as well as driving with and against."
Alan Jones, the second Australian to win the Formula 1 title, said Brabham was an inspiration for young drivers in his country.
Former F1 driver Mark Webber said his countryman had played a huge part in his career.
"He was a trailblazer; he took the hardest road and made it easier for the rest of us to follow," he added Webber in a statement.
"When I think of Jack, I think of a tenacious individual; an absolute grafter; he did it his own way and made it stick."
A former mechanic in the Royal Australian Air Force, Brabham began racing midget cars on cinder tracks in his homeland in 1948 before moving to Britain to pursue a Formula 1 career in the mid-1950s.
"He was always the toughest of tough competitors, tough sometimes to the point at which I'd wonder how could such a nice bloke out of a car grow such horns and a tail inside one," Moss recalled in the foreword to The Jack Brabham Story in 2004.
"But the greater side of Jack's character was always his natural sportsmanship."
Brabham raced in 126 grands prix, earning 13 pole positions and winning 14 races.
His first came in Monaco in 1959 and his last - 11 years later in his final season at the age of 43 - when he won the 1970 South African Grand Prix.
After his retirement, Brabham sold his his team to current Formula 1 boss Bernie Ecclestone and returned to Australia. He was knighted for services to motor sport in 1979.
His three sons - Geoff, Gary, and David - later forged careers in motorsport, the latter racing for the Brabham team two years before its Formula 1 demise in 1992.
"It's sad news but my father had a fantastic life," David told BBC Radio 5 live. "He meant a great deal to a lot of people."
Dennis worked for the Cooper and Brabham teams.
He added: "Even as a callow youth, I could recognise greatness when I saw it and I'll always regard it as an honour and a privilege to have worked for Sir Jack. I learned a lot from him."
The Australian Grand Prix said in a statement that Brabham would "forever be remembered as one of motorsport's most influential figure".