Jack Brabham: From midget cars to Formula 1 pioneer

By Andrew Benson
Chief F1 writer
Last updated on .From the section Formula 1129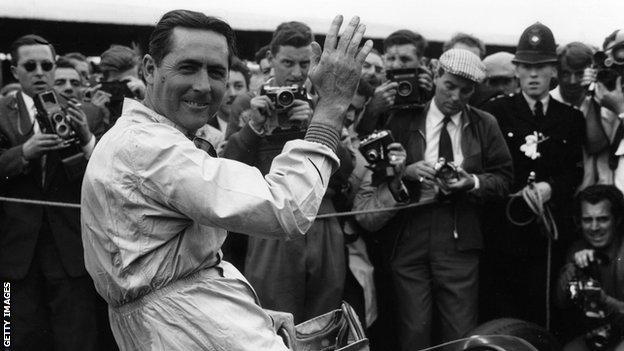 Sir Jack Brabham, who has died aged 88, was a member of the elite club of three-time Formula 1 world champions and a motorsport pioneer.
Although already 40 by that stage, Brabham continued to race his own cars in F1 for another four years, before returning to his native Australia to concentrate on running a farm and other business interests, including a motorsport engine-builder company.
Jack Brabham's career coincided with those of other legends, such as Stirling Moss, Jim Clark and Jackie Stewart.
Brabham was never considered to have the natural talent of those rivals, but he earned a reputation as a tough, uncompromising competitor and his career success surpassed all his contemporaries bar Stewart and Juan Manuel Fangio, with whom Brabham only briefly overlapped.
But Brabham the racing driver has been undervalued. No-one wins three world titles against drivers like that - in addition to the likes of John Surtees, Dan Gurney, Tony Brooks and others - without being pretty special themselves.
Nevertheless, it is true to say that, for all three of his titles, Brabham benefited from a car advantage of one kind or another, whether it was down to technology, performance, reliability or a combination of all three.
That seems only fitting for a man who attended technical college and brought a keen mechanical understanding first to his racing and then to establishing a successful team of his own.
Brabham's engineering expertise also kept him away from the front line in the second World War. Although he wanted to become a pilot, he was made a flight mechanic when he enlisted in the Australian air force in May 1944.
The war over, Brabham started a machining and repair business and began racing in his spare time.
He honed his craft on Australia's dirt ovals racing a midget car, a grounding more typical of an IndyCar racer in the USA than a future F1 world champion.
But the better he became, the more his interest in road racing grew.
After two successful years racing in Australia and New Zealand in 1953-54, he moved to Europe.
Within a few months of arriving, he had made his F1 world championship debut, at Silverstone in the 1955 British Grand Prix, driving a Cooper.
It was the start of a long and successful relationship, which was to culminate in his first two world titles.
Cooper were ahead of their time, although few yet realised it. The team built cars with their engines behind the driver - when all other F1 cars at that time had the engine at the front.
A mid-engined car has better stability, handling and overall performance, but the revolutionary possibilities were not initially realised by the wider world as Cooper struggled with under-powered engines.

But in 1959, Cooper finally got the same size 2.5-litre engines used by his rivals, and the effect was instant. Brabham won the opening race of the season in Monaco in the new Cooper-Climax. A series of podium places, and another win at the British GP at Aintree put him in the lead of the championship.
He owed the position partly to the unreliability of Moss's Lotus - that also gave him a helping hand in securing the title at the final race at Sebring, Florida.
Moss established an early lead from pole position but retired with a broken gearbox, handing the initiative to Brabham, who had been tracking his rival a short distance behind.
Brabham led almost to the finish, before running out of fuel on the last lap. He pushed the car across the line to take fourth place and his first world title. It signalled the end of the front-engined F1 car.
After a second F1 title in a dominant 1960 season, Brabham and Cooper changed racing in America, too.
Brabham raced a Cooper in the famous Indianapolis 500 in 1961.
His car had only slightly more than half the power of the American front-engined roadsters, but he ran as high as third before finishing ninth, thereby starting the mid-engined revolution in the US as well.
Brabham left Cooper for 1962 to drive for his own nascent team and, now into his late 30s, began to consider retiring from driving to run it.
He gave the lead-driver role to Gurney, who took the team's first win in France in 1964. When the American left at the end of 1965, Brabham decided he had to carry on.
For 1966, he persuaded engine company Repco to build his team an engine for the new three-litre formula.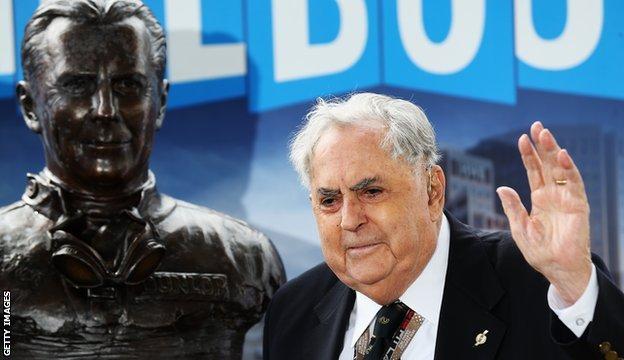 It was a V8, and as such ran against the trend for engines of higher numbers of cylinders such as Ferrari's V12. But it was along the lines on which Cosworth were working for what was to become the defining DFV, introduced the following year.
The Repco was not the most powerful engine, but it helped give a good power-to-weight ratio in a car that had effective handling and strong tyres.
Meanwhile, Brabham's chief rivals were all hamstrung in various ways - Ferrari parted company with their number one driver, John Surtees, during the season and Clark was hampered by the engines in his Lotus.
Brabham took his first win in the French Grand Prix, the third race of the season, and followed up with three more on the trot to wrap up a third title a few months after his 40th birthday.
Two more wins followed in 1967, when his team won their second consecutive title with New Zealander Denny Hulme.
After resolving to retire at the end of 1970, Brabham won the first race of that season, too, going on to another strong year despite being in his 45th year.
Following his retirement and return to Australia, his team continued in F1, being sold in 1972 to Bernie Ecclestone, who would lead it to further world titles in 1981 and 1983 with the Brazilian Nelson Piquet before selling it to concentrate on running the commercial aspects of the sport.
The team, now unrecognisable from their glory days under its founder and Ecclestone, collapsed with financial problems at the end of 1992.
Brabham was the first post-war racing driver to be knighted and continued to drive in selected historic events until health stopped him in the late 2000s.
He is survived by his wife, Betty, and his three sons, Geoff, Gary and David, who all became racing drivers.