Monaco GP: British drivers most successful in Monte Carlo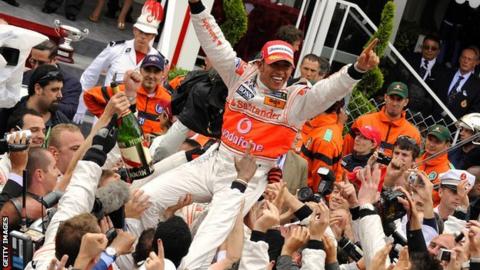 Monaco Grand Prix, day one
Thursday, May 22:

First practice (08:55-10:55 BST): BBC Radio 5 live sports extra and live text commentary on the BBC Sport website. Second practice (12:55-14:35): Live text commentary on the BBC Sport website.
More British drivers have won the Monaco Grand Prix than any other nationality, with 15 victories in the event's 60-year history.
Mercedes' Lewis Hamilton, who is targeting his fifth win in a row and second in Monaco this weekend, is one of six Brits to have won in Monaco.
Graham Hill is the most successful British driver with five wins.
Sir Jackie Stewart and Sir Stirling Moss have won three apiece, David Coulthard two and Jenson Button one.
Most wins by a British driver at Monaco
Wins
Driver
5
HILL G
3
STEWART JY
3
MOSS S
2
COULTHARD D
1
HAMILTON L
1
BUTTON J
"Monaco is just incredible to drive and any driver will tell you that's the race they want to win," said Hamilton.
"So many great names become legends around this circuit. It's an honour to fight for your place amongst them and a real test of your skills behind the wheel."
The circuit has hosted 60 Formula 1 races and has remained largely unchanged since its first official event in 1950.
Most wins by a nationality at Monaco
Country
Drivers to win
Total wins
Win %
GB
6
15
25
FRA
5
9
15
GER
3
7
11.6
BRA
1
6
10
ARG
2
3
5
AUS
2
3
5
AUT
2
3
5
FIN
3
3
5
ITA
2
2
3.3
NZ
2
2
3.3
SA
1
2
3.3
SPA
1
2
3.3
CAN
1
1
1.7
COL
1
1
1.7
SWE
1
1
1.7
Of those races, 15 have been won by British drivers, more than any other nationality. Britain also leads the way in terms of total wins in the history of the sport, with 227 wins from 902 races.
Despite this, 1992 world champion Nigel Mansell, who won more races than any other British driver at 31, never managed to win at Monaco.
In 12 appearances, Mansell retired seven times, finished second twice, fourth twice and seventh.
Likewise, world champions Damon Hill and James Hunt did not manage to win Monaco either.
The next most successful nationality is France with nine wins, the total boosted courtesy of four-time world champion Alain Prost's four victories.
Germany follows in third with seven victories, five of which were contributed by Michael Schumacher, with Brazil fourth following Ayrton Senna's all-time record of six wins.
The last British winner came in 2009, when Button secured his one and only Monaco triumph in the Brawn before going on to win the title.
The year previously, Hamilton overcame a puncture early in the race, held in tricky wet conditions, to take victory before also going on to clinch the title.
Most wins at Monaco
Wins
Driver
Nationality
6
SENNA A
BRZ
5
HILL G
GB
5
SCHUMACHER M
GER
4
PROST A
FRA
3
STEWART JY
GB
3
MOSS S
GB
2
ALONSO F
SPA
2
WEBBER M
AUS
2
SCHECKTER J
SA
2
COULTHARD D
GB
2
LAUDA N
AUT
2
TRINTIGNANT M
FRA
2
FANGIO J-M
ARG
1
RINDT J
AUT
1
BELTOISE J-P
FRA
1
McLAREN B
NZ
1
HAMILTON L
GB
1
VETTEL S
GER
1
HULME D
NZ
1
PETERSON R
SWE
1
BUTTON J
GB
1
BRABHAM J
AUS
1
RAIKKONEN K
FIN
1
MONTOYA J-P
COL
1
DEPAILLER P
FRA
1
PATRESE R
ITA
1
REUTEMANN C
ARG
1
ROSBERG N
GER
1
HAKKINEN M
FIN
1
ROSBERG K
FIN
1
TRULLI J
ITA
1
PANIS O
FRA
1
VILLENEUVE G
CAN