Lewis Hamilton wants challenge from rivals Red Bull & Ferrari

By Andrew Benson
Chief F1 writer in Monaco
Last updated on .From the section Formula 1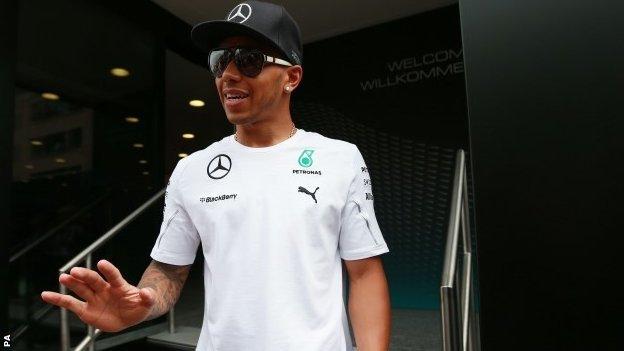 Lewis Hamilton says he hopes Red Bull and Ferrari can mount a challenge to his Mercedes team at Monaco.
Hamilton and team-mate Nico Rosberg have dominated all five races so far, but Hamilton, who has won four of them, says he likes to fight for wins.
"I'm racing my team-mate, so I do have competition and I'm grateful for that," said the championship leader.
"I'm hoping we have a closer race. It would be cool if there were Ferraris and Red Bulls in the mix."
Some drivers believe the unique characteristics of the Monaco street circuit give the likes of Red Bull and Ferrari their best chance so far this season.
The Mercedes engine has more power than the Ferrari or the Renault used by Red Bull, but the lack of straights in the principality mean engine performance is less influential this weekend.
Nevertheless, Red Bull's Sebastian Vettel thinks the Mercedes duo are the "ones to beat".
"Maybe we can be a bit closer," said the four-time champion. "The target is to have a very good qualifying because that's half the job done on Saturday."
Ferrari's Fernando Alonso agrees with Vettel that Mercedes are "still the big favourites" but said the Monaco race was "a little bit more open for some other teams".
Alonso caused a stir when he was asked for his reaction to comments from Dieter Zetsche, the chairman of Mercedes-Benz Cars, who said on Tuesday that the Spaniard was "perhaps the best F1 driver".
Talking to staff at a Mercedes car factory in the Spanish city of Vitoria on Tuesday, Zetsche said Alonso deserved credit for always featuring prominently in races despite being "in a car that is not very competitive".
Alonso responded: "That's motivating for me. It's good to receive good comments but it is funny when you see the opposite in your closest friends."
Ferrari said Alonso was referring to critical articles that have appeared in Italian media in recent days.
There has been no public criticism of the double world champion from Ferrari this season, although he was publicly admonished by Ferrari president Luca Di Montezemolo last summer after saying he would like "someone else's car" for his birthday.
Mercedes played down the importance of Zetsche's comments, pointing out that he was at the factory with King Juan Carlos of Spain and claiming he was merely being polite to his hosts.