Formula 1: Bosses 'ask Prost for advice' on Mercedes pair

By Andrew Benson
Chief F1 writer in Monaco
Last updated on .From the section Formula 1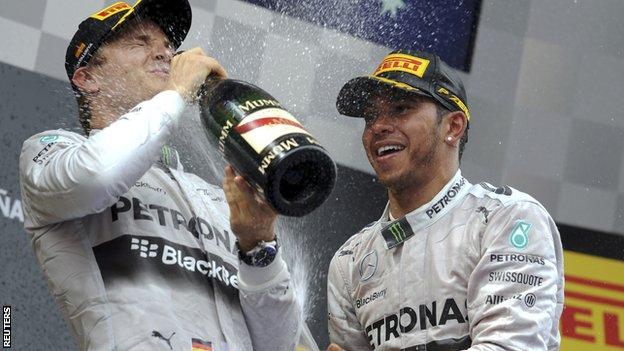 It will be difficult to keep the relationship between Lewis Hamilton and Nico Rosberg harmonious, says four-time Formula 1 champion Alain Prost.
The 59-year-old said Mercedes bosses had asked him for advice on Hamilton and Rosberg, based on his experience with Ayrton Senna in 1988-89.
Prost famously fell out with McLaren team-mate Senna when they were battling for the title.
"It is difficult to stay as friends," Prost said.
"In '88 with Ayrton we had quite a good relationship. So it's possible.
"But if you have only a small problem, especially inside the team, then it could start very quickly."
"It is 20 years later and they are all talking about that; they are very aware of it," Prost added.
"I still have some people asking me 'what would you do'? It is very interesting because they ask me if I was in their position what would be my recommendation. I don't want to tell you what I said."
Prost and Senna set a record when they won 15 of the 16 races between them in 1988.
Mercedes' domination has been so complete this year that many believe Hamilton and Rosberg could potentially set a new mark by winning all the races.
Hamilton has won four of the five races so far this season and Rosberg the other, in Australia when Hamilton retired. The Englishman leads the German by three points in the championship ahead of Sunday's Monaco Grand Prix. Their closest rival, Fernando Alonso of Ferrari, is already 51 points behind.
Mercedes results in 2014

Lewis Hamilton

Nico Rosberg

Race
Finish
Race
Finish

Australia

Retired

Australia

1st

Malaysia

1st

Malaysia

2nd

Bahrain

1st

Bahrain

2nd

China

1st

China

2nd

Spain

1st

Spain

2nd
Prost added: "It is very rare you have a full friendship until the end, especially if you are really fighting very hard. They are fighting very closely but that can still be possible.
"It looks like the team know how to approach it but we will see. It depends also on the characters of the drivers."
Asked which of the two drivers he felt would win in the end, Prost said: "I don't want to judge, they are very close at the moment, it is going to be a long championship."