Hamilton and Rosberg: On a collision course?

By Andrew Benson
Chief F1 writer
Last updated on .From the section Formula 1719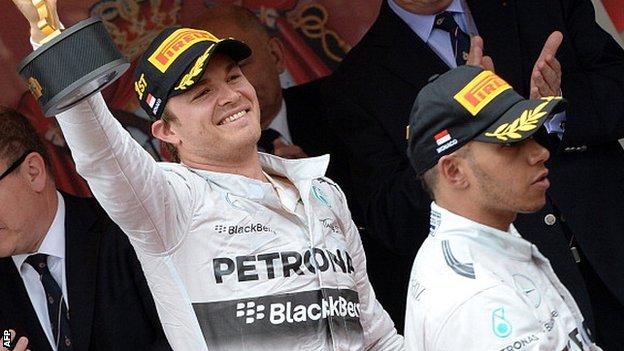 It was the weekend when the gloves well and truly came off.
Nico Rosberg beat his Mercedes team-mate Lewis Hamilton to win the Monaco Grand Prix for the second year in a row on Sunday, but what really mattered was what had happened in qualifying the previous day.
Rosberg had run wide on his final lap on Saturday afternoon. Behind on the track, Hamilton had to back off for the caution flags waved for Rosberg's incident and his hopes of beating the German's time were gone.
Pole was secured - by fair means or foul, and Hamilton felt it was foul - and Monaco being what it is, Hamilton knew that his hopes of victory were effectively gone, too, barring a poor start by Rosberg. That didn't happen and sure enough, 78 incident-filled laps later, Hamilton followed Rosberg home.
You could cut the atmosphere with a knife in the post-race news conference.
Rosberg did his best to answer questions about his victory without exacerbating the situation, and Hamilton did his best to say nothing at all.
Even so, more interesting details about their increasingly fractious relationship came to light.
Hamilton was confronted with the knowledge, which emerged at the weekend, that on his way to victory in Spain two weeks before he had switched to an engine 'boost' mode the drivers had been forbidden from using.
He responded by saying that it did not affect the outcome of the race, and that anyway Rosberg had already done the same thing in the course of their titanic battle for victory in Bahrain last month.
Asked why he had skipped the post-qualifying engineering debrief with Rosberg, Hamilton replied: "I went to the toilet and Nico did his big debrief before I got there, which is unusual. Usually we do it when we're both in the same room but fortunately the engineers had written down what Nico had said so I read it."
Mercedes, it has to be said, are handling this immensely awkward situation about as well as it is possible to do so.
The team's bosses are not trying to hide the problems. Non-executive chairman Niki Lauda simply says they are "normal" between two drivers competing for the title in the same team, and that his job is to "stop it getting out of hand".
Before the race, co-team boss Toto Wolff said: "I guess they're not happy to see each other, but if your team-mate is your main competitor for world championship he's not going to be your best friend."
And Lauda admitted: "This thing we have with Lewis accusing the other of doing something stupid; I tried to fix it this morning with Lewis but I couldn't."
Did Rosberg do it deliberately? He said it was a simple error caused by pushing too hard on his final lap, which he said was brought about because his first lap, which beat Hamilton by 0.059 seconds, had been so good that he could afford to take risks with his second.
Lauda and Wolff said they believed him, and more importantly the race stewards apparently did too, their verdict being there was "no evidence of an offence".
But Hamilton, Lauda admitted, did not. And nor, it has to be said, did many people within the paddock, even if some said they believed Rosberg was not that kind of guy.
At least four drivers from leading teams said in private that they felt it was obvious from the behaviour of the car, and Rosberg's hand movements on the steering wheel, that he had done it deliberately. Two ex-F1 drivers agreed.
If so, he certainly did a better job of disguising it than did Michael Schumacher, when he deliberately parked his Ferrari at Rascasse in 2006 to prevent title rival Fernando Alonso from taking pole.
And the truth is, as Alonso and his Ferrari team-mate Kimi Raikkonen said, only Rosberg himself truly knows.
The point, though, is not whether Rosberg's actions were planned, but whether Hamilton believes they were. And, according to Lauda, he does.
However the relationship is smoothed over in the coming days, whatever Lauda says to Hamilton to calm him down, that thought will be hard to budge from Hamilton's mind.
It will fester for the rest of the season, probably the rest of their careers. As Hamilton said: "This weekend went a direction I wasn't expecting but it's a good experience. I'm aware of it now and I'll make sure I'm aware of it for the future."
Where do they go from here?
Lauda admitted that he could do nothing about the two drivers' relationship continuing to be tense in the extreme. He even admitted it was possible they could end up crashing together sooner or later.
The Austrian triple world champion is famously brusque and to the point, and he provided a typically honest assessment of how the battle between the two is poised.
"One thing is clear," he said. "Lewis from my point of view has a 0.1-0.2secs advantage on Nico because he can get the laps in qualifying in order. Nico is my type - working hard, with the mechanics, with the engineers, with the tyres, how many laps, forwards and backwards.
"So we have one natural talent, very emotional, and we have another guy who is doing the same job in another way. So we are in a very comfortable situation to have two different drivers but in the end they do the same speed, or the same result. So for me it is a very good situation."
As for any dirty tricks that may or may not be employed, Lauda said: "You have to be a bastard if you want to win in F1 anyway. No question. And you cannot win being a nice guy.
"Tell me one nice guy out there. Shall we start with Alonso? This is a breed of people who know how to focus 110% and use every trick to blow the other one off, and in the same team it's harder.
"If you get blown off by another car, it's easier. But here it is very tense and therefore everything is normal."