Ferrari 'need to allow engineers more creativity for success'

By Andrew Benson
Chief F1 writer in Monaco
Last updated on .From the section Formula 1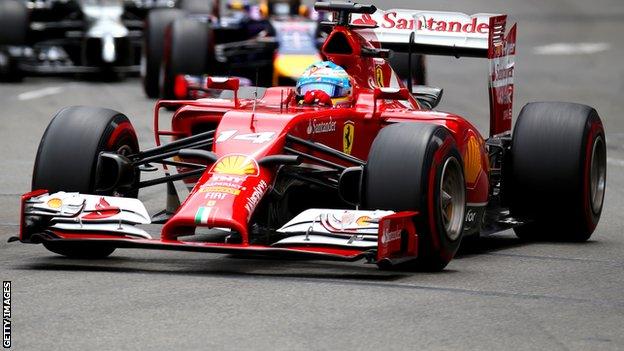 Ferrari have the resources to succeed in Formula 1 but have been hampered by the way the team has been run in recent years, their design boss says.
James Allison, who joined in September, said Ferrari's designers needed to be given the space to be more creative.
"There is a wealth of talent at Ferrari, the experience and quality of the people on the technical side is a match for any team," said Allison.
He added that he expected progress from the team in the next few races.
"It is a question of giving them the encouragement to actually go off and do more unusual things and then have the time to look at them and know that if they fail it's OK because there's still time to put a back-up plan in place and for that to work," Allison said.
"Creativity and originality will only come if you set out to allow the engineers in your organisation the space and the time to do that.
"If you force them to operate with their back against the wall, up against deadlines that are very tight, then there is no time for them to think about how they might approach something differently."
Ferrari have suffered a tumultuous season so far, with an uncompetitive car and only one podium finish by Fernando Alonso in the first six races.
Their poor form led to the resignation of team principal Stefano Domenicali last month.
President Luca Di Montezemolo has said the team are to be restructured internally to allow the design office to work more efficiently.
Di Montezemolo and new team principal Marco Mattiacci have made it clear they will recruit more big names if they believe they will be of benefit.
Allison joined from Lotus in September, so had limited input into this year's car. He worked at Ferrari under former design bosses Ross Brawn and Rory Byrne through their dominant era in the early 2000s and won two titles with Alonso at Renault, which is now Lotus.
Allison said he believed Ferrari would make progress over the next few races, starting with a significant step in engine performance for the next race in Canada.
But he said: "We all - the big teams that is - have similar-sized facilities. It is very difficult to achieve a rate of improvement that is substantially different to the people we are fighting with."
Ferrari have not produced a fully competitive car since 2008, although they took the drivers' championship to the final race of the season in both 2010 and 2012 with Alonso eventually losing out to Sebastian Vettel in the superior Red Bull.