Formula 1: Red Bull raced with Mercedes - Christian Horner

By Andrew Benson
Chief F1 writer
Last updated on .From the section Formula 1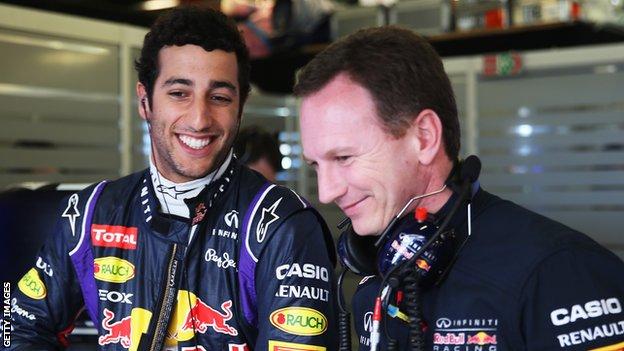 Red Bull say their hopes of challenging Mercedes this season have been boosted by a strong performance in Monaco.
"It is the first time we have raced Mercedes this year," Red Bull team principal Christian Horner said.
"Particularly in the last third of the race, Dan was the quickest car on the track so we can take a lot of confidence from that."
However, Horner admitted the next race - in Canada on 6-8 June - would be difficult for Red Bull as the long straights would emphasise their Renault engine's lack of performance compared to the Mercedes.
"You go from one extreme to the other," Horner said. "Monaco is all about handling characteristics, the next event is straight-line performance, so it is going to be very interesting to see how we fare against the Mercedes-powered teams in Montreal."
He added: "We are very much in Renault's hands. We are making progress. They are making progress. Total on the fuel side have been making progress.
"But really we are where we should have been in January, so there is still a long way and Mercedes are obviously not standing still.
"But we are only at race six; there is still a long way to go in this championship.
"We are clearly the second quickest team at the moment and we are nibbling into the gap of Mercedes, so it is nothing short of commitment, hard work and clever design that is going to close that gap."