Fernando Alonso: Ferrari driver still hungry for third F1 championship

By Andrew Benson
Chief F1 writer
Last updated on .From the section Formula 1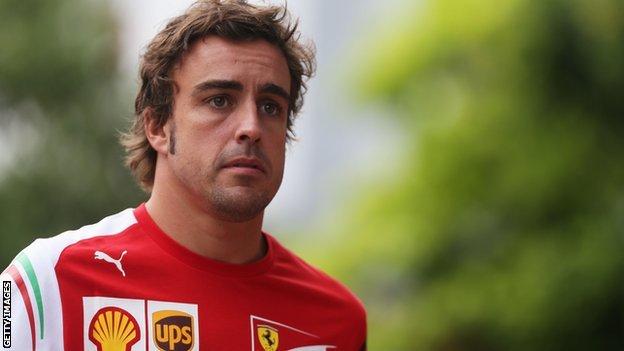 Ferrari's Fernando Alonso says he does not want to retire from Formula 1 until he has won a third world title.
He was second to Red Bull's Sebastian Vettel in three of the past four seasons but has little hope of stopping Mercedes this year.
Alonso, 32, told BBC Sport: "We are still hungry for success, waiting for our opportunity to become champion.
"This is the main goal and you don't think of retiring until you get some satisfaction."
The Spaniard, who won back-to-back titles with Renault in 2005 and 2006, believes winning a third championship is an important landmark in defining a driver's legacy.
"It is something I am working for and hoping for," he said ahead of Sunday's Canadian Grand Prix.
"It is not that I'm not happy with two but the third puts you in a list of very important names."
A third title would bring Alonso level with Ayrton Senna, his boyhood hero, among others.
Asked how long he can continue at the highest level, Alonso said: "I think I can carry on long enough to win and to be competitive for some good years. I don't know how many - three, five, seven. I don't think it should be any problem."
He added it would depend on how long he continued to enjoy the sport, but said he was not a fan of certain aspects of F1 this year.
"The new F1 cars are heavier, slower, difficult to understand what the car is doing, you cannot push all through the race," he said. "You push two laps and then you save tyres until the next stop. Sometimes you don't even push. This is not something racing drivers like to do.
"It is not a problem of how long you can keep this level, it's a problem of how much fun I will have driving those cars in the future."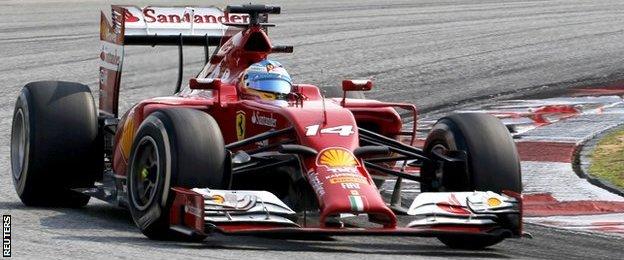 Alonso and Ferrari missed out on the title in both 2010 and 2012, having taken the battle to the last race despite inferior equipment to Vettel.
In 2014, Ferrari have produced an uncompetitive car, which has achieved just one podium finish at China in six races this season.
But Alonso denied he was frustrated with the team's lack of performance.
"I'm just hungry to win," he said. "At the moment, we are so far away. That it is not frustration, it is just we need to do better."
Alonso said claims he and Ferrari president Luca Di Montezemolo had a difficult relationship were inaccurate.
"We talk very, very often, once a week," he added. "When it is a race weekend, we talk three times. Sometimes I talk more with him than with my family. There are zero problems."
Alonso, who is contracted to Ferrari until the end of 2016, insisted he still had faith that the team could produce the car he needs to win the title.
"I must, and I need to, believe," he said. "There is the potential there. We have all the ingredients and we just need to put them all together.
"I am very proud to be part of this team and I know that winning with Ferrari will mean more than winning with another team."
Canadian Grand Prix coverage details
Watch the interview with Fernando Alonso in the build-up to the Canadian Grand Prix, on BBC One on Sunday from 18:20 BST.