Lewis Hamilton: Nico Rosberg rivalry has been 'overblown'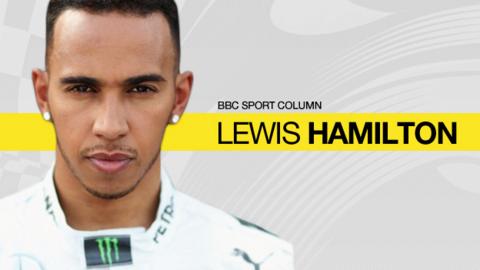 I love it when our sport catches the attention of the wider public and gets people talking.
Not just the regular racing fans who study every detail and know all the back stories. Or the guys who collect every bit of trivia about Formula 1 from back in the day. I love those diehards for their dedication and their belief in us all as racers.
But I like it the most when someone looks at F1 for the first time and gets interested by what they see.
There's no two ways about it. The Monte Carlo Grand Prix last week was one of those moments that seemed to grab the attention of the wider sports community.
Maybe it was the glamour of the track in Monaco and the amazing history of the place. The boats and the blue skies make it look like paradise.
Or it might have been the build up and the idea that people were looking at something unscripted and real between me and Nico Rosberg.
By the time we were on the grid I knew we were involved in a mother of a situation, and that for the first time in a while, I was on the back foot.
Overblown rivalry
I've got to say that the whole rivalry thing with Nico has been overblown. I tweeted last week to say that we're friends and that's the way it is, and the way it always has been.
In this sport you do what you need to do to win the race. Nico was on pole and I had mission impossible in trying to get round him but everyone of those millions of people watching around the world knew that I was up for the fight. And I gave it a good shot.
Of course, all the best F1 drivers don't like losing. That's a fact. We're all here to win and people know I can't lie and pretend to be happy when I've come up short. I want to win, pure and simple.
In these moments, in the heat and noise of the battle, you can forget the bigger picture and with me I always feel better after I've slept on it. The next morning I get up and everything is still there outside my window.
The immediate emotions start to subside, a sense of rationality taps on my shoulder and I realise that it wasn't the end of the world as I thought it had been. I still had Canada and the rest of the season to look forward to!
I've had the most positive week since the last race. I've just got on with doing what I thought was right. I looked back and studied what had happened and then I took the initiative and called Nico and we buried it. Now bring on the next race.
Incredible start to season
Friendship is actually really important to me. I have a few friends away from the track, regular guys who I've known for years and who keep me grounded and sane.
It's at times like these, when things are moving fast and when you're fired up and emotional that you need your friends. It's a really good feeling to know that they're always there for you.
The team is positive about the way the season is shaping up. We've won every race so far and had five one-two finishes which is pretty incredible and that reflects the calibre of the people we have around us both in Brackley and with my own management team.
This move to Mercedes was part of a very carefully thought-out plan and so for me personally to have had four wins and a second place so far is pretty amazing. I count my blessings every single day that I have this great opportunity this season in a great team with a great car.
Canadian support
I'm really glad to be in Canada for this latest race. It's a weekend I've always enjoyed. I had my first win in F1 here, and I just generally like coming out to this side of the world. I like almost everything about it.
I have great support in Canada. The connection with the fans is brilliant, and the whole city of Montreal feels like it's part of the race. The track is just over the bridge from the city, and everyone gets excited about it.
The crowd are great - they make the event. And I like the set-up of the circuit. It's a fantastic track to drive and it's not that big. It feels very intimate.
The circuit here seems to suit my style. I just seem to gel with the track. There's a lot of heavy braking, which has generally been a real strength of mine, and I hope I can have another good weekend this year.