Formula 1 plan to reduce Friday practices to one session

By Andrew Benson
Chief F1 writer
Last updated on .From the section Formula 1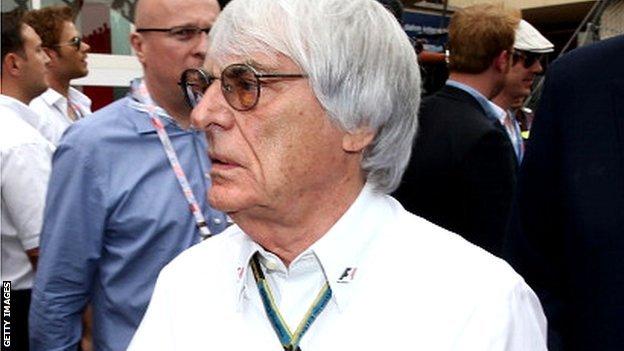 Formula 1 is poised to reduce the number of practice sessions at grands prix next year.
Bosses are planning to run one session on Fridays rather than the current two, and hold it late in the afternoon.
The idea is primarily that of F1 boss Bernie Ecclestone, who believes a later practice session would enable more people to attend after work.
It is being presented as a cost-cutting move as part of a wider programme to help struggling teams.
The plan would not only save on running costs - it costs about 1,000 euros a lap to run an F1 engine - but also reduce hotel bills as personnel could arrive at races a day later.
It would also help teams and engine companies to comply with a new rule next year that will reduce the maximum number of engines that can be used in a season from five to four.
The decision has been approved by the rule-making strategy group, which comprises six leading teams - Ferrari, Red Bull, Mercedes, McLaren, Williams and Lotus - as well as Ecclestone and Jean Todt, president of governing body the FIA.
It will be adopted if approved by the world motorsport council of governing body the FIA. This is usually a rubber-stamping exercise if the strategy group agrees on an idea.
Currently, there are two 90-minute practice sessions on Fridays, with one usually at 10:00-11:30 local time and the other at 14:00-15:30, although times vary at some races depending on the wider weekend timetable.
Prior to that there is a set-up day on Thursdays, on which media interviews are held as part of the build-up to the weekend. Many personnel arrive on the Wednesday ahead of a Sunday race to ensure they are ready to work first thing on Thursday morning.
Holding just one Friday practice session in the later afternoon at races would mean that many personnel could arrive a day later than they do now.
Sources say the idea is to abandon Thursdays altogether and run the preview interviews on Friday mornings before practice.
The proposal is one of a number of planned amendments to the sporting regulations aimed at keeping costs down.
Plans for a budget cap were abandoned earlier this year, although the smaller teams outside the strategy group are still keen for it to go ahead and have threatened to take F1 to the European Commision to sort the problem out.
Several of the smaller teams are struggling to find the money to run competitively.
Force India technical director Andrew Green said he was opposed to the idea because it would stop the practice of smaller teams attracting third drivers who bring sponsorship in return for mileage in first practice, as Force India have in the past and Sauber and Caterham are doing this season.
"If we lose that, it's going to be a relatively severe blow, which in turn will have an impact on our technical ability, so in that respect I don't think it's cost-saving."
Mercedes executive director [technical] Paddy Lowe said the "rationale is to reduce the workload on the cars significantly through the weekend and also to reduce the consumption of parts, particularly power units, which is one of the major costs for all the teams."
He added: "It's still to be finalised, by the way, so there's a whole month in order to determine the small print ands to finally approve it. If the teams are feeling it isn't going to save money, then of course it could be reviewed."