Hamilton and Rosberg must settle any disputes say Mercedes

By Andrew Benson
Chief F1 writer
Last updated on .From the section Formula 1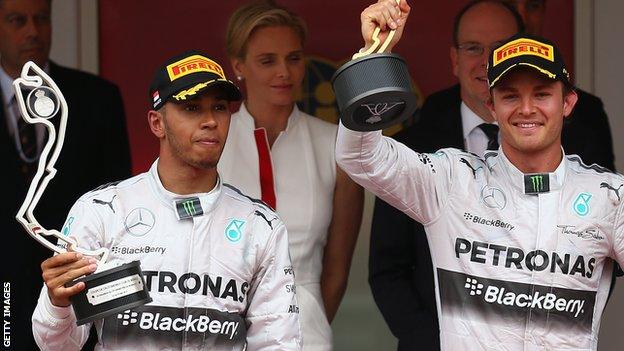 Mercedes say they are not going to get involved in any fall-out between their drivers Lewis Hamilton and Nico Rosberg this season.
"I'm not going to spend any time managing the relationships between the drivers in a direct manner," Lowe said.
"That's something they really need to work out between themselves. It's not a school playground."
The Mercedes team-mates had an argument in Monaco, where Hamilton believed Rosberg deliberately left the track in qualifying to deny him the chance of claiming pole position for the race, which the German went on to win.
Hamilton has since phoned Rosberg to resolve the issue ahead of this weekend's Canadian Grand Prix.
Lowe runs the technical and sporting sides of the Mercedes F1 team, while Mercedes sports boss Toto Wolff looks after the business and political aspects.
Talking to BBC Radio 5 live, Lowe said: "The great thing is they're both mature guys.
"They're very competitive, which is why sometimes there is friction. They have had various conversations with each other over the last 10 days, unprompted by any of the management and have come back here in great shape.
"The main point is what happens on the track.
"There were various issues in Monaco that one might describe as relationship issues, but there were no team or technical issues."
Lowe said he and Wolff had always been clear with the drivers that they would be allowed to race freely this season.
"Toto and I sat down with both drivers before Australia and laid out what we wanted if the car was in a position to win races, we wanted them both to have an equal chance and we weren't going to control the race," Lowe said.
"It was very important they could race each other without instructions or commands to hold position because that is unsatisfactory.
"We have a bit of paper with various strategies written down and that's what we work to. You always have to have these rules of engagement between the two drivers.
"A good example is qualifying. There is a very second-order difference in the order you may run in Q3.
"It's not always best to go last but it can be best to go last. You might decide it's best to go first.
"To make it fair we alternate who has the choice as to which order they want to run from race to race. That's an example of a rule we have and then it's very clear for each driver."
Canadian Grand Prix practice results