Red Bull's Adrian Newey shifts sole focus from Formula 1

By Andrew Benson & Tony Dodgins
Chief F1 writer
Last updated on .From the section Formula 1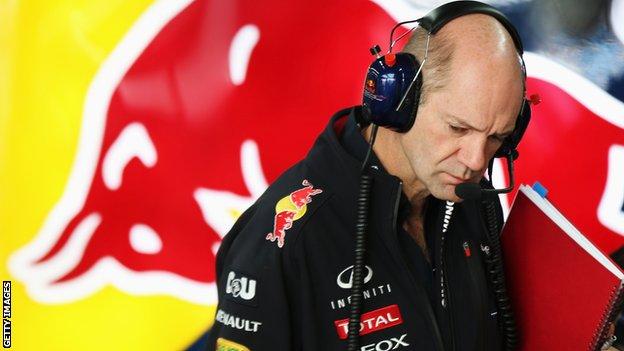 Red Bull design chief Adrian Newey will no longer concentrate solely on Formula 1 as part of a new deal that keeps him with the company.
It is potentially a huge shift for the team which dominated F1 from 2010-13.
Newey is the most successful F1 car designer in history and masterminded the team's four consecutive world title doubles with Sebastian Vettel.
Red Bull say Newey will "work on new projects, as well as advising and mentoring the F1 team".
Team principal Christian Horner declined to say exactly what that meant for the F1 team, insisting Newey was "still very much involved".
But Newey said he was taking a "step back" from F1.
"I've been in motor racing since I graduated," he told BBC Sport. "It's been a fantastic experience, it's what I've always wanted to do but now I feel it is time to take on some fresh challenges as well. I want to keep motivating myself.
"What I'd like to do is step back and become an adviser and mentor to the engineers.
"We'll look at the engineering structure we have now and renew the team later in the year and that will give me the space to get on with some other things."
Horner downplayed the importance of the shift in Newey's role.
"We've got tremendous strength in depth," Horner said. "It's not like he's not going to be about anymore so it's great for the team, Red Bull and for him."
Horner added: "We'll have a further clarification a bit later in the summer."
The move keeps Newey out of the grasp of Red Bull's F1 rivals - Ferrari are reputed to have made a big-money offer to him this season - but could mean Red Bull will have to re-organise the process by which they design and develop their F1 cars.
The team are built around Newey in a way that has successfully allowed him to concentrate on the creative aspects of car design without being bogged down in management.
A team of senior engineers works closely with him to deal with the management aspects of the design office.
Newey sketches up the fundamental concept of the car before handing it on to the wider design team to process, and is integrally involved in its development.
The result was four consecutive drivers' and constructors' titles doubles from 2010-13.
Red Bull have not yet explained how his shift to focus on other activities as well will impact on that process.
They have been unable to keep pace with the dominant Mercedes team this year, but their lack of performance is entirely down to the under-powered Renault engine.
The Red Bull chassis is considered to be at least the equal of the Mercedes, and unquestionably better in the amount of high-speed downforce it creates.
Before joining Red Bull, Newey won titles with Williams and McLaren. He is responsible for the overall design concept of the cars that won the drivers' world title in 1992, 1993, 1996, 1998, 1998 and 1999.