Formula 1: Gene Haas confident of success with new American team

By Andrew Benson
Chief F1 writer
Last updated on .From the section Formula 1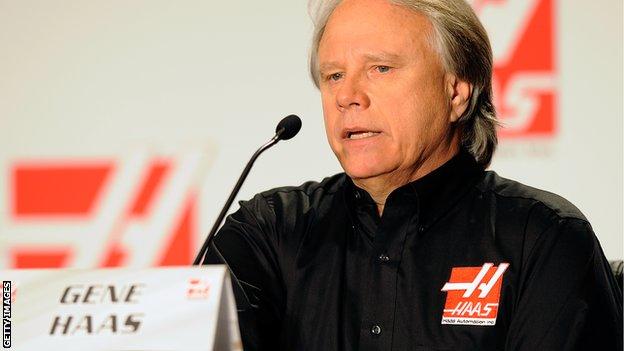 American racing magnate Gene Haas insists he can make a success of his planned new Formula 1 team despite basing it in the USA.
Haas, who runs a winning team in the American Nascar stock car racing series, has been granted an entry and plans to make his F1 debut in 2016.
But he dismissed widespread doubts within F1 the plan could be a success.
"I think we will be OK. America has an awful lot of advantages," Haas told BBC Sport at the Canadian Grand Prix.
"We have great infrastructure, good communications, very mobile people we can do things with. I think we have a lot of flexibility that will surprise people how quickly we can respond."
It is notoriously hard to be successful in F1 with a team based outside the area in south-east England known as "Motorsport Valley".
Only Ferrari have periodically achieved it in the modern age - and basing a team in America is considered an even greater disadvantage than in Europe.
But Haas, whose team will be alongside his Stewart-Haas Nascar team in Kannapolis, North Carolina, insisted: In this day and age of the internet and jet travel, the Atlantic Ocean is more of a pond these days."
Haas said he was setting up an F1 team to promote his successful machine tools business outside the US market.
"This is a tough business and these people know an awful lot, we're here to learn and bring a little different twist to the competition," he said.
"We're Americans, we're racers; we know how to do this. A lot of people think we don't know how to do this, but we're stubborn, we'll stick with it and we'll get the job done.
"We know it's going to take a lot to get it done. On the revenue side, Stewart-Haas racing is a profitable business. F1 it's going to take a while to do that but I have no doubt that we will do OK."
Asked about drivers, he mentioned Americans Tony Stewart and Danica Patrick.
"We'd love to have Tony Stewart in the car," he said. "He can tell you so much about what the car is doing. He drove Lewis Hamilton's car at Watkins Glen and within a few laps he had it somewhat figured out.
"We'd love to have Danica in an F1 car, but there's a lot of issues there too. She would be a great American driver in an American F1 car. It would just be an awesome combination."
Haas said he was talking to Ferrari about being his engine supplier but refused to confirm that he would employ Italian race-car constructor Dallara to build his car.