Canadian Grand Prix: Fast-finisher Jenson Button enjoys 'fun' race
Last updated on .From the section Formula 1
Jenson Button said his McLaren team should be happy with their points return from the Canadian Grand Prix after he finished fourth.
Button, 34, produced an inspired drive to make up four places in the final two laps, helped by a crash involving Sergio Perez and Felipe Massa.
"It was a fun race and reasonable points. We did a good job," he said.
Team-mate Kevin Magnussen finished ninth behind winner Daniel Ricciardo.
Button spent much of a dramatic race at the Circuit Gilles Villeneuve caught in traffic following an early change of tyres.
But with Lewis Hamilton among a number of drivers failing to finish, the 2009 world champion worked his way through the field before going past both Fernando Alonso and Nico Hulkenberg on the penulitmate lap.
Button, who claimed 12 points to move up to seventh in the drivers' championship, added: "I fought my way through at the end.
"I had a little dice with Fernando and Nico [Hulkenberg]. Fernando almost hit Nico at the hairpin and had to dive down the inside. Then they both ran wide and I got down the inside of both of them.
"On the final lap, you never want to see an accident like Felipe and Checo's but, fortunately, they both got out of their cars OK, which was good.
"There were incidents and we gained positions because of that, but the important thing there is a better feel to the car.
"The team did a good job and made the best of what we had. We should be happy to get some good points and move on from this and have a better race in Austria."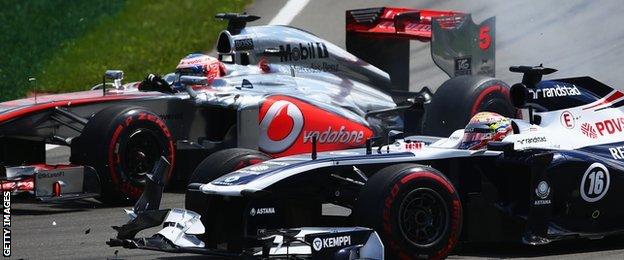 The crash involving Force India's Perez and Williams driver Massa also promoted Alonso but the Ferrari driver admitted that his sixth place finish and 10th spot for team-mate Kimi Raikkonen was still not good enough.
However, Alonso believes Ferrari can take inspiration from the performance of Ricciardo and Sebastian Vettel, who finished third, in their Red Bulls.
"The car did improve a little bit compared with the last race but others did a bigger step than us," said the double world champion.
"We need to work better but Red Bull are an example now. After winter testing no-one would have thought they would win a race, especially in the first half of the season. But it just shows how things can change in Formula 1."
Force India's Hulkenberg said: "I am not too disappointed after finishing fifth. It was a tough race, different from everyone else because we were pulling off a one-stop strategy.
"We would have finished in the points regardless [of the crash]. We lost too much at the start because we had clutch issues and then you are playing catch-up all the time."
Vettel narrowly avoided being caught up in the collision as the defending world champion equalled his best finish for the season in a Red Bull revival.
"In the end I was lucky. Felipe and Sergio crashed and nearly took me out. At the last second I saw them in my mirror and was able to react," he said.
"I'm happy for Ricciardo and the team. We still have work to do but after the winter we had it was nice to break through and capitalise when the Mercedes had problems."
The tone for an incident-packed race was set in the opening lap when Marussia team-mates Max Chilton and Jules Bianchi collided, forcing the safety car to come out and ending their involvement.
And Chilton, 23, was not too impressed at seeing his record of finishing in every race of his F1 career come to an end.
"I am not too happy," he said. "We were side by side going into three and I braked at the point going into the corner. To my surprise he braked too late but it looks like I hit him.
"I am not going to back out on the inside because he is my team-mate."