Lewis Hamilton wants run of victories after Canada retirement

By Andrew Benson
Chief F1 writer
Last updated on .From the section Formula 1
Lewis Hamilton says he needs a run of victories to recover lost ground in the championship following retirement from the Canadian Grand Prix.
It was Hamilton's second retirement in seven races; Rosberg has none.
"I'm two DNFs down; that's almost 50 points I've lost. I'm going to have to recover them somewhere else," he said.
"[A run of wins] is what I'm going to have to do. But we've got lots of races ahead of us so let's hope there is more good fortune to come in the future."
Mercedes failed to win a race for the first time this season after both cars were crippled by a failure of their hybrid power system about halfway through the race.
Rosberg led Hamilton from the start but the Englishman took the lead when his team-mate was delayed at his second pit stop, only for Hamilton to suffer rear brake failure on the next lap.
The brake problem was almost certainly influenced by the hybrid failure, as the energy recovery system slows the car down and takes some strain off the brakes as it harvests power on corner entry.
Rosberg nursed his car to the finish, holding on in the lead at the head of a four-car train until two laps from the end, when he was passed by Red Bull's Daniel Ricciardo.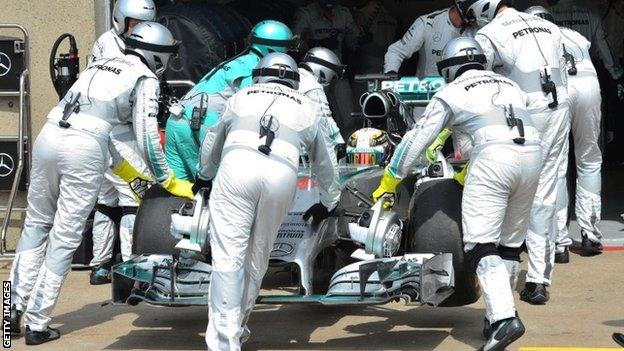 Hamilton said: "We knew as a team we had some issues some part through our second stint, but we thought we'd be OK to manage it.
"I jumped him in the stop and I was thinking, wow finally what an amazing feeling and then suddenly the brakes failed. There was nothing I could do.
"Every point will [matter]. That's two DNFs for me and none for Nico but these are learning experiences, we will learn as a team and get stronger and I'm sure we won't have another incident like today when we were both at risk."
This season, Hamilton was faced with an immediate 25-point deficit when he retired with an engine problem from the first race in Australia.
He made up the gap and took the lead of the championship with four straight wins, but went into Canada four points down on Rosberg, following the German's win in the previous race in Monaco.
Hamilton's retirement in Montreal puts him almost back to where he was in Australia, with 12 races still to go. There are double points at the last race of the season in Abu Dhabi.
"I've had a lot of work to do since race one," Hamilton said. "We'll keep pushing and come back stronger in the next race hopefully."