Canadian GP: Daniel Ricciardo thrives at Red Bull

By Andrew Benson
Chief F1 writer
Last updated on .From the section Formula 1570
Montreal weaved its magic again, and this time it cast its unique spell on the man with a smile as wide as the St Lawrence Seaway.
Daniel Ricciardo wears the pressures of Formula 1 lightly. Not a minute seems to go by when the sunny Australian does not have a big, sparkling white grin on his face, and his maiden grand prix victory was greeted with universal delight in a sport that has taken him to its heart.
The 24-year-old changed his travel plans on Sunday night so he could celebrate his win in the style it deserved.
"I'm actually supposed to fly back tonight," he said, "but I don't know if I want to spend the night of my first victory on a plane, so we will see what happens."
Doubtless he blew the froth off a few, as they say in his home country, and there are few better places to do that than the city that hosts what is arguably F1's most popular race.
Everyone loves going to Montreal, for the buzzing vibe and the great race track that was built 36 years ago on the lovely little Ile Notre Dame in the middle of Quebec's forbidding river.
It doesn't look much on paper, this place, just a few chicanes and a couple of hairpins joined by straights. But the layout belies the challenge of one of F1's toughest tracks, just as Ricciardo's smile hides a steely core.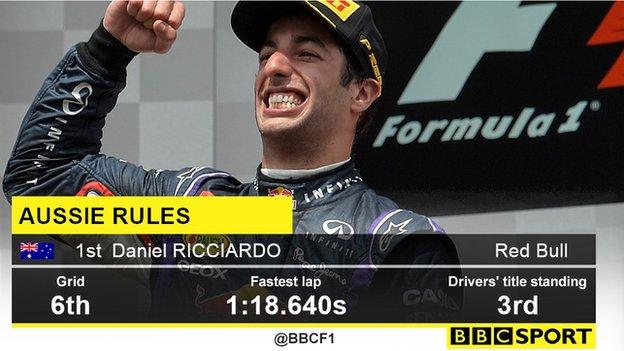 Montreal lived up to its reputation for producing one of the best races of the season, but going into the weekend few would have predicted Ricciardo would win it.
This was not a circuit where his Red Bull team expected to excel - their Renault engine is way down on power on the standard-setting Mercedes, leaving the car breathless on those long blasts between the Circuit Gilles Villeneuve's concrete walls.
But Ricciardo's team-mate Sebastian Vettel, the world champion, qualified in third, with Ricciardo a disappointed sixth, only 0.041secs behind, and feeling he had left 0.3secs out on the track on a "scrappy" lap.
It was only the second time in seven races that the four-time champion had managed to be ahead of his inexperienced team-mate on the grid, a statistic which of itself says an awful lot about the impact Ricciardo has made this year. His race on Sunday said a lot more.
Both Red Bull drivers felt a decent result was possible, but neither expected to challenge the dominant Mercedes cars. And for its first half the grand prix ran to form, Nico Rosberg and Lewis Hamilton running away with it at the front, as the silver cars have at every race so far this season.
But then the Mercedes ran into problems, both cars losing their hybrid systems at the same time, robbing them of 160bhp. Shortly thereafter, Hamilton lost his brakes, and Rosberg was alone out front, vulnerable, his pursuers eating into his lead.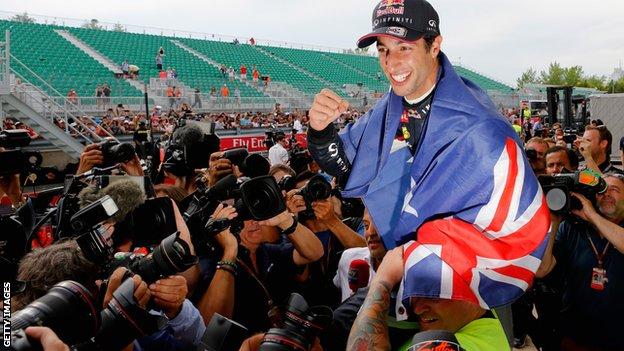 Ricciardo, though, still had a lot of work to do before the race surrendered itself to him. There were two key moments in his afternoon.
The first was when he jumped Vettel at their second pit stops, despite stopping a lap later, normally a disadvantage.
This, team boss Christian Horner said, was down to "the combination of a slow-ish out lap [by Vettel] and a very quick in lap. Daniel really did the damage on his in-lap."
That meant it was Ricciardo, rather than Vettel, who was the Red Bull driver challenging Force India's Sergio Perez in the second half of the race - and therefore he who was in third place, with the scent of victory in his nostrils, when Perez caught Rosberg's struggling Mercedes with 20 laps to go.
Hamstrung by the Red Bull's lack of power, Ricciardo struggled behind Perez for 16 laps before the second key moment arrived.
On lap 65, Ricciardo was that bit closer to the Mexican down the long back straight, got a good run on him out of the last chicane, and passed him with a high-quality move around the outside into Turn One. From then on, Rosberg was at his mercy, and he duly passed him on the penultimate lap.
It was a racer's win, taken with an opportunistic verve befitting a man who has impressed everyone involved since he stepped up to Red Bull for this season after two and a half years learning the ropes down the grid.
There were those who questioned Red Bull's decision to promote Ricciardo to replace the departing Mark Webber for this year. After all, former world champion Kimi Raikkonen was available and keen - and even double champion Fernando Alonso had expressed an interest last summer even though he was under contract to Ferrari.
But Red Bull preferred to promote from within, and how that decision has paid off.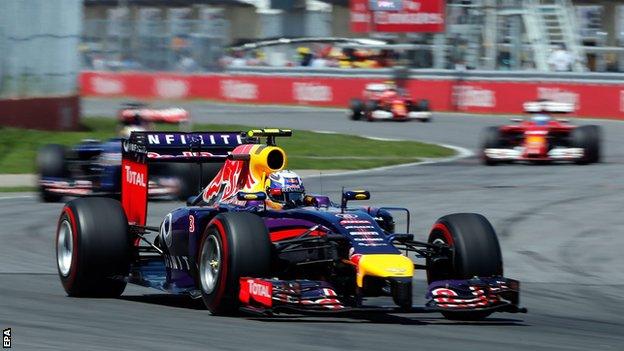 While Raikkonen has struggled at Ferrari this year, completely put in the shade by Alonso, Ricciardo has thrived at Red Bull, to the extent that now the questions are all about Vettel, not the new boy.
Other than in Malaysia, Ricciardo has consistently out-performed the German, who entered the season on the back of four straight titles. In the process, Ricciardo has established himself as a potential champion himself.
Vettel has certainly had the vast majority of any reliability problems Red Bull have had, but fundamentally Ricciardo has flat beaten him out on the race track.
On and off the track, meanwhile, he has handled himself with class and style.
In the races in Bahrain and China when he was quicker than Vettel but held up behind him, Ricciardo calmly got on the radio and said the team had to make a decision. They did - to order Vettel to let his team-mate by.
The German made his unhappiness about it clear, but Ricciardo dodged with aplomb the inevitable provocative questions afterwards, choosing to avoid politics and let his driving doing the talking. And all the while that smile has remained in place.
Red Bull have made no secret of the fact that, after the poison of Vettel's relationship with Webber, Ricciardo's presence in the team has been a joy.
Part of the reason they signed him was that they felt that, as a driver who had been groomed for F1 from an early age by the Red Bull system, he would be a less disruptive influence in the team than an experienced star.
That decision was based on the belief that Vettel - who they felt was the best driver in the world - would probably beat anyone they signed. Better, then, to have someone who felt beholden to them in the other car so he would not rock the boat.
But Ricciardo's consistent excellence has surprised Red Bull, and everyone else along with them. That smile is not going away any time soon.