Canadian GP: Sergio Perez penalised for Felipe Massa crash

By Andrew Benson
Chief F1 writer
Last updated on .From the section Formula 1
Force India's Sergio Perez has been penalised for causing the spectacular crash with Williams' Felipe Massa in the Canadian Grand Prix.
Stewards decided Perez had illegally changed his line on the approach to the first corner at the Montreal track.
The Mexican has been given a five-place grid penalty at the next race in Austria for the incident that led to both drivers being taken to hospital.
Both men were released after precautionary checks.
Those were required because the incident set off the medical alarm in their cars, which is triggered by impacts of about 18G.
Both cars recorded impacts of 27G after the crash at the first corner of the Circuit Gilles Villeneuve at the start of the last lap of the race.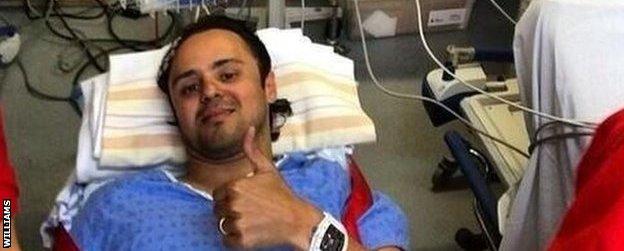 Massa was trying to pass Perez for third place in the incident. The two cars narrowly missed Sebastian Vettel's Red Bull as they speared off the track.
Williams head of vehicle performance Rob Smedley said: "We were lucky not to have had someone seriously hurt and lucky not to collect Sebastian in a side-on impact.
"We showed the stewards evidence that Felipe brakes about five metres earlier than the lap before.
"There is evidence from the side shot - if you take Felipe and Sebastian through the braking phase, the distance between them is the same and you see Perez is backing towards Felipe.
"We showed them the overhead shot. Perez brakes very early, and the car jinks to the left, either because he does it or because of brake problems, I don't know.
"And we showed them evidence from the radio transcript [with Perez] talking about 'I have no rear brakes.' And they [Force India] said: 'If you can carry on, carry on, and if you can't, pit.'
"That sounds like a terminal problem and why you leave a car out in that condition is beyond me. I'm a bit peeved, to say the least, that this has happened.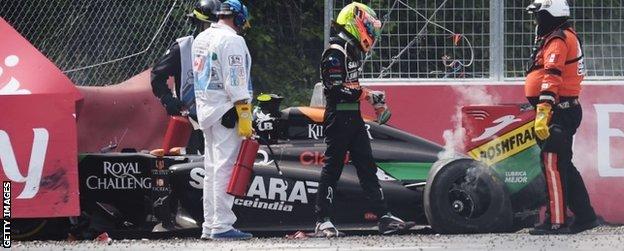 "We're all just really relieved that they're both all right because it doesn't bear thinking about what can happen in silly accidents like that."
Force India deputy team principal Bob Fernley said: "We need to look at the data and see what actually happened."
Fernley said Perez had been struggling with an electrical fault on the braking system, but the team managed to clear it up and enable the driver to brake normally by the time of the accident.