Lewis Hamilton is faster than Nico Rosberg - David Coulthard

By David Coulthard
BBC F1 co-commentator and former F1 driver
Last updated on .From the section Formula 1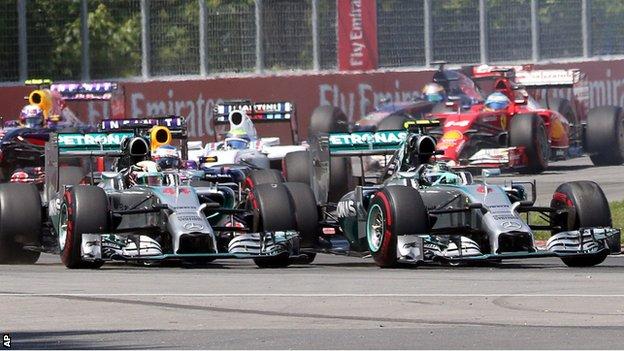 Did Mercedes' policy of letting their drivers race freely cost them the Canadian Grand Prix? It is, at least, a fair question.
One of the defining points of my career was the 1998 Australian Grand Prix, when I was ordered to let my McLaren team-mate Mika Hakkinen through to win because of a pre-race agreement we had with the team.
It was the first race of the season and we had a big advantage over the rest of the field, but we knew the cars would probably not finish if we raced them flat out. So the deal was that whoever got to the first corner first would win the race. That was Mika.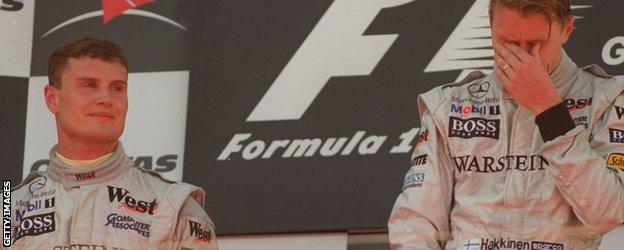 He ended up behind me at one point after going into the pits by mistake, and afterwards team boss Ron Dennis ordered me to let him past. It hurt at the time, but it guaranteed the team a one-two.
Mercedes have had strong reliability so far this season, but Montreal has always been marginal on brakes, and if you have two cars racing hard all the time, then that puts more pressure on them.
This year, the rear brakes are smaller than in the past because a lot of the braking load is taken by the energy recovery system on the rear axle. But if the hybrid system stops working - as it did on both Mercedes in Montreal as a result of overheating - then that puts a lot more strain on the brakes.
In many ways, you would think it was inevitable at that point that they would have brake failure.
Yet when that happened, around lap 35, Nico Rosberg and Lewis Hamilton continued to race flat out, with reduced power from their engine as a result of the hybrid failure.
Ten laps later, after his brakes had heated up in a pit stop, Hamilton's did fail and Mercedes said it was purely luck that the same thing did not happen to Rosberg as well.
That's perfectly feasible. I know from my own experience that things like that can happen. Sometimes it is just the luck of the racing gods.
As it was, Rosberg had to drive for the rest of the race not only with 160bhp less from his engine, but looking after his brakes as well, by braking earlier and with less pressure.
That gave us a great race for the last 25 laps - and a new winner in Daniel Ricciardo - but it meant Mercedes failed to win a grand prix for the first time this year.
It will be interesting to see whether that changes Mercedes' approach if a similar situation, when reliability is marginal, arises later in the season.
Hamilton's retirement has given him a lot of work to do in the drivers' championship; he is now 22 points behind Rosberg.
That's not good for him, obviously, but there are two things with which he can reassure himself.
One is that there are double points at the last race. The other is that, while Rosberg is leading the championship, it is fair to say that the stronger driver over the first seven races has been Hamilton.
If the team are not criticising him for influencing the failures in Melbourne and Montreal - and they are not - then we have to assume he has done nothing wrong.
Hamilton has been the faster, hungrier driver, so he just has to hold it together and keep chipping away.
A new star is born
Ricciardo benefited from Mercedes' misfortune to take an excellent maiden victory. There is no doubt that he has been the breakthrough star of the season.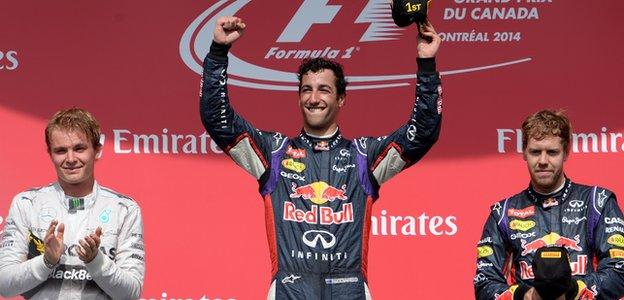 It is always difficult to show well in a mid-grid team, but Ricciardo showed consistently well in the Toro Rosso in 2012 and 2013 and that was part of the stimulus in promoting him to Red Bull when there were more established drivers sniffing around.
He's been part of the Red Bull family for years, so it's not like he is joining a new team. For Ricciardo, it has been the perfect transition into the big time.
That's why he has been looking so happy. It's all new for him.
They had a bad time in winter testing - but that was the first time that had happened to him.
He was disqualified in Melbourne after finishing second, but he had still been on the podium in front of his home fans.
He can take all these first-time punches on the chin, and that has allowed him to have a clarity of thought and enthusiasm to get on and drive the car.
That's a different position from his team-mate Sebastian Vettel, who Ricciardo has consistently out-shone.
Vettel is used to winning. He doesn't like the new formula, with reduced downforce and turbo hybrid engines. And he has also had the lion's share of Red Bull unreliability.
It was a fortunate victory in some ways for Ricciardo, in terms of the way it unfolded for Mercedes, but he had to work for it, too. And no-one in the paddock - teams, pundits, journalists, whatever - would say he did not deserve it.
There has been a flair and hunger to Ricciardo's driving this year. Ricciardo is the real deal; a world champion in waiting.
Close call on Perez penalty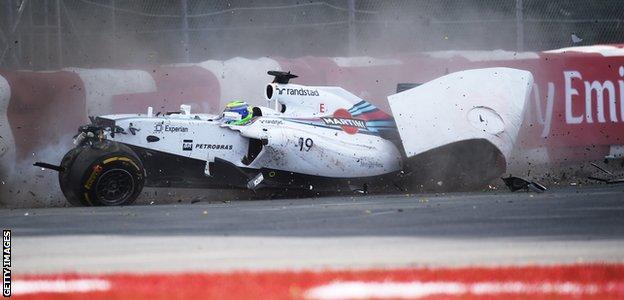 It was a hard decision to hit Sergio Perez with a five-place grid penalty at the next race for causing the big crash between his Force India and Felipe Massa's Williams at the start of the last lap, but the stewards must have had a good reason to make it.
From the initial television footage, it was not clear what had happened. In fact, it looked a bit like Massa might have made a misjudgement, even if it is the sort of error he tends not to make.
But the stewards have access to the data from the cars, static cameras on the track, in-car footage and so on. Teams can make their own representations for prosecution and defence.
There is a rule that says a driver defending his position can make one move, before the braking zone. If it looks like Perez deviated from what would be his normal line while on the brakes, even in a minor way, he has to be penalised.
This is not a referee blowing the whistle in the heat of the moment for a penalty. This is the stewards fully analysing the situation with all the data available.
The stewards have dissected it and we have an answer, and that is the end of it.
We have to believe there was little doubt that Perez was responsible otherwise they wouldn't have given him the penalty.