Returning Porsche poised to shake up Le Mans, says Allan McNish

By Allan McNish
BBC F1 analyst and three-time Le Mans winner
Last updated on .From the section Motorsport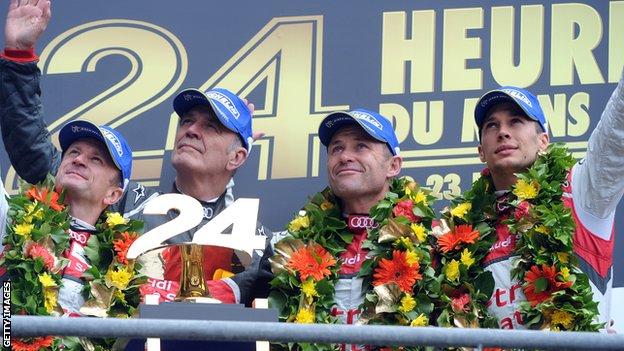 The Le Mans 24 Hours stands with the Monaco Grand Prix and the Indianapolis 500 as one of motorsport's defining events - and this year's edition of the endurance classic is more enticing than it has been for some time.
To win Le Mans these days, you have to beat Audi, a team who have won 12 of the last 15 races.
But at this year's race, which takes place on Saturday and Sunday, they face arguably their toughest fight against two very strong opponents: Porsche and Toyota.
Having had a long and successful history at Le Mans, Porsche are returning for the first time in 16 years. The German team have come back to endurance racing in a very aggressive manner, signing nine-time grand prix winner Mark Webber, who quit Formula 1 last year with the aim of winning Le Mans with Porsche.
Since Porsche have been away, Audi have made Le Mans their own. Yet their run of victories has come against strong opposition; Peugeot from 2007-11 and Toyota in more recently.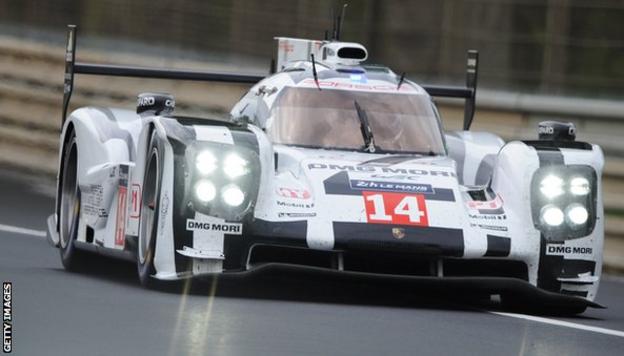 This is Toyota's third season back in endurance racing since quitting at the end of 1999 to concentrate on F1.
The car had the speed and capability to win back then, as it did last year, but victory eluded them.
Having driven for all three companies, I have a personal interest in this battle.
I won for Porsche the last time they were at Le Mans, in 1998. I have since won there twice for Audi, where I spent most of my latter career. But I also raced for Toyota there in 1999.
What makes this all so exciting is that each team have something to prove.
Toyota have to show they can win the Holy Grail of Le Mans. It's a huge thing for them. They want that victory badly.
Audi are building on a record that is unsurpassed in the modern era, but each time you come back as a champion you have to prove yourself again.
Porsche want to come back with a bang, and prove they can be winners, even after all this time.
The on- and off-track fight
There are four classes of car in the race, and 56 cars take part in total, but the outright victory is disputed by the top-class 'sports-prototypes', otherwise known as LMP1 (Le Mans Prototype One) cars.
For them, the average lap speed is 150mph, the top speed on the famous Mulsanne Straight is more than 210mph, and the cars are doing the equivalent of 17 grands prix in 24 hours.
Within that time, if you are in the pits for any reason other than fuel and tyres, then you are probably not going to win.
It is effectively a 24-hour sprint race for cars of an F1 level of performance, with F1-standard drivers.
As well as Webber, ex-F1 drivers Anthony Davidson, Sebastien Buemi and Alexander Wurz are driving for Toyota. And the field is peppered with other former grand prix drivers, such as Giancarlo Fisichella, Nick Heidfeld, Bruno Senna, Lucas Di Grassi, Jan Magnussen and Marc Gene.
All of the drivers in the leading cars are out of that mould - extremely fast and aggressive. And Audi have Mr Le Mans, my old team-mate Tom Kristensen, who has won the race a record nine times.
The cars are about 200kg heavier than F1 because of regulations, but have significantly more downforce. As it is not an open-tyre formula, tyre performance is much better than in F1. One set of tyres runs for three hours, and the lap times stay incredibly consistent over that period.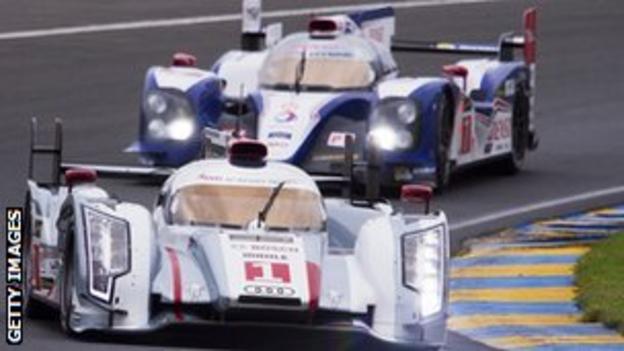 One fascinating aspect of this tyre war is that Michelin - which supplies all the top cars - has an 'intermediate' tyre, for damp conditions, which has no grooves on it.
It looks like a slick, but can run in damp conditions. I can tell you from experience that it really messes with your mind when you see it going on the car for the first time. But it works really well.
Given all that, it is no surprise that the racing is normally incredibly close and intense.
The 2011 race, between Audi and Peugeot, was decided by little more than 13 seconds. That was the equivalent of 0.1secs a lap, over 24 hours.
In 2012, the front two cars were separated by about 20 seconds for 23 hours before one of them ran into trouble.
And last year, the average gap was 30 seconds up to a similar stage of the race.
There is every reason to believe Le Mans will be just as close this year, judging by the two World Endurance Championship races that have been held this season, in Silverstone and Spa.
Toyota appeared to have an advantage at the official Le Mans test at the beginning of June, but I know that none of the teams will have shown all their cards there.
The technology
Le Mans has a very open rule book and Audi, Porsche and Toyota have all approached it in different ways.
Like F1, sports car design focuses on energy recovery, but within much wider boundaries.
There are stipulations to try to balance performance - such as if you have a bigger engine, you have to have a smaller hybrid system, and vice versa; and there is a maximum engine capacity.
But ultimately it is up to the manufacturer to decide whether to go for diesel or petrol, turbo or naturally aspirated, and how large to make the car's hybrid capacity.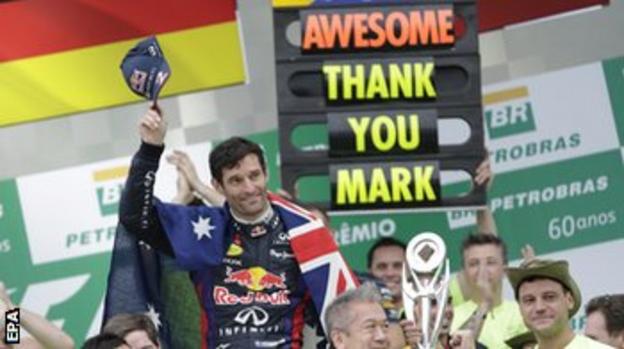 So Audi have a turbo diesel engine with a hybrid that can produce two megajoules (mJ) of energy per lap that runs off the front axle, stores energy in a flywheel and then boosts it through the front axle when the engine is powering the rear wheels. So it's effectively a four-wheel-drive system on corner exit.
Toyota and Porsche both have 6mJ capacity hybrids, but are very different beyond that.
Porsche have gone with a very small turbo petrol engine, also with a front-axle hybrid, but theirs stores energy in a battery. In addition they have an energy-recovery system attached to their turbo, similar to those used in F1.
Toyota have chosen a naturally-aspirated engine that uses a super-capacitor to store the energy, which recuperates and boosts through all four wheels.
The regulators control engine performance by maximum fuel flow and fuel-tank capacity - as in F1. But at Le Mans, the limits are different for each engine, and at the moment Audi are struggling both for power and fuel range from the regulations compared to the petrol cars, which have a 25% bigger tank capacity.
The wonder of Le Mans
Le Mans really is a race like no other, and that's what explains its enduring appeal.
Scrutineering - where officials check the cars - takes place in the centre of town, not at the track, and huge crowds turn up to meet the drivers.
Qualifying is on Wednesday and Thursday evenings, leaving Friday night free for the driver parade through the town in historic cars, a traditional meeting point for the masses of fans preparing for the race.
And the track teems with atmosphere. There is a fairground, which includes a big wheel with a great view of the circuit's Porsche Curves, especially at night.
In the car, you smell the sausages on the barbecue as you go down the Esses after the Dunlop chicane.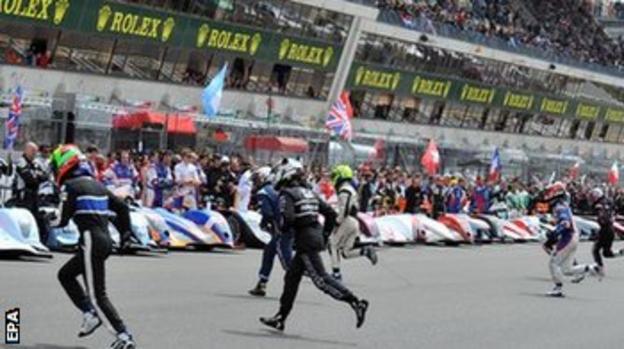 And the race has an open paddock, so fans mill around as drivers go off for their massages, food and so on. It is much more up close and personal than F1.
The Sarthe circuit itself, which is partly on public roads, has hardly changed since the first race in 1923. Apart from a handful of other minor tweaks, only the chicanes on the 3.7-mile Mulsanne straight, introduced to slow down the cars for safety reasons in 1990, have altered its character.
That gives it the special feel of a true old-school circuit, very different from the modern FIA-style tracks. It's so daunting to drive on, with the walls so close, and trees all around.
For many fans, Le Mans is a pilgrimage. There will be 250,000 at the race and 70,000 of them are British, many of whom who go every year. I met a guy at the test day this year who has been going for 24 years.
There is a social side of it, too. They all have their routines, where they like to stay, where they prefer to watch the race.
In short, it's the hardest 24-hour race on the planet, with cutting-edge racing cars with excellent driver levels, a proving ground for the latest technologies and a race that throws up so many twists and turns.
Le Mans is simply a unique occasion.
Allan McNish is a three-time winner of the Le Mans 24 Hours. He was talking to BBC Sport's Andrew Benson.