Lewis Hamilton confident of catching Nico Rosberg in title race

By Andrew Benson
Chief F1 writer
Last updated on .From the section Formula 1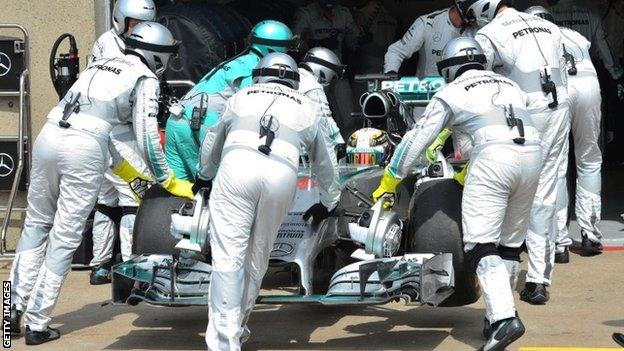 Lewis Hamilton says he has no doubt he will be able to catch Mercedes team-mate Nico Rosberg in the world championship.
It was the second time Hamilton had failed to finish in seven races this season while Rosberg has yet to retire.
"There is a long way to go. I caught up before and I'll catch up again," said Hamilton, 29.
The Englishman was 25 points behind Rosberg after retiring from the first race of the season with an engine problem.
He then took four consecutive victories to move into a three-point lead, before Rosberg reclaimed the advantage by beating his team-mate in controversial circumstances in Monaco, the race before Canada.
Hamilton retired in Montreal with rear brake failure, caused by a heat-induced failure of the kinetic energy recovery part of the car's hybrid system, which Rosberg suffered at the same time.
Mercedes F1 boss Toto Wolff said it was "lucky" that Rosberg's brakes had not failed as well.
"We're just sorry to have let Lewis down and it is a shame, particularly when the championship is as close as it is," Wolff said.
"But he is in good spirits and a fighter and I have no doubts he will come back."
Wolff said he expected the title fight between the two men to go to the final race of the season in Abu Dhabi, where double points will be awarded for the first time in F1 history.
And he cautioned against assumptions that the championship would only be contested between Hamilton and Rosberg, pointing to Red Bull drivers Daniel Ricciardo and Sebastian Vettel finishing first and third in Canada.
"First of all, we have to be careful saying it is an easy home run for us, because Red Bull scored massive points in Canada and you can see you can lose the gap really quickly," Wolff said.
"But I guess between the two of them it is going to come down to an end-of-season race in Abu Dhabi with double points."