Sebastian Vettel: Red Bull's world champion told to 'raise his game'

By Andrew Benson
Chief F1 writer
Last updated on .From the section Formula 1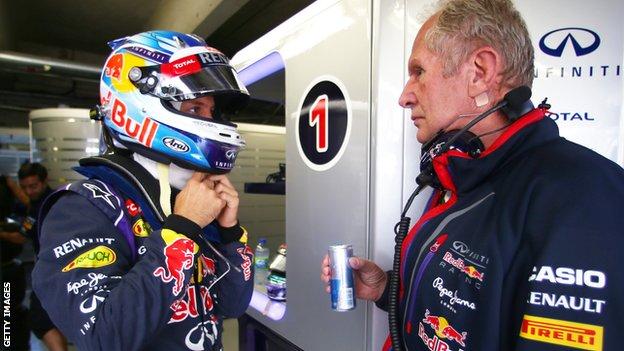 Sebastian Vettel was told to "raise his game" by his Red Bull team after a troubled start to the season.
Helmut Marko, Red Bull's motorsport adviser, told the four-time champion after April's Chinese Grand Prix to adapt his driving and stop complaining about the car and new rules.
"I told him: 'There are 50 engineers working on this engine and they can't sort it out,' said Marko.
"'You're a top driver, it's up to you. You have to do it.'"
The 71-year-old Austrian, a former racing driver, added: "If he can't sort out the car, the easiest thing is the driver. He has to raise his game."
In a wide-ranging interview before the return of the Austrian Grand Prix next weekend on Red Bull's own circuit, Marko also revealed that Red Bull had considered signing Lewis Hamilton for the 2013 season.
They decided against it because they felt the 2008 champion would clash with Vettel because they both have big egos.
"We were considering it, but we thought it wouldn't work," said Marko. "To be successful, you need a certain amount of harmony."
| Sebastian Vettel results in 2014 | |
| --- | --- |
| Race | Finish |
| Australia | Retired |
| Malaysia | 3rd |
| Bahrain | 6th |
| China | 5th |
| Spain | 4th |
| Monaco | Retired |
| Canada | 3rd |
Marko added that he preferred to promote someone from Red Bull's own junior programme rather than "take someone from outside".
Instead, Mark Webber was signed for further year, before leaving F1 for endurance racing and making way for Daniel Ricciardo, who has out-shone Vettel so far this season.
Marko said Vettel's early-season problems had been exacerbated by the fact that he had suffered more reliability issues than his new team-mate.
Marko said Vettel was also unhappy with the new turbo hybrid engine rules and the effect that these, along with changes to the aerodynamic rules, were having on the team's ability to make the car behave in exactly the way he wanted.
"Sebastian was complaining about having such a bad car," said Marko. "Sebastian wants everything absolutely right.
"His main problem was the downshift was always destabilising the rear and he couldn't understand that we couldn't solve it.
"Furthermore, he thinks the way F1 is going is not the right one - the cars should be monsters, not relatively easy to drive.
"With all these problems, maybe he wasn't as committed as he should have been, but that has changed. Already in Spain we saw already a different approach from this guy."
In Canada last weekend,Vettel out-qualified Ricciardo for the first time since the second race of the year in Malaysia, although the Australian went on to win the race after passing his team-mate, who finished third, during a pit-stop period.
Marko said that Vettel, along with the rest of the team, had not expected Ricciardo to be so strong this year, especially after the team's troubled pre-season testing programme.
Marko said Vettel was "a little bit surprised, like we all were, with Ricciardo" following his switch from Toro Rosso.
"Don't forget we didn't test. We had some outings - one lap or two laps if it was a good day - but no-one could see his potential."