Red Bull 'committed to Formula 1 for long term'

By Andrew Benson
Chief F1 writer
Last updated on .From the section Formula 1
Red Bull say they are committed to Formula 1 for the "long term", despite Adrian Newey's plan to step back from running the team's design office.
Newey, regarded as the best designer in F1, is to move into an "advisory and mentoring" role from 2015.
Helmut Marko, Red Bull owner Dietrich Mateschitz's right-hand man, said: "We will do whatever is necessary.
"The team was built around Adrian but we have a group of really good people and are prepared for the challenge."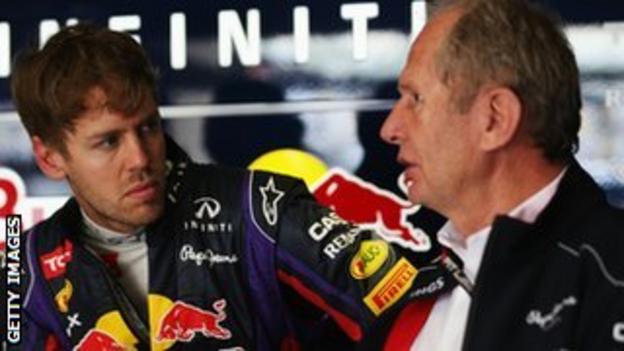 Red Bull have won the drivers' and constructors' titles in the past four years.
Marko admitted re-organising the team following Newey's move "won't be easy", but added: "That's why we are here."
In a wide-ranging interview ahead of the return of the Austrian Grand Prix at Red Bull's own circuit this weekend, Marko said Mateschitz had a "passion" for the sport.
He added: "If our whole team was not full of passion, we wouldn't have success."
Marko said the Austrian Grand Prix's return was the culmination of years of planning by Red Bull and Mateschitz.
The race takes place on the Red Bull Ring, which, as the A1-Ring, hosted the Austrian Grand Prix from 1997 to 2002.
A much faster and more demanding version of the track, called the Osterreichring, also hosted the race on the same site from 1970 to 1987, before being deemed too dangerous.
Marko said the renovation of the circuit, which is not far from Mateschitz's birthplace of Sankt Marein im Murtzal, was part of a wider financial commitment to the region, which includes supporting local businesses.
Mateschitz bought the track, Marko said, because it "would have died more or less" and added he always had the idea of bringing back F1 to the region.
To finalise F1's return to Austria, Mateschitz had to fight planning restrictions that stipulated no more than 25,000 people could attend an event at the redeveloped track.
"We had to talk to politicians and they got more common-sense minded," Marko said. "Step by step, we got there."
Marko said Red Bull considered reviving the demanding layout of the former Osterreichring, which featured a series of high-speed corners with little in the way of run-off areas, but decided it would be impossible to make it safe enough for modern F1 standards.
Rebuilding the track and financing a grand prix, which usually cost tens of millions of pounds a year in sanctioning fees, was "a huge investment", he said.
He added: "We are spending private money, we don't get government money. The whole of Austria is benefiting from the grand prix."