Michael Schumacher: Lukas Podolski tribute to F1 legend
Last updated on .From the section Formula 1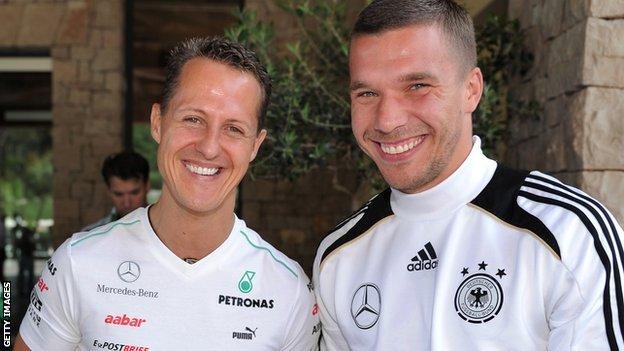 Lukas Podolski dedicated Germany's 4-0 World Cup win over Portugal to countryman Michael Schumacher, after news emerged that the Formula 1 legend is no longer in a coma.
"He's a good friend a good guy and he's also crazy about football," said substitute striker Podolski.
"Maybe he watched the game or he knew about the result."
Schumacher had been in a medically induced coma after a skiing accident in the French Alps on 29 December.
The 45-year-old was being treated in an intensive care unit in the French city of Grenoble, where he has been for almost six months.
The seven-time world champion is now at a Swiss hospital in Lausanne, closer to his family's home.
F1 driver Lewis Hamilton, world champion in 2008, said it was "amazing" to hear of Schumacher's progress.
"Everywhere I go people ask about him," said the Englishman, who drives for Mercedes, the last team Schumacher drove for before retiring. "I could be at a petrol station in the States and people would ask about him."
He added: "It's really positive to hear there is some progress. To hear he is now really in that wake-up phase is really, really encouraging."
A number of other sports stars from around the world took to Twitter to welcome the news of Schumacher's improvement.
"Good start of the week with the news of Michael!" wrote Ferrari's Fernando Alonso, world champion in 2005 and 2006. "So happy this is going in the good direction."
Jenson Button, another ex-world champion, added: "Great to hear some positive news about Michael's condition."
World heavyweight boxing champion Vladimir Klitschko urged Schumacher to "keep on fighting", while former England footballer Rio Ferdinand tweeted that Schumacher was an "inspiration".
Sepp Blatter, president of football's world governing body Fifa, wished Schumacher "all the best for further rehabilitation".