Lewis Hamilton: Another failure and Nico's lead might be too big
Last updated on .From the section Formula 1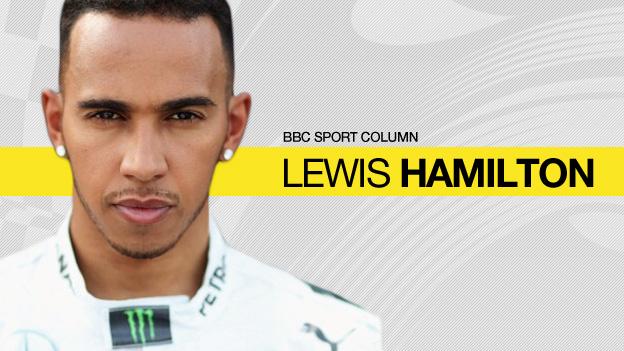 Retiring from the Canadian Grand Prix has given me pause for thought about the championship.
I'm still totally confident I can overhaul the 22-point advantage my team-mate Nico Rosberg has over me now, but it has become even more apparent that I need to be finishing every race.
That's 43 points I've lost in Australia and Canada. Nico won in Melbourne, the opening race, and finished second in Montreal.
The gap is still bridgeable, especially as we have 13 races still to go, with double points at the last one in Abu Dhabi, but another situation like Australia or Canada and Nico's lead might start to get too big.
Everyone might expect me to be down after retiring with brake failure in Montreal, but the Australian result was more gutting.
I'd prepared all winter before arriving in Melbourne a week ahead of the first race of the 2014 season.
After three long days at the track, you just want to see the race through, but, effectively, I didn't get to do anything at all.
On top of that, I'd lost out on a potential 25 points and the season had only just started.
Canada was different, because at least I'd completed half the race, I was leading and I did everything I could have.
Of course, you always come away thinking maybe I should have done this or that differently.
In hindsight, when we first hit problems with the kinetic energy recovery system, I could have let Nico pull away. Then I'd have had clean air, wouldn't have had such a hot car and maybe the brakes wouldn't have overheated when I did my pit stop.
Perhaps the strategy will change this weekend if we have another marginal situation reliability-wise, although I'm not expecting one.
We should have another strong weekend here in Austria. I've not raced on this track before. The most recent grand prix here was in 2003 and I never came here in the junior formulae.
But I've driven the track on a simulator and it looks like a fun place. It's in beautiful countryside, too, so I'm really looking forward to the weekend.
Wanting to race bikes one day
I've had a busy time since Canada, including a trip to the MotoGP race in Spain last weekend.
Along with NBA basketball, MotoGP is my favourite sport to watch.
I have a bike at home that I ride on streets, motorways and so on. Knowing the speed that grand prix bikes can do and how vulnerable you are on those things, it's scary seeing the way the riders drift the bikes into the corner. My respect for those guys could not be any higher.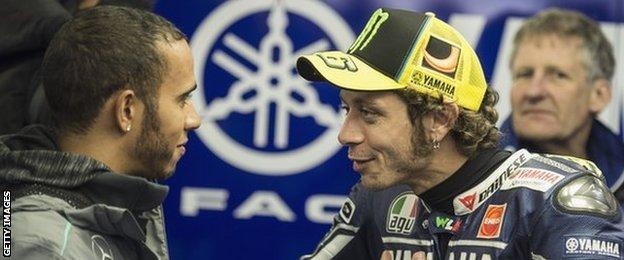 Last weekend, it was really cool to see the different riding styles on show.
Valentino Rossi is, in my opinion, one of the most - if not the most - incredible riders of all time.
He just seems to be able to eke out that bit extra from the bike than perhaps others do. You could see that in the Spanish race last weekend. The Yamaha is not as fast as the Honda, but Rossi was still in the mix with them at the front.
It's amazing that he can come back year after year and stay just as fit and committed as the youngsters. People probably don't think about it, but that is not easy to do.
It's also interesting to watch Marc Marquez.
He's got the best bike, but it's still remarkable what he's achieved. He won the title in his first season last year, aged just 20, and looks set to retain it after winning the first seven races of 2014.
I see some reflections of myself in Marc. When I watch him, I'm always thinking: 'I would have done it like this.' Then he takes the exact lines I would have - and they work. It's really cool to see that.
It's a great sport and it's good that the fans can get so close to the action.
I really want to try it one day. John Surtees won a world title on a bike and in a car, so it would be cool to do that, too.
It's easy to be popped off a bike, though, so you couldn't take the risk during an F1 season. But I'll definitely try it one day.
Risks of racing
The dangers of bikes are obvious to anyone watching, but it's easy to forget F1 is a dangerous sport, too.
Watching it, F1 looks so much more comfortable. You don't see our bodies moving all over the place. You just see a helmet.
Some people forget the dangers, but I'm always aware of them.
Safety, though, has come a long way and it's quite phenomenal when you see some of the shunts that people are able to walk away from, like the crash between Felipe Massa and Sergio Perez in Canada.
I still haven't seen the Perez-Massa shunt properly. I saw a glimpse of it when it was live and my impression from a distance was that one of them must have moved sideways because they touched suddenly.
It just shows you that, at such high speeds, the slightest change in position can be crucial. Sitting in the cockpit, we also have loads of blind spots, so we don't know where the people are sometimes. You have to have a lot of confidence in the people around you.
Hitting a wall at those speeds is not a nice feeling. You just brace for impact. And it hurts, but not necessarily where you might expect.
I've had some big head-on shunts and often it's your legs that hurt most.
After one of my shunts years ago, my legs were kicking afterwards. It's like if you burn your finger on a flame and you shake your hand out of pain. That's what I felt in one of those crashes.
As long as you're not injured, though, the biggest feeling after a crash like that is disappointment.
It was such a shame for both Massa and Perez.
They had driven so well all through the race and were going to get great results for their teams. If you don't finish, especially when it happens so late in a race, there is a lot of pain because you feel like you're letting down a large group of people.
Lewis Hamilton was talking to BBC Sport's Andrew Benson