Nico Rosberg: I have psychological edge over Lewis Hamilton
Last updated on .From the section Formula 1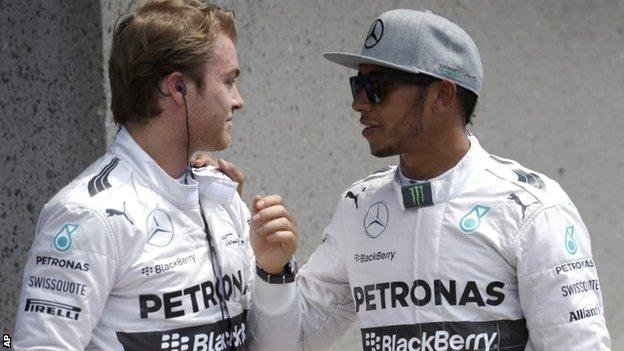 Nico Rosberg believes he now has the psychological edge over Mercedes team-mate Lewis Hamilton after opening up a 22-point lead in the title race.
Britain's Hamilton, the 2008 world champion, won four races in a row to take the championship lead off Rosberg.
However, his team-mate reclaimed the advantage with victory in Monaco, and second in Canada as Hamilton retired.
"It was really important to bring that run to an end because psychology is a big part of sports," said Rosberg.
Hamilton bounced back from a mechanical retirement in the season opener in Australia to win four races in a row and take the championship lead from Rosberg.
But the German reclaimed the advantage in controversial circumstances in Monaco with Rosberg leaving the track in qualifying and denying Hamilton the chance of claiming pole position for the race, which the German went on to win.
Rosberg then extended his lead last time out in Canada by finishing second with Hamilton retiring with rear brake failure.
Hamilton said after the race in Canada that he has no doubt he can catch Rosberg, who has finished in the top two in all seven races, despite the fact that he is now almost a race win's worth of points behind.
"If you have those results behind you, like I do now, it gives you that little bit extra, that little bit of an edge, so it does help," added Rosberg.
Both Mercedes cars suffered identical issues with the energy recovery systems in Canada, meaning Red Bull's Daniel Ricciardo was able to snatch victory from an ailing Rosberg in the closing stages and end Mercedes' run of six consecutive wins.
"With reliability problems like that, it's not good," said Rosberg, ahead of this weekend's Austrian Grand Prix. "We need to be bulletproof.
"It's a work in progress. We've been good with reliability, but we have had a few problems now, so we have to keep on going and make sure it's 100%."
Despite Red Bull scoring their first victory since last year's finale in Brazil, team boss Christian Horner believes the team still have plenty to do to compete with Mercedes on a regular basis.
"To get a double podium, to get that first win of the year, was a fantastic performance and great motivation for Renault," said Horner.
"But let's not beat about the bush, Mercedes were the quickest car, even though they ran into issues. They were still very, very strong. We have to keep pushing and keep closing that gap down because it is still significant."