Austrian GP: Daniel Ricciardo hoping for edge in 'home' race

By Andrew Benson
Chief F1 writer at the Red Bull Ring
Last updated on .From the section Formula 1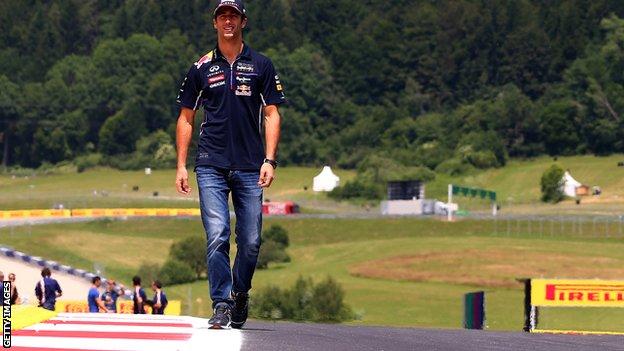 Daniel Ricciardo is optimistic he will be able to challenge Mercedes at this weekend's Austrian Grand Prix on his Red Bull team's own track.
Ricciardo said: "Having a win, it still sounds weird. But it's cool. Not only for myself but the team.
"It's really given them a spurt and hopefully it can work out well here."
Mercedes had won all six races before Canada, but Ricciardo hopes the layout of the Red Bull Ring will help his team.
The Red Bull is at least a match for the Mercedes on cornering speed, but its Renault engine lacks power on the straights compared to the German team's engine, which is also used by Williams, Force India and McLaren.
Ricciardo said: "The circuit should be fun. It's a short lap, but the second and third sector looks like it should be a good time. So hopefully we can challenge."
Ricciardo and Rosberg are two of the few drivers who have previous experience on the track, which hosted the Austrian GP from 1997-2003.
In the intervening years, Red Bull has bought the track and revitalised it, but the layout remains the same.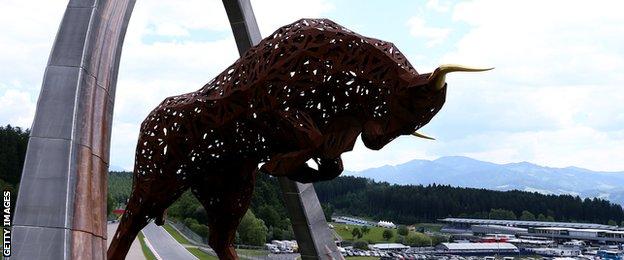 Rosberg raced on it in his junior career and Ricciardo drove an F1 car on it during a Red Bull demonstration last year.
But both denied that would be an advantage over Hamilton, who has no experience of it.
Ricciardo said: "I've been around a few times but it won't take long to adapt and get used to it. By qualifying we'll all have our eye in. Mistakes are going to be costly. I don't think I have an advantage. By Saturday we will all be up to speed."
Rosberg added: "[It gives me] no help at all. What helps is I drove it in the simulator last week. It normally takes about 10-15 laps to learn a track."
The German heads into the weekend having opened a 22-point gap over Hamilton in the championship as a result of Rosberg finishing second to Ricciardo in Montreal, while Hamilton retired with brake failure.
Hamilton said he was "not too concerned" about the gap, given there were still 12 races to go this year.
"If it was a little later in the season, I might feel a little bit different," he said.
The Englishman said he was "excited" to race on a new track.
"I'm great," he said. "I couldn't be in a better place. I can't wait to get back in the car."
Meanwhile, F1 bosses have decided against changing the format of race weekends next season.
The rule-making strategy group had voted to reduce the number of Friday practice sessions from two to just one but a meeting of the F1 Commission of teams, sponsors and promoters on Thursday voted against the idea, which has now been abandoned.