Austrian GP: Fernando Alonso salutes Felipe Massa pole

By Andrew Benson
Chief F1 writer in Austria
Last updated on .From the section Formula 1
Ferrari's Fernando Alonso paid tribute to former team-mate Felipe Massa after the Williams driver took pole for the Austrian Grand Prix.
"I always said Felipe was a very, very fast man," Alonso said. "Not many people believed me.
"But I still think he was probably the fastest team-mate that I had."
Among his team-mates in a 13-year career, Alonso has also partnered Lewis Hamilton, who beat Massa to the 2008 title, and is this year joined by 2007 world champion Kimi Raikkonen, who he has out-qualified six times in eight races and beaten in every grand prix.
"Definitely Felipe struggled in the last four years because we knew that we were not super-competitive," said Alonso, who qualified fourth behind Mercedes' Nico Rosberg.
"Now he has a very fast car, he enjoyed today and I congratulate him and am happy for him after the tough moments we lived together in the last four years. But tomorrow I hopefully finish in front of him and not behind any more."
Massa said he believed the move to Williams had been good for him.
"I had a great time with Ferrari," Massa said. "I'm not a guy who is trying to speak bad about the past. I have had an incredible time in my past and I really enjoy everybody from Ferrari, but I feel that sometimes a change helps.
"Always when you are in the same place for many years... also I had a difficult moment as well, you know, it was good to have a change.
"I really feel happy with Williams, with really great people.
"They really believe in my job, they really believe in what I say and I think that's really positive. It makes me feel better, it makes me feel very important inside the team."
Williams head of vehicle performance Rob Smedley, who also joined from Ferrari for this season, said: "Fernando is an incredible competitor; really one of the very best drivers of all time.
"So having Fernando Alonso as your team-mate is never easy, as Kimi's finding out now.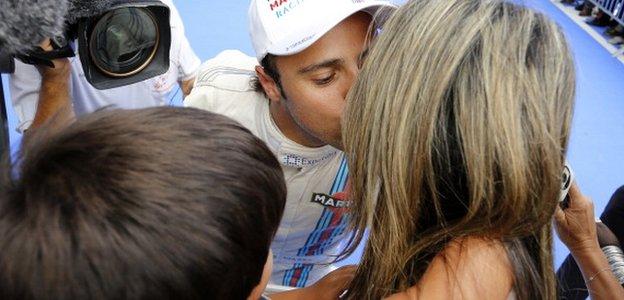 "We all know that Kimi is an incredible driver. But Fernando just delivers and it's not just weekend in, weekend out, it's session in, session out.
"The guy hardly ever puts a foot wrong. And that puts you under pressure. It's normal when you have to battle against somebody who is so very good that you do feel pressure.
"Here we have a more equal pairing between the drivers and that has helped Felipe to relax a little bit and to relax into his role."
Massa said Williams would find it hard to hold off Rosberg and team-mate Lewis Hamilton, who starts ninth, in the race on Sunday.
"We cannot forget what Mercedes have been doing until now this season," he said, in reference to their domination.
"We cannot forget that they didn't have a clean qualifying either.
"I think we will see a very strong Mercedes [in the race], so we need to be ready for everything. We need to be ready also that finishing behind them is still an incredible job for us."
Austrian Grand Prix practice results