Lewis Hamilton says he will learn from his mistakes in Austria

By Andrew Benson
Chief F1 writer in Austria
Last updated on .From the section Formula 1
Lewis Hamilton says he will learn from the errors that cost him victory in the Austrian Grand Prix.
The Briton is 29 points behind Mercedes team-mate Nico Rosberg after finishing second to him at the Red Bull Ring.
Hamilton blew a chance to start on pole position with two errors in qualifying but fought up from ninth on the grid.
"There are a lot of positives to take. I had a lot of pace. I didn't capitalise on it. I'll take it into the next race and make sure I do," he said.
"I'm always learning lessons but it's also good to remember the points I have lost by not finishing.
"I'm 29 points behind. haven't finished as many races as I would have liked and there's a long way to go."
Hamilton retired from the season-opening Australian Grand Prix, which Rosberg won, and the Canadian Grand Prix, in which Rosberg was second.
Of the six races both have finished, Hamilton has won four and Rosberg two.
Hamilton said he was "happy" that he had managed to recover after starting so far down the field.
He made a fast start, and was fifth by the first corner and passed Ferrari's Fernando Alonso to take fourth behind Williams drivers Felipe Massa and Valtteri Bottas, and Rosberg, by the end of the first lap.
Rosberg and Hamilton managed to pass the Williams cars on pit-stop strategy but engine problems and the need to manage their brakes meant the Englishman was never able to try to pass the German.
Hamilton said: "I easily had the pace [to win] but something was weird. My power was dropping and his wasn't and we need to investigate what that was. We're always trying to manage power. Perhaps we could have been a bit more optimal."
But he added: "Days like today give you a lot of energy. You make a good start, overtake a few people, get yourself back up to the lead. To start ninth and be fighting for first, that's a huge compliment for my side of the garage."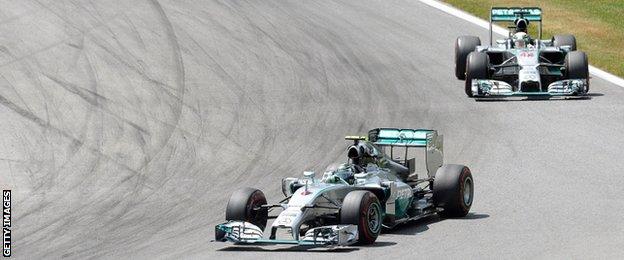 Hamilton lost 1.9 seconds to Rosberg over his two pit stops but said that was not decisive.
"I looked and they had some problem with my left front wheel on one of them and I think on the first one I was a little bit long. But overall lost two seconds. Valuable but it wouldn't have put me first."
Hamilton has now lost out to Rosberg in three consecutive qualifying sessions. In Austria he ran wide on his first lap, which would have comfortably secured pole, and then spun on his second when his rear wheels locked as he went over a bump.
But he said it was not as simple as driving cautiously on his first run in qualifying to ensure he got in a timed lap.
"If you look at Monaco I should have done it on the first lap because I had the pace," he said.
"In Montreal my first lap was good but I got held up in the last corner by one of the Red Bulls and lost almost 0.2secs.
"And then yesterday I pushed to make the first lap stick and I was up quite an easy amount.
"It's OK to laugh about it now but I lost seven points. But there is a long way to go."