Austrian Grand Prix: Williams deny throwing away victory

By Andrew Benson
Chief F1 writer in Austria
Last updated on .From the section Formula 1
Williams denied they threw away a possible victory in Austria with an overly conservative strategy.
Valtteri Bottas and Felipe Massa finished third and fourth behind Nico Rosberg and Lewis Hamilton of Mercedes, despite starting on the front row.
The team chose not to try to keep Rosberg behind them at the first pit stops over fears about tyre wear.
"There's a chance, if we'd done what Nico did, we wouldn't have got to the end," said Williams' Rob Smedley.
"Tyre wear was that close. I'm reasonably happy with what we did."
Rosberg and Hamilton were running third and fourth behind Massa, who started from pole, and Bottas in the first stint of the race.
Mercedes, realising they were able to look after their tyres better than Williams, brought Rosberg in on lap 11.
Had Williams responded with Massa on the next lap, the Brazilian would almost certainly have been able to rejoin still ahead but Williams were worried the two remaining stints would then be too long for their car.
"From all the information we had at that point and everything we knew at that time and now know, I don't think we could have got to the end of the race by doing it," head of vehicle performance Smedley said.
"Even the strategy we did, we were managing tyres and tyre wear, trying to keep wheelspin and lateral acceleration down in certain parts of the corner with driving styles, with electronic settings.
"So it would have been fairly gung-ho and brave to have gone for it on that lap, and you look like a bit of an idiot if you finish your tyres with five or six laps to go and cars come streaming past you."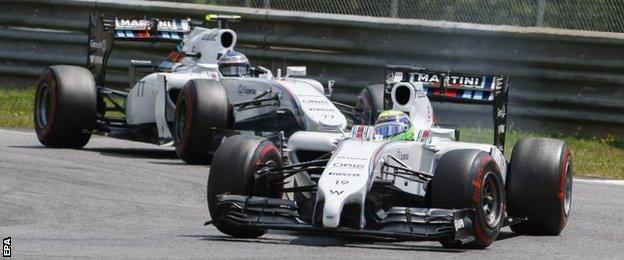 He added: "We wouldn't be racers if you didn't feel a slight twinge of disappointment but you have to look at the positives.
"We were beaten by a faster car and a better organised team. They did a better job than us, there's no doubt about that. We knew we had to manage systems on the car, brakes, tyres - and it was all about that."
Bottas managed to pass Massa at the first stops, Smedley said, because the Brazilian had a slow in-lap, a 0.8-second delay at the pit stop and then problems getting his tyres up to temperature when he rejoined.
The Finn's third place was Williams' best result since Pastor Maldonado won the 2012 Spanish Grand Prix and Bottas' first podium finish.
It confirms a huge step forward in performance by Williams after they finished ninth last year with just five points.
Bottas said: "Really happy. Difficult to put into words, really. It's been a long way for us since last year and now it's so much better.
"The race was exactly what we needed - clean, nice, everything went like planned really. The car was good for the podium this time."
Massa admitted he was disappointed to drop from finish fourth after starting on pole.
"We had a good fight with the Mercedes but it was clear we were never going to win," he said.
"I had to manage my tyres the whole race and also struggled with traffic. To stop first and come back out fourth is a bit disappointing but that's racing."