Austrian GP: Lewis Hamilton has the speed but none of the luck

By Andrew Benson
Chief F1 writer
Last updated on .From the section Formula 1
Lewis Hamilton was in the mood he so often is after this kind of race - short answers, tight smile, trying his hardest to look at the positives.
There were plenty, even if the headlines made uncomfortable reading. Hamilton had finished second to team-mate Nico Rosberg in the Austrian Grand Prix and dropped a further seven points to him in the championship.
The gap between them is now the biggest it has been this season - 29 points. More than a race win. When, barring problems, their only opposition each weekend is each other, Hamilton knows closing that gap will not be the work of a moment.
In such circumstances, all sportsmen look for reasons to be optimistic, rather than pessimistic. It's a necessity when self-belief is such a critical part of the requirements needed to succeed.
Hamilton is no different. And, despite the disappointment of defeat and the frustration that it could and should have been better, the positives were definitely there.
Hamilton - as he has in the majority of races this season - had a pace advantage over his team-mate in Austria.
That should have resulted in him being on a comfortable pole position, from which he would almost certainly have taken an equally comfortable victory.
On his first run, Hamilton was on course to set a lap that would have been at least 0.3 seconds, and possibly as much as half a second, quicker than anyone else managed. But he ran wide illegally at Turn Eight and the lap was discounted.
On his next run, his last chance in qualifying, he spun, and ended up ninth on the grid.
Hamilton was definitely partly to blame - he braked eight metres later on that lap than he had on any other that weekend and the rear wheels locked. Hamilton took the blame, but it was not quite as simple as that.
Just at that point, the car hit one of the bumps on the Red Bull Ring that are caused by the truck racing that takes place there. The rear wheels lifted off the ground, taking the load off the rear axle, at the same time Hamilton shifted down, which locked the rear wheels, sending him into a spin.
"I'd hesitate to call it a mistake," a Mercedes engineer said. "It was just a really unfortunate combination of circumstances."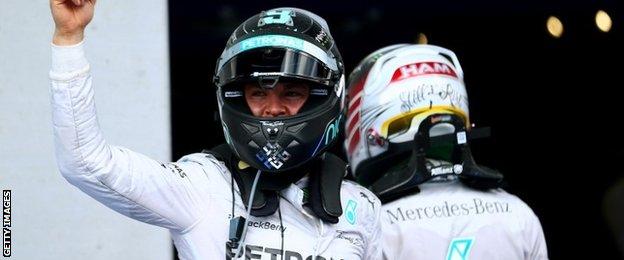 Whatever, things looked relatively bleak for Hamilton on race morning.
Starting ninth, with Rosberg third behind Felipe Massa and Valtteri Bottas - and with Williams head of vehicle performance Rob Smedley effectively admitting they were not going to try to race the Mercedes - the possibility of losing a serious chunk of points to his team-mate was very real.
But he produced a simply stunning first lap.
A scintillating start put Hamilton fifth at the first corner. An excellent pass on his old sparring partner Fernando Alonso into the 130mph Turn Eight at the end of the lap meant he crossed the line at the end of lap one a scarcely believable fourth, right behind his team-mate, who was being held up by the two Williams.
At that point, Hamilton admitted later, he felt beating Rosberg, and winning the race, was on.
"I easily had the pace but something was weird," Hamilton said. "My power was dropping and his wasn't and we need to investigate what that was."
Rosberg was always in sight, even when he got into the lead and Hamilton was still stuck behind Bottas, but managing that power problem, and with fading front brakes, he was unable to mount a challenge.
Asked whether he was pleased to have recovered from his poor grid position and limited the points loss, or frustrated he was so close to Rosberg so early on and couldn't beat him, Hamilton said he was "happy that I've managed to recover".
He is, though, clearly frustrated that Rosberg has yet to suffer a retirement this year and he has had two in eight races. He mentions it regularly.
And in pointing out that he is 29 points behind despite that, he is making sure everyone - and Rosberg in particular - remembers who is the fastest Mercedes driver.
But as Austria proved yet again, being fastest is not always enough in F1.
Hamilton might do well to speak to Mercedes non-executive chairman Niki Lauda.
Parallels have already been drawn between this season and the famous intra-team title battle between Ayrton Senna and Alain Prost at McLaren in 1988.
But in many ways it is more like the one between Prost and Lauda in 1984, when McLaren were almost as dominant.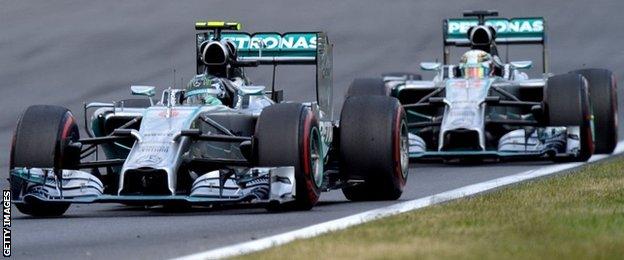 That year, McLaren won 12 of the 16 races, Prost taking seven victories and Lauda five. Prost was by far the faster driver, especially in qualifying, but he had much worse luck.
In most of Prost's wins, Lauda was behind him in second place. Most of Lauda's came when Prost hit trouble of one kind or another. And Lauda won the title by half a point, the narrowest margin in history.
Lauda, recognising Prost was faster, used his intelligence to bolster his challenge, in much the same way as Rosberg is using a cool head, rock-solid psychology and guile to combat Hamilton.
Of the six races they have both finished, Hamilton has won four and Rosberg two, in neither of which he was faster than his team-mate.
The pressure is now firmly on Hamilton - as he admitted in his BBC Sport column on Friday, another retirement would be a severe blow to his title hopes.
He therefore cannot take risks he might otherwise, and at the same time, he has to beat a man who is not that much slower than him consistently enough to close that gap. While a retirement by Rosberg must be considered probable at some stage, it cannot be relied upon.
Hamilton has proved vulnerable psychologically at times in the past, but Lauda says he will be fine this time, insisting after Sunday's race that he would come back stronger at his home race at Silverstone the weekend after next.
Hamilton, unsurprisingly, agrees.
"There's not really much more I can do at the moment," Hamilton said. "I've got good pace. I just need to execute it on the weekend, so I will."
For the first time in what will be four races, he has to carry that through.