Austrian Grand Prix: Fernando Alonso - I want trophies not respect

By Andrew Benson
Chief F1 writer at the Red Bull Ring
Last updated on .From the section Formula 1
Fernando Alonso says he would rather have "more trophies" than "respect" for over-achieving in an uncompetitive car.
The Ferrari team leader was the only driver not using the dominant Mercedes engine to finish in the top seven at the Austrian GP. Alonso was fifth.
Asked if he took satisfaction from splitting the Mercedes-powered cars, the Spanish double world champion said: "Not much."
He said he had had "five years" struggling against the odds at Ferrari.
Alonso has three times in the last four years finished second in the world championship to Red Bull's Sebastian Vettel, taking the fight to the final race in 2010 and 2012.
"There is always the satisfaction that everyone believes you are performing at your best," Alonso said.
"There is the respect from drivers, team principals, fans for the job that we do. But I prefer to have no respect and to win more trophies."
Alonso finished behind the works Mercedes drivers Nico Rosberg and Lewis Hamilton and the Mercedes-powered Williams of Valtteri Bottas and Felipe Massa at the Red Bull Ring on Sunday. The next best car without a Mercedes engine was the Red Bull-Renault of Daniel Ricciardo in eighth, behind Sergio Perez's Force India and Kevin Magnussen's McLaren.
Alonso said it would be "impossible" for Ferrari to close the pace gap to the all-conquering Mercedes team this year.
That view was backed by team principal Marco Mattiacci, who pointed out that the in-season freeze on engine development "does not allow us to close the gap. It would not be true to say we can close the gap."
The Mercedes engine has a power advantage over the rival units from Ferrari and Renault of at least 50bhp.
But Alonso said Ferrari had made progress relative to the opposition since a poor start of the season, which led to the resignation of Mattiacci's predecessor Stefano Domenicali after the third race of the season in Bahrain.
"We made some progress on the car," Alonso said. "It is difficult to judge what the others are doing every race and how much they improve as well; nothing we can do there.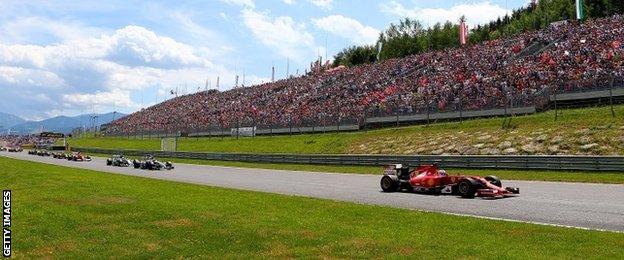 "We just need to work better than the others to close the gap with Mercedes which at the moment is the reference point.
"All the other teams will go up and down, including us, and hopefully we have the resources, technology and people to make some extra progress compared to the others."
And he said he was hopeful Ferrari would improve enough to be competitive in 2015.
"Yes. In one year, many things can happen. And I expect 2015 will be again a big step from everyone including Mercedes.
"So we all will be better and definitely the teams that start with a lower baseline have more margin to improve and we will get closer or at the level of Mercedes. That's our hope and intention."