Allan McNish: Williams on track but McLaren struggling

By Allan McNish
BBC F1 analyst
Last updated on .From the section Formula 1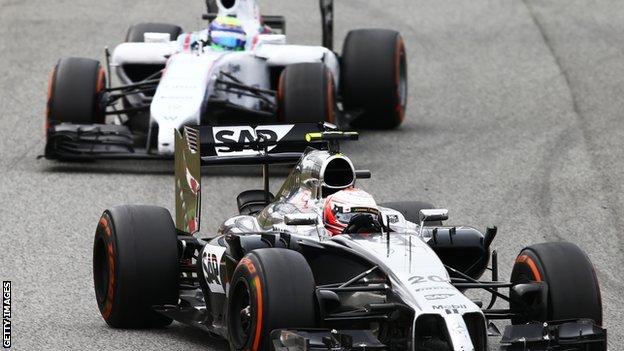 Heading into this year two famous teams that had really bad seasons in 2013 were looking to improve - McLaren and Williams.
McLaren had an annus horribilis last year for a team of their record and resources - fifth in the constructors' championship and no podium finishes for the first time since 1980.
Changes were made over winter - Ron Dennis returned at the helm; team principal Martin Whitmarsh was sacked and Eric Boullier moved from Lotus to replace him in running the Formula 1 team.
Williams also went through a rebuilding process - a raft of new people were brought in on the engineering side, starting with replacing technical director Mike Coughlan with the vastly experienced Pat Symonds last summer.
Both teams were determined to prove, going into this season, that they were getting back on the right track.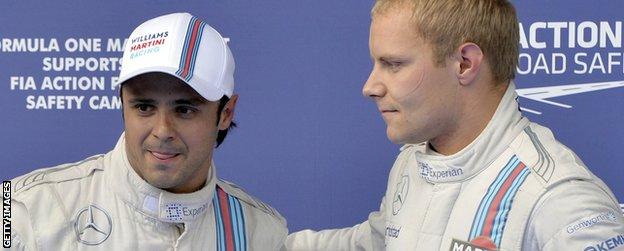 On-track form
The season started well for both in Australia this year. McLaren's new driver Kevin Magnussen finished on the podium after qualifying fourth and Jenson Button drove well to come through to fourth. They were promoted to second and third when Red Bull's Daniel Ricciardo was disqualified.
Williams also had a strong weekend in Melbourne. Valtteri Bottas might have finished second had he not hit a wall in the race and damaged a rear wheel. But he still managed a strong fifth.
Both teams appeared to have turned a corner. But things look very different for one of them now.
Williams' strong season has continued, underlined by their front-row qualifying positions and third and fourth-place finishes in the Austrian Grand Prix at the weekend.
But it has become clear that, far from improving, McLaren are in an even worse state relative to the opposition than they were last year.
They were lapped in three successive races in China, Spain and Monaco - and that's with the best engine - Mercedes.
Certain tracks exacerbate this engine performance more than others, including the last two races in Canada and Austria.
On race lap-time average in the Austrian Grand Prix, Magnussen, who finished seventh, was 0.45 seconds per lap slower than race-winner Nico Rosberg. Button was 0.71 seconds slower.
By comparison, the two Williams were on the front row of the grid, and were dicing with the Mercedes for much of the race. Bottas finished only eight seconds behind.
Both teams are lacking downforce - which is why both had their worst result of the year in terms of raw pace in Monaco.
This largely explains why McLaren are struggling with tyre life, especially on the softest. This is certainly not Williams' strongest point either but it's a much more manageable situation for them.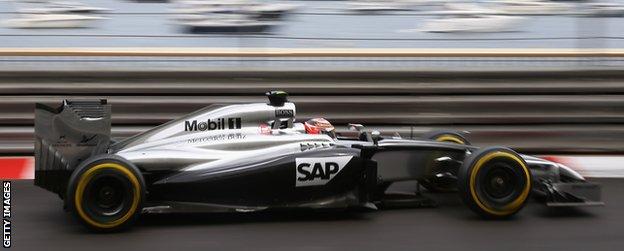 Behind the scenes
Let's take a step back from the on-track situation.
With all the changes in staff, Williams now have a young generation of engineers overseen by people with experience, such as Symonds and head of vehicle performance Rob Smedley, who joined from Ferrari.
McLaren have brought in Boullier, who is a very good man-manager, but it looks like they need the sort of sweeping changes Williams have made in the engineering department as well.
From the outside, McLaren do not look like an agile racing team; they look like a big, heavy company.
The worry I would have if I was McLaren is that their 2013 car was not good; their 2014 car is not good. Unless they are 100% sure of the reason for that, why is their 2015 car going to be better?
Right now, they can exclude the engine from the equation. Next year is more of an unknown, as they are switching to Honda, which is re-entering F1 after six years away.
An opportunity missed for Williams?
While McLaren must still have real concerns about the direction they are going in, after eight races this year, Williams know their changes have made a difference.
They probably surprised themselves by locking out the front row in Austria. And because they have not converted potential into points several times this year - Australia, Bahrain and Canada, for example - they were concentrating very much on getting their cars to the end and bagging those points.
There was a bit of discussion afterwards about why they had not tried a bit harder to keep the Mercedes cars behind them, particularly by responding to Mercedes' first pit stop with Rosberg and their second stop with Hamilton.
I would have countered Rosberg's first stop with Massa, and Hamilton's with Bottas.
It would have carried some risks and it may just have delayed the inevitable. But it would have kept them in there with a chance that bit longer.
Do that, and you never know what might happen, especially as Mercedes were not at their best in Austria. I am a great believer that you need to be in the fight to win the fight and keep the pressure on.
I don't think they would have won the race, but I would like to have seen them take the risk with the pace advantage they had over Ferrari, even if the result may well still have been the same.
There are still areas Williams can improve on. Bottas' pit stop was 0.75 seconds quicker than Massa's and these little consistency details can make a big difference when you're racing at the front.
But Austria was nevertheless a breakthrough and fantastic to see.
Previously, Williams had either not qualified where they should have and had to make up places in the race; or qualified well up and not had the race pace.
This was the first time they had both qualified the car to its potential and delivered in the race.
That's a very encouraging sign. But it remains to be seen whether they can maintain it over the next few races.
The last two circuits have been perfect for teams with Mercedes engines, and especially for cars that maybe don't have the highest downforce levels.
But two of the next three races - Silverstone and Hungary - are on tracks where good overall downforce is crucial.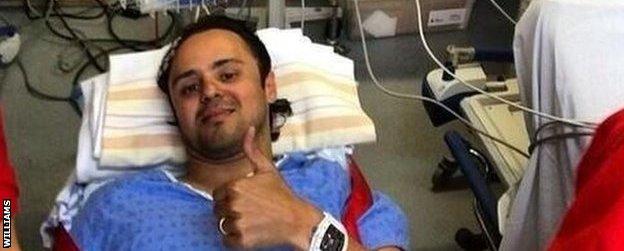 Kudos to Massa and Perez
Two of the strongest candidates for drives of the weekend were Massa and Force India's Sergio Perez.
Two weeks ago, they went to hospital after a collision and a huge crash on the last lap of the Canadian Grand Prix.
Yet Massa took pole in Austria. He slipped back to fourth as a result of his first pit stop - he had a small delay in the pits, a slow out lap in traffic and struggled to get his tyres up to temperature afterwards.
But it was nevertheless a fantastic result; and the same goes for Perez, coming through from 15th on the grid following his five-place penalty for the Canada incident, to finish sixth.
It was such a calm drive from Perez. That was very impressive.
Allan McNish is a former F1 driver and a three-time winner of the Le Mans 24 Hours. He was talking to BBC Sport's Andrew Benson