Formula 1 gossip and rumours from international media
Last updated on .From the section Formula 1
SATURDAY, 12 JULY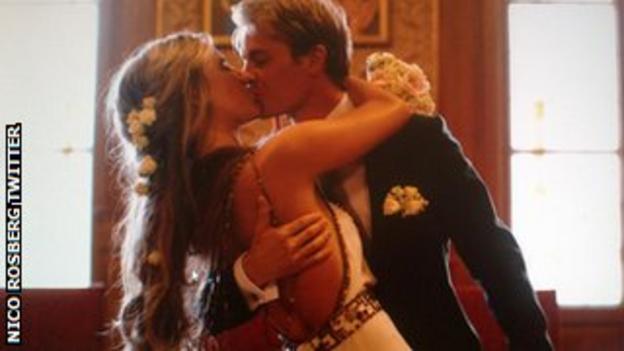 McLaren driver Kevin Magnussen believes the criticism of Jenson Button from team boss Ron Dennis is good for the whole team. Autosport
Button thinks that if Lewis Hamilton is in the right frame of mind, he will be unbeatable in his battle for the world championship with fellow Mercedes driver Nico Rosberg. Talksport
Rosberg has married his long-term girlfriend Vivian Sibold, and tweeted a photo of the happy couple at their wedding in Monaco.
Prime Minister David Cameron has given local authorities more powers to allow motor races to take place on their roads, but F1 supremo Bernie Ecclestone is wary about whether the move will enhance the chances of a Grand Prix on the streets of London. Daily Star
FRIDAY, 11 JULY
Former McLaren team manager Jo Ramirez says driver Sergio Perez was uncooperative and "cocky" during his one-year stint with the British team. Motorsport.com
Williams driver Valtteri Bottas believes Mercedes could be the team most affected by any ban on front-and-rear interconnected suspension (FRIC). Espn.co.uk
Daniel Ricciardo is certain his Red Bull team-mate Sebastian Vettel will soon rediscover his best form after a difficult start to the season. Autosport.com
Vettel says Red Bull "haven't really closed the gap" on Mercedes since the opening race of the season in Australia.Sky Sports
Williams F1 development driver Susie Wolff shows her support for the Sean Edwards foundation, set up in honour of the British racing driver who died in a crash in Australia last year. Wolff tweeted a picture of her jumping, along with the words: Jumping for @SeanEdwardsR!
THURSDAY, 10 JULY
McLaren racing director Eric Boullier says he was surprised when the FIA informed him it considers FRIC (front-and-rear interconnected suspension) systems used in F1 to be illegal, but is relaxed about any changes a possible ban for the forthcoming German Grand Prix and beyond would mean. Autosport.com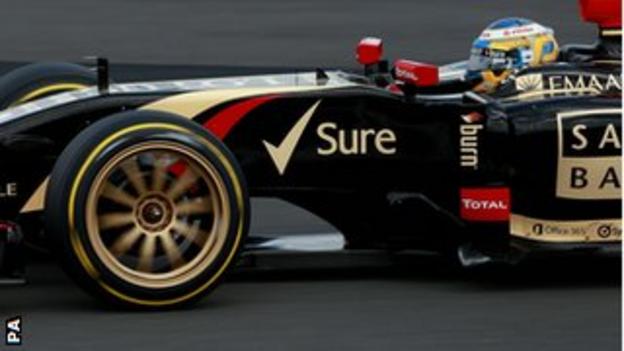 Lotus driver Charles Pic completed 14 laps of Silverstone using Pirelli's proposed 2017 specification 18-inch tyres on the final day of this week's testing at the British circuit. James Allen on F1
Lewis Hamilton was positive about his latest testing session at Silverstone despite spinning off after just five laps, saying: "I'm really pumped now for the next race in Germany." ESPN.co.uk
Marussia driver Max Chilton was pleased with his day's work at Silverstone, and he tweeted: "Love testing when it's smooth running & productive. Also helped by a good turnout of spectators which added to the atmosphere."
WEDNESDAY, 9 JULY
World championship leader Nico Rosberg has hit back at Lewis Hamilton, who queried his rival's national allegiances, by stating that he is "100% German." Sporting Life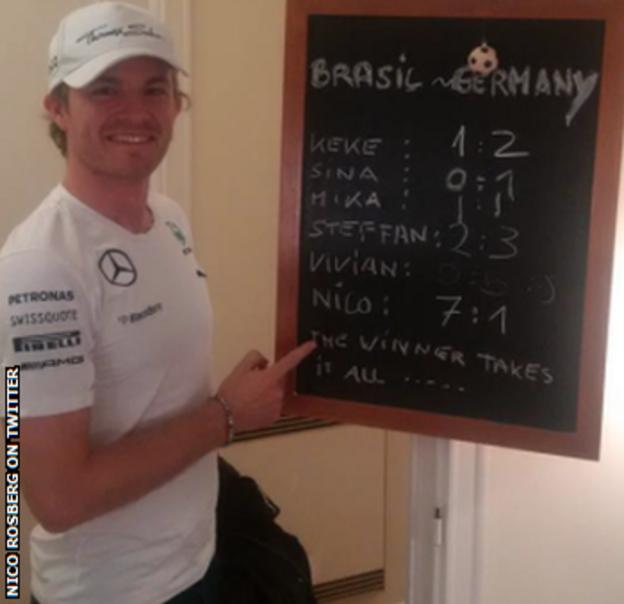 And Rosberg was delighted with Germany's 7-1 thrashing of Brazil in the World Cup semi-final.
Force India's German driver Nico Hulkenburg tweeted: "Wow! Ohne worte" which means "without words" following his country's amazing win in Belo Horizonte.
Ferrari driver Pedro de la Rosa said the opening day of testing at Silverstone was going "fantastically well" until it was cut short by a water leak. ESPN.co.uk
Formula 1's FRIC suspension systems, believed by some to be one of the strengths of the Mercedes car, could be banned for the German Grand Prix on 20 July. Autosport
TUESDAY, 8 JULY
Lewis Hamilton says the support he received from fellow Briton and former world champion Nigel Mansell was a huge confidence boost before the Mercedes driver's own success at the British Grand Prix on Sunday. Daily Mail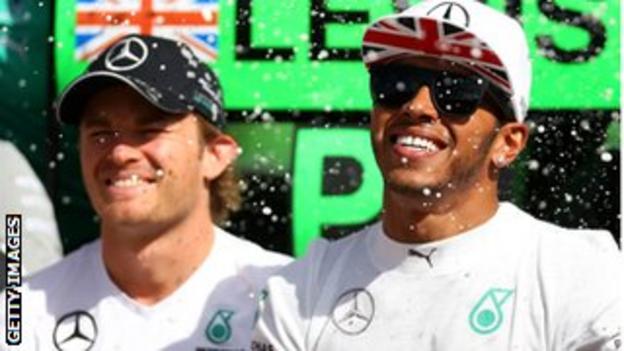 Hamilton has also stoked up his rivalry with Mercedes team-mate Nico Rosberg by mentioning the German's links with Monaco, and saying the forthcoming German Grand Prix is "not really his home race". Daily Telegraph
Mercedes boss and three-time world champion Niki Lauda feels the delay following Kimi Raikkonen's crash at Silverstone was too long, and has criticised F1 for being over-regulated. The National
Lauda's counterpart at Red Bull, Christian Horner, also feels that restrictive rules were to blame for a row involving Sebastian Vettel and Ferrari's Fernando Alonso during Sunday's race, saying each man was trying to get the other punished for abusing track limits, closing the door or using DRS outside the allowed zones. Autosport
MONDAY, 7 JULY
Red Bull driver Daniel Ricciardo believes McLaren's Jenson Button might have passed him to snatch third place at the British Grand Prix if the race had been one lap longer. Autosport.com
Ricciardo's team-mate Sebastian Vettel says it was no surprise that Ferrari driver Fernando Alonso was complaining as the pair almost touched wheels in a closely fought duel for fifth at Silverstone. espnf1.com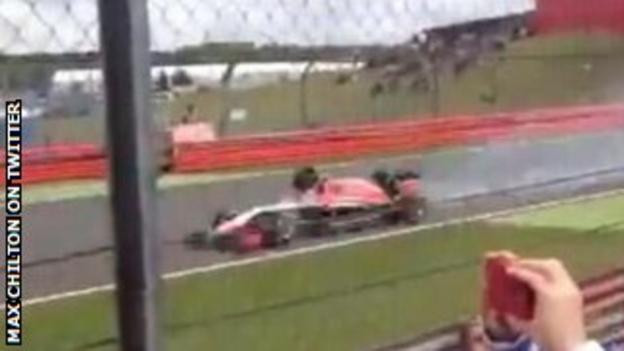 Marussia's Max Chilton tweeted a picture sent to him showing debris from Ferrari driver Kimi Raikkonen's crash hitting his car. Chilton had said he was "lucky to be here" after the incident.
Nico Rosberg was prepared to concede the lead in the British Grand Prix to Mercedes team-mate Lewis Hamilton in order to get to the finish line as he encountered gearbox problems, though the German ended up retiring from the race. Autosport.com
McLaren have rubbished reports that they have told Button his contract will not be renewed at the end of the season. pitpass.com
SATURDAY, 5 JULY
Bernie Ecclestone reveals he has held talks that could see him buy back Formula 1. Daily Express
Technical trouble is not the only thing on Lewis Hamilton's mind during the British Grand Prix at Silverstone this weekend. In addition to his oil leak on Friday, the former world champion is suffering with hay fever caused by pollen in the air around rural Northamptonshire. inautonews.com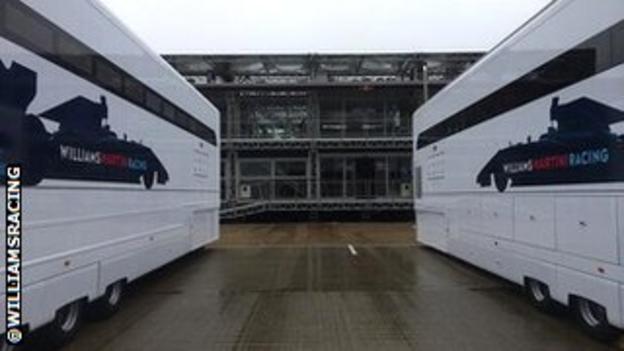 Lewis Hamilton posts a picture of himself flying a helicopter, commenting: "Flying myself home. #helilesson". Lewis Hamilton on Twitter
Ferrari have refused to comment on a report in Italy that engine chief Luca Marmorini has left the team. Sky Sports
Pirelli will test low-profile tyres on the Lotus at next week's in-season test in order to see what a Formula 1 car will look like with tyres closer to those of a road car. ESPN
Williams post a picture of the damp conditions at Silverstone for the British Grand Prix, commenting: "Things have returned to normal.... It's wet at @SilverstoneUK. It may stop tennis at @Wimbledon but it won't stop us." Williams Racing on Twitter
FRIDAY, 4 JULY
Former world champion Kimi Raikkonen admits he is likely to retire from Formula 1 at the end of 2015, when his current deal with Ferrari runs out. Autosport.com
World Championship leader Nico Rosberg is determined to deny Mercedes team-mate Lewis Hamilton victory in the British Grand Prix this weekend. "I want to do the best job possible because I know it can be a great gift to all my colleagues working in the factories, their families, kids, if I can win here like last year," he says. "And of course, I'm trying to beat Lewis like everywhere else." Sportinglife.com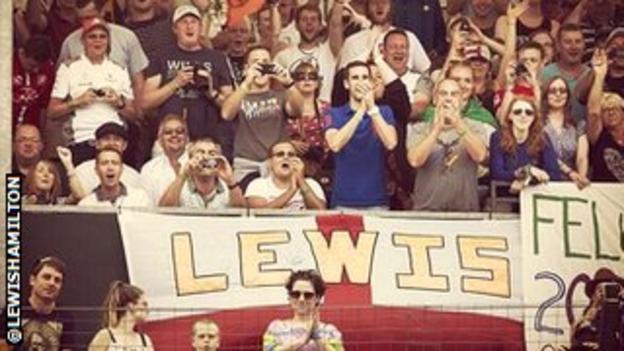 Fernando Alonso says he is so focused on doing what he can to put Ferrari into a winning position next year that he has given little thought to extending his contract beyond 2016, despite rumours of a return to McLaren. ESPN
Romain Grosjean is still dreaming of winning races and becoming a world champion - and he will not hesitate to leave Lotus to realise that goal. "I've been here for a little bit and I know the team very well," he says. "On the other hand I want to win races as well, so things are open." PlanetF1.com
Jenson Button says the special pink helmet he will wear at the British Grand Prix this weekend is a tribute to his late father. Sunday has been designated Pink For Papa day as it marks the McLaren driver's first race at Silverstone without his dad John, who passed away in January this year. Daily Mail
Britain's Lewis Hamilton has posted a picture on Twitter of his supporters at Silverstone, adding the hashtags #bestfansintheworld #TeamLH.
THURSDAY, 3 JULY
Britain's Lewis Hamilton believes he has an "edge" over Mercedes team-mate Nico Rosberg in terms of ability and will use that to haul him in as he cannot count on the German failing to finish races. PlanetF1.com
Jenson Button has issued an emphatic response to boss Ron Dennis's criticism by calling on the entire McLaren team to raise their game in a bid to curb the constructor's downward spiral. Daily Mail
Meanwhile Button says he is more focused on ending McLaren's 27-race run without a win - the team's worst drought for 18 years - rather than discussing a new contract. Irish Examiner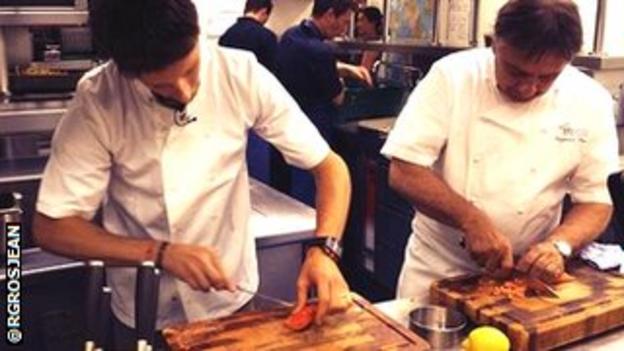 Romain Grosjean takes time out from the track for a cooking lesson from famous French chef Raymond Blanc. Romain Grosjean Twitter
The Caterham F1 team has confirmed that Indonesian racer Rio Haryanto will test drive at the Silverstone circuit on 9 July. Jakarta Post
Red Bull's Daniel Ricciardo says most Formula One drivers are opposed to the new re-start rule. Under new regulations approved by the World Motor Sport Council, standing re-starts following the deployment of a safety car will be implemented from the 2015 season. PlanetF1.com
WEDNESDAY, 2 JULY
The future of the Italian Grand Prix at Monza is in doubt after Formula 1 boss Bernie Ecclestone said on Tuesday that the event was likely to be dropped after 2016. Monza has staged the Italian GP every year since the world championship started in 1950, apart from 1980 when it was held in Imola. Autosport.com
Meanwhile, Ecclestone wants to see big teams run third cars even if it forces some smaller teams out of the sport. ESPN
Daniel Ricciardo admits it is "a shame" his career with Red Bull has started at a time when the team no longer dominate. Independent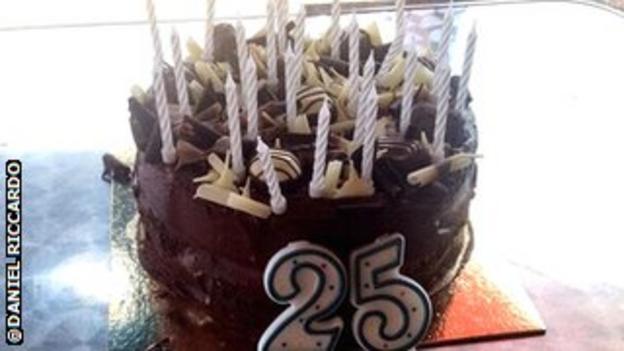 Meanwhile, the Red Bull driver posted a picture on Twitter thanking fans and "fellow Red Bull athletes" for presenting him with a cake for his 25th birthday. Daniel Ricciardo Twitter
Marussia's Max Chilton, 23, the least well-known of the three British drivers at this week's British Grand Prix at Silverstone, is planning an "awesome" weekend to try to raise his profile in the sport. Glasgow Evening Times
TUESDAY, 1 JULY
Team boss Ron Dennis has admitted he would love to have Lewis Hamilton back at McLaren in 2015 if signing him became an option. Sky Sports
The McLaren boss also says there is "no question" the team is making progress following changes made earlier this season. Crash.net
Former world champion and Mercedes non-executive chairman Niki Lauda says "alarm bells" are ringing at the team over the fact its Formula 1 rivals have become more competitive in recent races. Autosport.com
The Caterham Formula 1 team's future is expected to be resolved before the British Grand Prix, as its owner Tony Fernandes closes in on a deal to sell the outfit. Autosport.com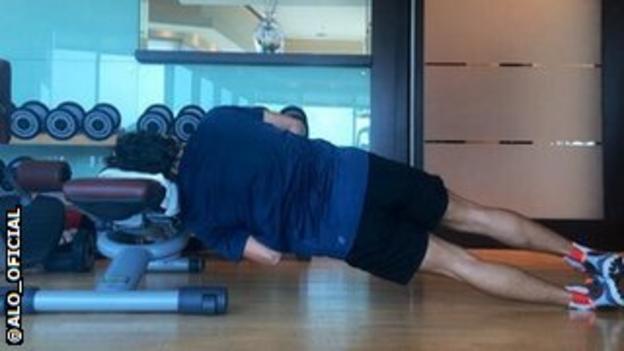 Indonesian Rio Haryanto will drive for the Caterham-Renault team in the post-British Grand Prix test at Silverstone. The current GP2 driver will run on the second day of the test, with Formula Renault 3.5 Series race winner Will Stevens running on day one. Thecheckeredflag.co.uk
Lotus have refused to comment on reports they have reached a deal to be powered by Mercedes engines in 2015. Sky Sports
Singing superstar Jennifer Lopez has joined the line-up of international acts who will be performing over the Singapore Grand Prix weekend in September. Formula1.com
Fernando Alonso tweeted a picture of fellow Spaniard Pedro de la Rosa in the gym. Fernando Alonso Twitter