Lewis Hamilton: British Grand Prix made extra-special by home fans
Last updated on .From the section Formula 1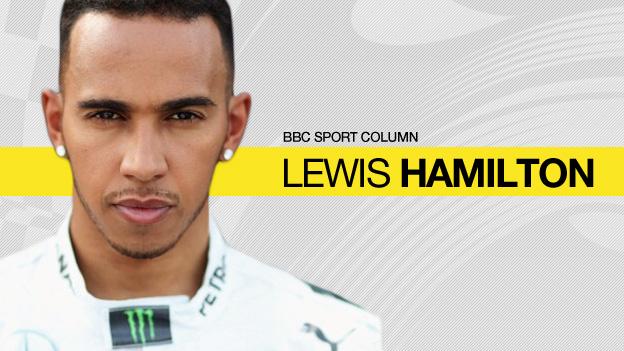 Silverstone is a great circuit. Of course it is my home race, but what really makes it super-special are the fans. We have the most incredible, passionate fans in this country, whether it is football, tennis, Formula 1 or whatever.
I feel a huge amount of support here. Undoubtedly, there are people who don't like you and support someone else - which they're totally entitled to do - but the level of support completely overwhelms any negativity.
There are quite a few races where you see British flags around the circuit, but here it's going to be everywhere this weekend. The atmosphere makes the grand prix and it just spurs you on and inspires you to really do it for the fans, as well as for myself and my family.
Winning here in 2008 was one of the top three highlights of my career, at least. It was definitely the best race I feel I've ever driven, taking into account the circumstances and just how difficult it was in the ever-changing wet conditions.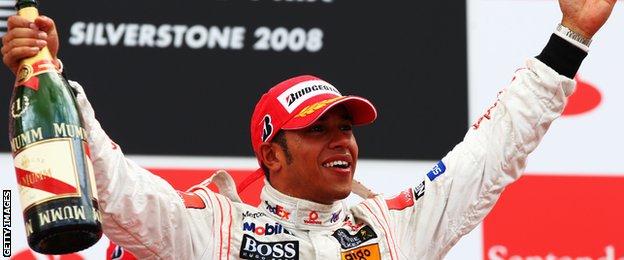 There is nothing better than standing on top of that podium with that gold trophy and the British flag above you and the fans cheering below. It's the closest thing I can imagine to winning an Olympic gold medal.
I always say we win and lose together - that goes for my team but also my fans.
They turn up for the British Grand Prix sometimes on the Wednesday. They have gone out and made banners. They are wearing the cap, they have come prepared - just to send positive energy - and, even when it does not go well, they are still there, saying: "It's OK, next time."
That's what helps me get through some of the darker times. And then the coolest thing is when we are successful they're there and the difference they tell you it makes for them is equal to the difference it makes to you.
Lewis Hamilton's record at Silverstone

2007

3rd

2008

1st

2009

16th

2010

2nd

2011

4th

2012

8th

2013

4th
I'm very proud to come and wear the Union Jack here and it's an incredible feeling coming here knowing I have a car in which I can compete for the victory.
Of course there is a huge amount of pressure, as there is every weekend. But it is better to be looked upon as the hope, rather than not looked upon at all.
I have had a few dodgy races leading up to this one and I hope I can turn that around this weekend.
Sometimes for a boat to change course, it needs that gust of wind to come and push it in that direction. The fans could be that gust of wind I need this weekend.
Last year I did a beautiful lap to take pole at Silverstone and hopefully I can repeat that this year. It's one of those fast, flowing laps you can really attack and I love that.
Even driving into the circuit every morning is a special feeling. You pass a board with pictures of all the British drivers who have been successful here, including a very old, bad picture of me.
You just feel like: "This is it."
For some reason, it reminds me of when I first came to the British Grand Prix, in about 1998.
I was already part of McLaren, I was standing in the back of the garage and I was looking at the two cars thinking: "I know I could do that - I wish I had the chance to take over from him today."
Now I am in that position. I proudly carry the weight of the fans and hope I can live up to their expectations this weekend. I love everything about the British Grand Prix; it's one of the highlights of the year for me.
Lewis Hamilton was talking to BBC Sport's Andrew Benson.