Daniel Ricciardo: 'I've got the better of Vettel this season'
By Lawrence Barretto
BBC Sport
Last updated on .From the section Formula 1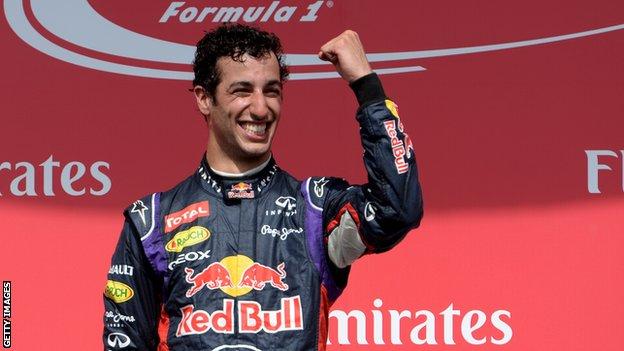 Daniel Ricciardo says he is surprised he has got the better of Red Bull team-mate Sebastian Vettel this season.
The Australian, who was promoted from Toro Rosso this year, has out-qualified the four-time world champion in six of the eight races so far this season.
The 25-year-old is also the best-placed non-Mercedes driver in the championship.
"I've got the better of him both in qualifying and the race, which has been surprising," he said.
Ricciardo is third on the drivers' leaderboard - 23 points ahead of Germany's Vettel - ahead of Sunday's British Grand Prix at Silverstone.
He said: "I came into the season knowing what I had around me and if I could use it all, I could challenge Seb.
"Did I think it would be 6-2 in qualifying and I would be leading him in the championship? Probably not.
"It's been reassuring. I've always believed in my ability but to go out and do it does a lot for your confidence."
Vettel has won the championship for the last four years, but has yet to win a race this season and has had three retirements in the first eight races.
In contrast, Ricciardo has secured the team's only win - in Canada last month - and two other podiums to sit two places higher than the German in the standings.

Mercedes drivers Nico Rosberg and Lewis Hamilton are dominating, with championship leader Rosberg having nearly double the number of points than Ricciardo.
"To get two podiums and a win, I can't complain," said Ricciardo, who was celebrating his 25th birthday at a Red Bull go-karting day in Milton Keynes.
"From the team perspective, we would love to be more competitive, but that's how it is. You can't dominate forever.
"It's a shame I have come in when the team is not dominating but we are still able to get good results so I'm not down."
After the highs of Canada, where Red Bull finished first and third, the next race in Austria proved to be tougher, with Ricciardo trailing home eighth and Vettel retiring with another engine-related issue.
However, Ricciardo has hopes for a better race this weekend at Silverstone, which is just a few miles from Red Bull's Milton Keynes base.
"If we can get our car working as it should, I think Silverstone can be good for us," he said.
"If we can get our stuff together, we can be a solid second-based team (to Mercedes)."
When asked about the introduction of standing re-starts following a safety car period from next season, Ricciardo wasn't keen on the idea.
"I don't like the idea of standing re-starts," he said. "If you're leading by 20 seconds, you lose it when a safety car comes out which is firstly a big disadvantage.
"And then by putting in a standing re-start, anything could happen - not just an accident but a poor start when you drop from first to fourth because you're using tyres which could be very old.
"It's the same for everyone, but it seems harsh on the leader."
British Grand Prix coverage details