Red Bull boss Christian Horner says Renault are trailing rivals
By Lawrence Barretto
BBC Sport
Last updated on .From the section Formula 1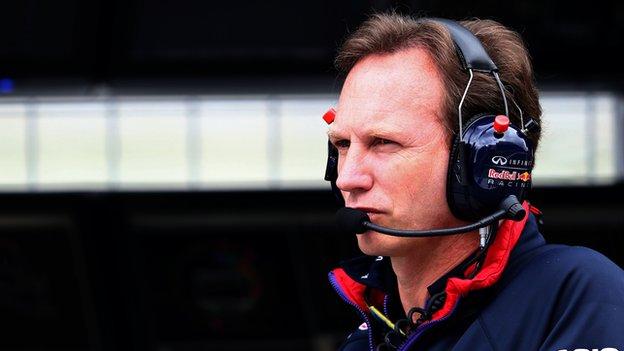 Red Bull boss Christian Horner says engine supplier Renault are still six months behind rivals Mercedes.
Horner described Renault's performance in Austria as "unacceptable" as the world champions suffered their worst result of the season.
"We raised our concerns as far back as the end of 2012 about the direction the Renault project was going," he said.
Daniel Ricciardo finished eighth in Austria, while Sebastian Vettel, the four-time world champion, retired.
"I don't think any of us could have envisaged that Renault would be as far behind as they have been," said Horner. "Renault are just starting to catch up to where Mercedes were six months ago."
Following engine regulation changes this season, Renault's unit has a big performance disadvantage when compared to Mercedes, who have won all but one of the eight races so far.
Not only that, but Williams, Force India and McLaren, who all use Mercedes engines, are getting the better of Red Bull despite having a less competitive chassis.
When asked whether Renault have struggled because they have not focused their engine around one team, like Mercedes, Horner said: "I think that can be an element of it because you're never going to be able to satisfy everybody."
Horner said Red Bull wanted to continue working with Renault beyond 2015, when their contract ends, but have engine options for 2016.
"We always have options and I'm not going to disclose what they are here," said Horner.
"We want to run at the front, we want to be competitive and, in order to be competitive, we have to have a sensible power unit."
Horner dismissed the option of using Mercedes as an engine supplier.
"We want to be a works partner," he said.
"Ferrari and Mercedes have their own works teams so where would you be in the pecking order if you're a customer?"
British Grand Prix coverage details