Susie Wolff: 'Formula 1 could see women drivers again'

By Andrew Benson
Chief F1 writer
Last updated on .From the section Formula 1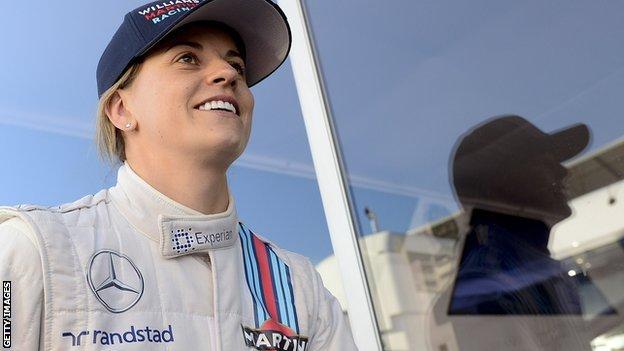 Development driver Susie Wolff says Formula 1 is "close" to the time when a woman will race in a grand prix again.
"I wouldn't be doing it if I didn't think it was possible," the Williams driver told BBC Sport.
The last woman to race in a world championship F1 grand prix was Italian Lella Lombardi in 1976.
"You have to fight hard to get into F1 and be ready when the chance comes but I believe it will happen soon," added Wolff.
Wolff will drive the Williams car of Valtteri Bottas in first practice at Silverstone this weekend and then at the German Grand Prix in two weeks' time.
"I'm a realistic person, but I'm also a person who believes a lot in goals," she said.
"I'm going to give it my absolute best shot and if it doesn't happen I can look back and say I gave it everything I had to make it happen. Fingers crossed that it will happen."
Wolff said her driving in practice at Silverstone would increase the chances of more women taking part in motorsport and getting into F1.
"If there are just a handful of little girls who are there on Friday and see me driving and suddenly realise they could do the same, that is the biggest positive to come out of it," she said.
"It's not a man's world any more. It just needs to be shown that women can compete at that level and then you'll get more and more entering."
Wolff said she had earned her chance to drive in Friday practice after three successful tests with Williams - two at Silverstone, in October 2012 and July last year, and one at Barcelona's Circuit de Catalunya in May.
"What many people don't realise is the first F1 test I was offered by Frank Williams and the team was a one-off," she said.
"It was never planned that I would become part of the team or it would lead to more. But each step, each test went well and it meant the next stage came.
"If I wasn't doing a good enough job out on the track or in the simulator, I wouldn't be in the team any more."
She also rejected criticisms that she was only getting the chance in F1 because of her husband, Toto Wolff, who is the boss of Mercedes motorsport, co-team principal at Mercedes F1 and a 10% shareholder in Williams.
"I am well aware there are always going to be those for you and against you," she said. "But my husband is not in the car changing gear for me. When I leave that pit lane, I'm on my own.
"Nobody says Nico Rosberg is only in F1 because his dad was a famous racing driver who funded his karting career and helped him get into F1.
"It s a bit unfair just to focus on the fact that my husband is in F1 and it's the only reason I'm in an F1 car."
Listen to the full interview with Susie Wolff on 5 live Formula 1 from 20:30 BST on Thursday, 3 July.
British Grand Prix coverage details