McLaren: Jenson Button shrugs off Ron Dennis's 'try harder' claims

By Andrew Benson
Chief F1 writer
Last updated on .From the section Formula 1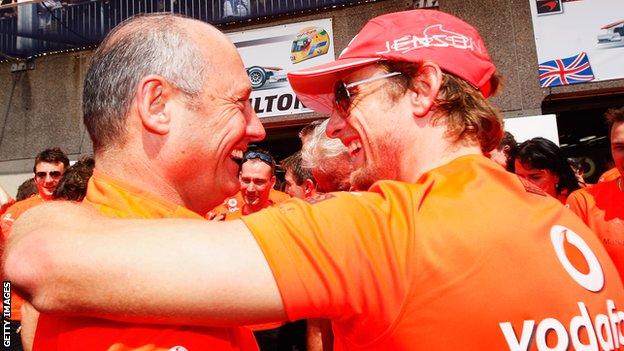 Jenson Button has shrugged off critical comments from McLaren boss Ron Dennis, who said he should "try harder".
McLaren have an uncompetitive car for the second year in succession and are struggling to qualify in the top 10.
Button, speaking ahead of this weekend's British Grand Prix, said: "Ron's practising to be a motivational speaker, maybe.
"I know you have to give 100% in F1 and I always do - at the track, in the factory, everything is 100%."
Button said it was wrong to single out one person for criticism in McLaren's current situation.
The McLaren car is arguably even less competitive than it was last year, given they have an advantage over many of their rivals because they use the dominant Mercedes engine.
McLaren were the slowest of the Mercedes teams in the last race in Austria.
"When we're in the position we have been for 18 months, it's not easy for anyone in the team," said Button.
"We all need to work harder as a team. I don't think we should be pointing our finger at any individual.
"We have got ourselves in this situation and we have to get ourselves out of it. I don't do things in half measures."
Button's contract expires at the end of this season and asked how he saw things developing at the team, he said: "For me, it's about doing the best job I can.
"We're not where we want to be, where we're used to being. But I can't discuss the future right now."
McLaren are interested in two-time champion Fernando Alonso, but he is understood to believe it would be a mistake to leave Ferrari for McLaren, who are starting a new engine supply deal with Honda in 2015.
The Spaniard is contracted to the Italian team until the end of 2016.
The most likely scenario is that Button will stay at McLaren next year alongside current team-mate Kevin Magnussen.
British Grand Prix coverage details