British GP: Sir Stirling Moss remembers first Silverstone race
Last updated on .From the section Formula 1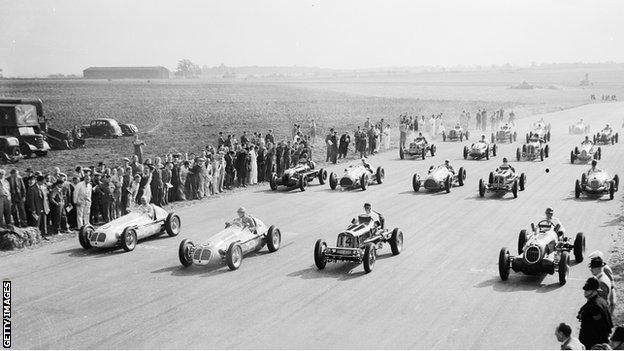 With a Thai prince, a British Lord, a former RAF pilot and an ex-World War Two prisoner of war among those competing on a hotchpotch circuit round a pig farm, the first British Grand Prix at Silverstone may have seemed to a modern-day observer like a real-life version of Wacky Races.
Sunday's grand prix, won by Lewis Hamilton on the 50th edition at the historic circuit - was a world away from the one that took place on a cool October day in 1948, with drivers effectively racing on a runway crudely converted into a circuit by strategically placed hay bales.
But with the country still recovering from a gruelling six-year war that had ended only three-years previously, people were desperate to inject a bit of fun into their lives and, as rudimentary a circuit as Silverstone was then, competitors and spectators alike were enticed by the prospect of high-speed racing.
Among them was an 18-year-old Stirling Moss, who had only taken his first steps in motor racing earlier that year having pulled the money together to purchase a Cooper 500.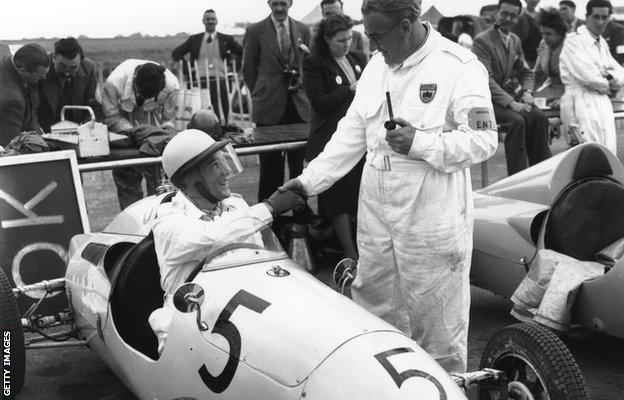 "I was just a teenager at the time, so it was such an exciting experience to be at a circuit like that," he says.
"It was what it was - an aerodrome and the pits, for what they were at the time, were made from corrugated iron.
"It was all rather crude, oil drums cut off perimeter roads to stop us getting lost, but anything we could race on we were grateful for. Still, there was something special about it even then."
Britain had played host to grand prix racing before - in 1926 and 1927 - but those races were held at Brooklands, which had since been utilised as an aircraft depot during World War II and was no longer useable as a circuit.
Consequently, the Royal Automobile Club was left looking for a new venue and their attention turned to the plethora of wartime airfields, with their abandoned runways and taxiways offering the potential to provide cheap and easily modified circuits.
Silverstone, being roughly situated in central England, was chosen and the RAC negotiated a one-year lease with the Air Ministry.
With the venue secured, a farmer who owned crops and a pig farm in the middle of the airfield was asked to create a circuit out of the two runways and surrounding perimeter roads.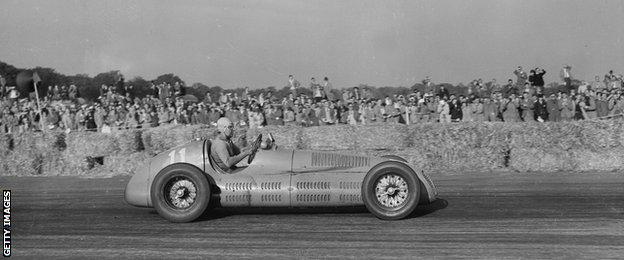 Within two months, the farmland and pig farm in the middle of the airfield was roped off, oil drums and hay bales marked out the circuit, while a cloth barrier was erected at the section where the two runways crossed, effectively creating a moment where racing drivers hurtled towards each other before turning sharply.
"The reason one does racing is because the danger is there, it makes it exciting," adds Moss.
"These days, it can be like fighting a bull without its horns.
"Silverstone back then was a very fast circuit.
"I was racing in the 500cc category but even then you could get to speeds of around 100 miles per hour.
"It was also a very difficult circuit, with really quick corners and long straights which were great for overtaking."
A lap of Silverstone in 1948
From the start, cars would head north towards the right-hand turn Woodcote Corner before the track followed the perimeter road to the sharp right turn Copse Corner onto the main runway.
Cars then headed down the straight before a 130 degree hairpin bend onto the second runway where they again joined the perimeter road, taking in two right turns before travelling along the long straight in front of the aircraft hanger.
Another hairpin took them onto the main runway again, heading towards the section they had previously been on, before a left-hand hairpin took them onto the second part of the second runway. Cars rejoined the perimeter road, turning right at Club Corner before heading north to the start-finish straight.
Much as they do today, spectators camped in neighbouring fields but when it came to the race itself, they could effectively position themselves where they liked.
There were no stands, or even raised embankments, so people would drive their own cars close to the circuit and then line the edge of track with, at most, a few bales of hay separating them from the racing cars.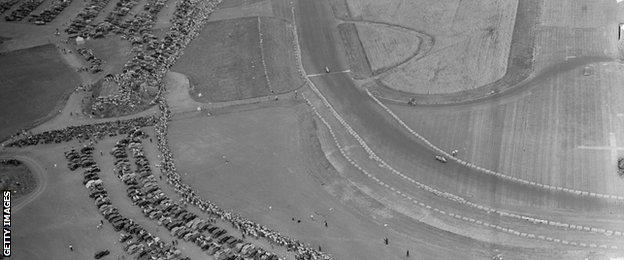 "Even though there were no stands like you see today, there was a really big crowd there which one was not used to seeing at that point, but there was a lot of excitement about it because there were so few places in England you could race like you could at Silverstone," Moss adds.
"Getting in and out was really bad because of the number of people there and after the race was finished you could be a couple of hours getting out.
"There was also a lot media interest, particularly from the newspapers, and going round the circuit it was not uncommon to see photographers in the hay on the corners."
If the number of people who came to watch made the race feel like a real event, it was the personalities, the daredevils, who made it a spectacle.
Among the entrants were Duncan Hamilton, a Royal Air Force pilot during the World War Two, the upcoming Tony Rolt, who had also fought in WW2 and attempted to escape the infamous Colditz prison via a glider, Lord Selsdon and Prince Bira of Siam (now Thailand).
On top of that there were also talented drivers from overseas such as Italian duo Luigi Viloresi and Alberto Ascari. The pair drove state-of-the-art Maseratis and finished first and second in the race respectively.
The cars, meanwhile, were a mixture of the very best of the time, such as the Maserati, and some vehicles that dated back from before World War Two. Given the varying degrees in quality of the cars on the track, it was perhaps of little surprise that more than half of the 25 entrants retired.
"There were so many different cars entered, from homemade specials in the Formula Three to sport cars competing like Jaguars and Aston Martins and the brand new ones that would come over from Italy," says Moss.
"I particularly remember the Maserati 4CLT/48, with its super-charged engine, being very nice.
"All the cars were painted in their national colour with no adverts. The only adverts at the time were on the drivers' overalls.
"Pirelli supplied the tyres and you would consider yourself very lucky if you could get yourself a pair of Pirelli overalls."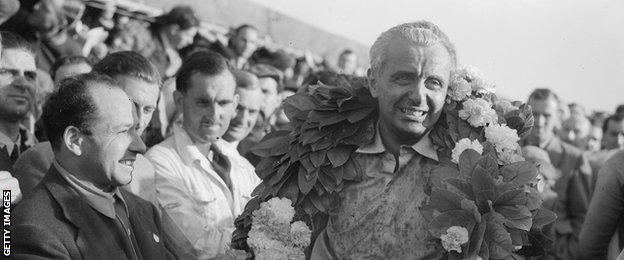 Moss was back at the British Grand Prix in 1950, once again a historic race as it marked the start of the FIA World Championship and was also significant for being the only one at Silverstone attended by a reigning monarch.
"I met King George VI and the current Queen Elizabeth that day, which was awe-inspiring for someone who was just 20 years of age," says Moss.
"We all lined up and they walked down shaking our hands. It was a special occasion."
Moss would never win the British Grand Prix at Silverstone, although he did claim his home race when it was held at Aintree in 1955, and it was not until 1958 before a Briton won there, through Peter Collins.
Since then, the sky above Silverstone has been filled with the sounds of Jim Clark's Lotus 25 roaring to victory in 1963 and Sir Jackie Stewart's Matra Ford six years later.
It was witness to James Hunt's 1977 win for McLaren and Nigel Mansell's hunting down of Williams team-mate Nelson Piquet in 1987.
Lewis Hamilton won six years ago and the 2008 world champion repeated the feat on Sunday to win the 2014 race.
However, while once the fans would have stood around a roped off pig farm, hugging a cup of tea, they now pack out the Paddock Club to feast on fine food.
Where they lined the circuit behind bales of hay, they now fill out the grandstands, Union flags waving.
The venue may have changed beyond recognition from the one Moss first set eyes on all those years ago, but the spirit undoubtedly remains the same.
"Even driving into the circuit every morning is a special feeling," says Hamilton. "You pass a board with pictures of all the British drivers who have been successful here.
"You just feel like: 'This is it.'"