British GP: Ferrari set to retain Alonso & Raikkonen

By Andrew Benson
Chief F1 writer at Silverstone
Last updated on .From the section Formula 1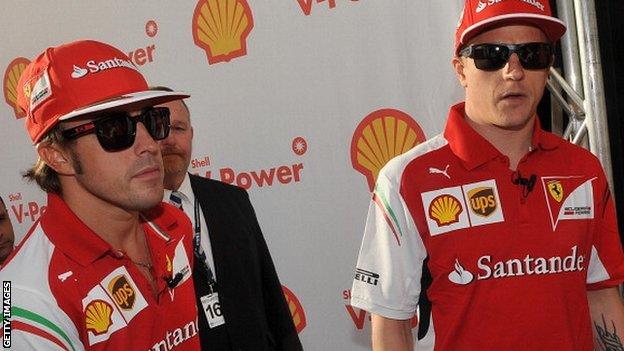 Ferrari will retain their current driver line-up of Fernando Alonso and Kimi Raikkonen next year, according to team boss Marco Mattiacci.
Mattiacci described Alonso and Raikkonen as "by far the best drivers in F1" and "a fantastic combination".
And he rejected rumours either could quit by insisting both would stay on.
Alonso is frustrated by Ferrari's continuing inability to provide him with a car which is competitive enough to fight consistently for race victories and the title, and is a target for McLaren.
And Raikkonen, who joined the team for the second time this season, has been disappointing, struggling to compete with Alonso.
But Mattiacci said: "I have a fantastic couple of drivers and I am very confident they will be with us next year."
He added: "Everybody wants to win more championships and particularly Ferrari. Both Fernando and Kimi are very demanding and I understand their frustration.
"All the team are not satisfied with where we are. We need to give a better car, performing and competitive.
"At the same time their contribution is very much needed. They can make the team more united so they have a big responsibility and they understand that. There is a very good team spirit."
Alonso is contracted to Ferrari until the end of 2016, and at the British Grand Prix this weekend has rowed back on previous comments that he was talking about extending that deal by saying he was "not thinking too much now longer-term".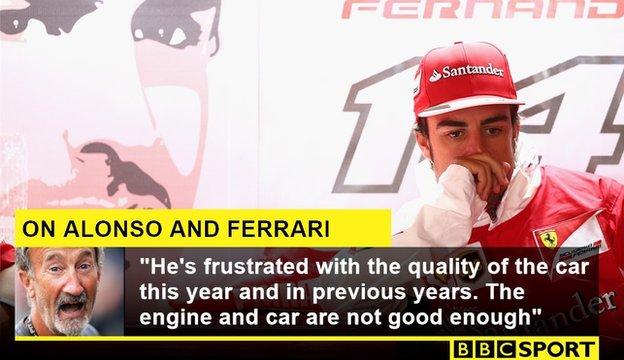 Raikkonen has a two-year deal until the end of 2015 with an option on his side to extend it to 2016.
Ferrari have effectively admitted they cannot compete with Mercedes for this year's title.
But Mattiacci, who was talking in a BBC Sport interview with F1 chief analyst Eddie Jordan to be broadcast on Saturday, said the team would "fight every race" for the remainder of the season.
"Whatever we do this year will be in some way useful for the 2015 car," Mattiacci said. "I want the fans to understand we will go through some tough moments this year but we will come back."
Ferrari have not had an ultimately competitive car since 2008, although Alonso took the title fight to the last race in 2010 and 2012, narrowly missing out to Red Bull's Sebastian Vettel both times.
Mattiacci added: "We are well aware of the issues and issues can be fixed first and foremost from people. I have a very good group of people with whom I want to rebuild this team.
"First you need good people, then to identify the problems. We have done that and we are already working very hard.
"We try to have some discontinuity from a technical point of view, we try some new directions."
British Grand Prix practice results