British GP: Sebastian Vettel tops wet final practice

By Andrew Benson
Chief F1 writer at Silverstone
Last updated on .From the section Formula 1
Red Bull's Sebastian Vettel beat team-mate Daniel Ricciardo to set the pace in a wet practice at the British GP
The world champion was 0.109 seconds quicker than the Australian, who has had the measure of Vettel this year.
Mercedes drivers Lewis Hamilton and Nico Rosberg did not set lap times, but were fastest in the first and second sectors.
Ferrari's Fernando Alonso was another to choose not to set a time in the treacherous conditions.
Lotus' Pastor Maldonado was third, ahead of team-mate Romain Grosjean, Sauber's Adrian Sutil, Toro Rosso's Daniil Kvyat and the McLarens of Kevin Magnussen and Jenson Button.
It was the first time this season that Vettel has set fastest time in any on-track session, in what has been a frustrating season for the four-time world champion.
Vettel has been out-qualified six times in eight races so far and is behind Ricciardo in the championship as he struggles to come to terms with the new generation of turbo hybrid F1 cars following a major regulation change.
The Mercedes drivers looked as if they would have been comfortably able to beat Vettel's time had they done a lap.
Rosberg was fastest in sector one of the lap and Hamilton in the middle sector, and the Englishman was 0.5secs up on Vettel's time at the second split point before pulling into the pits.
Teams did limited running because the amount of rain, and intermediate tyres are limited. Qualifying is likely to be wet, and there is a mixed forecast for the race on Sunday as well.
Mercedes co-team boss Toto Wolff said: "It's not perfect with these conditions but it does not make a lot of sense to run at the moment. You need to save tyres."
Running in the wet also brings greater risks, as was clear by the number of drivers who had incidents.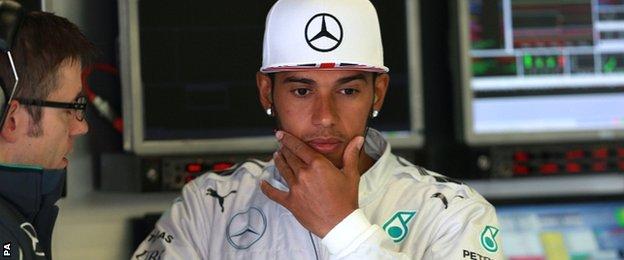 Marussia's Jules Bianchi went straight on into the barriers at the Stowe corner, and Lotus' Romain Grosjean spun out of the last corner, narrowly missing crashing into the pit wall.
Vettel and Hamilton also both ran off the track without damaging their cars.
Williams technical chief Pat Symonds said: "The amount of rain was almost exactly equal to the amount of water the tyres were clearing from the track, and lap times were hovering around the 117-118% mark, which is right on the cusp of the cross-over between the intermediate and wet tyres.
"So it was really difficult to learn anything."
Meanwhile, Force India driver Sergio Perez has run into some controversy after making a joke about Susie Wolff's outing for Williams in Friday practice.
The Mexican told Spain's Antena 3 television station that he would not like to have a woman as a team-mate, adding: "Imagine being beaten by a woman," adding that women were "better to stay in the kitchen".
He later took to his Twitter account to "clarify" that he had "never meant any ill will towards Susie", addressing her directly by saying: "I admire you for being here."
Wolff responded on her own Twitter account, saying: "Saw some comments made by Sergio Perez as I was making dinner in the kitchen last night. Please give him a break.
"His comments were taken completely out of context. Anyway, as my family will tell you, I drive better than I cook!"
The reporter who did the interview, Nira Juanco, described the comments as "a joke, an unfortunate joke, yes, but a joke and taken out of context".
British Grand Prix practice results