Susie Wolff: Sergio Perez apologises over sexist remark
Last updated on .From the section Formula 1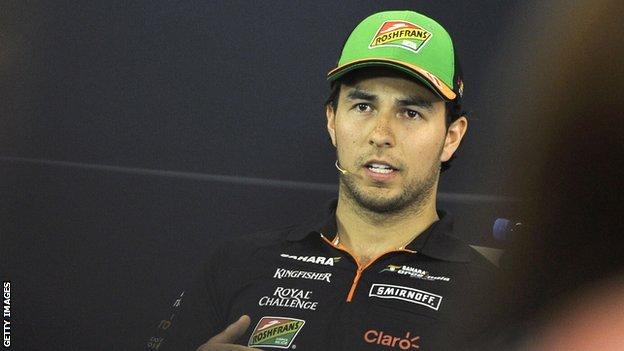 Force India driver Sergio Perez has apologised after making a sexist joke about Susie Wolff's outing for Williams in Friday practice.
The Mexican told Spanish television that he would not like a woman as a team-mate, adding that women were "better to stay in the kitchen".
Perez later apologised for his "unacceptable" remark and said Wolff was a close friend.
Wolff also took to social media, to urge fans to lay off Perez.
Perez was asked by Spanish television station Antena 3 whether he would welcome a female team-mate, in the wake of Wolff's participation in first practice - making the Williams driver the first woman in 22 years to take part in a grand prix weekend.
Perez praised Wolff as a "great driver", but then made the controversial remark, adding: "Imagine being beaten by a woman."
The 24-year-old initially sought to clarify his comment on social media, before issuing an official apology on his website.
"I feel really ashamed by the way my words have been distorted about the opportunity of racing side by side with a woman," he said.
"I want to be absolutely clear that my intention was not to offend anybody, and my comment does not reflect a 'macho' posture on my behalf. I recognise that my comment, even though it was intended as a joke, was absolutely out of place and also unacceptable.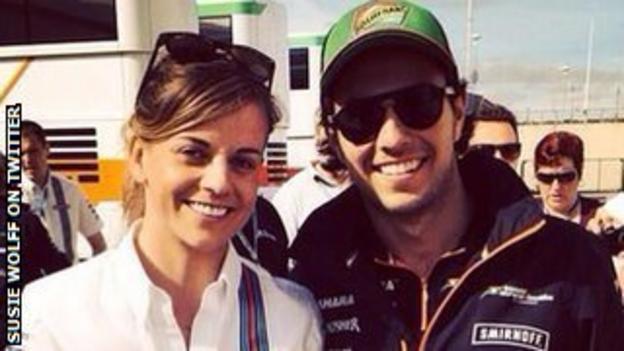 "With Susie Wolff I hold a very close friendship and I admire her greatly for her determination; I wish her the best of luck as a person and as a professional driver."
Wolff responded on her own Twitter account, saying: "Saw some comments made by Sergio Perez as I was making dinner in the kitchen last night. Please give him a break.
"His comments were taken completely out of context. Anyway, as my family will tell you, I drive better than I cook!"
The reporter who did the interview, Nira Juanco, described the comments as "a joke, an unfortunate joke, yes, but a joke and taken out of context".
Wolff's practice run ended after one timed lap because of engine problems with her Williams.