British Grand Prix: Niki Lauda criticises red flag decision
Last updated on .From the section Formula 1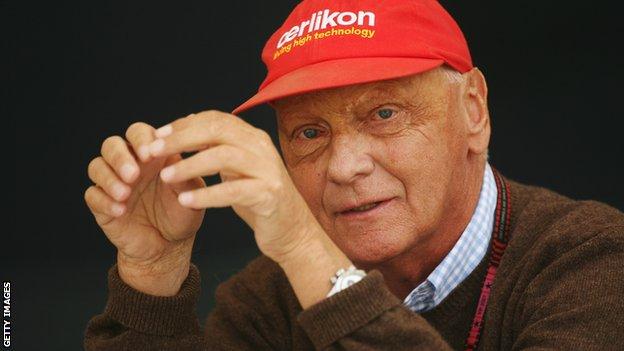 Mercedes team boss Niki Lauda has criticised the decision to red flag the British Grand Prix following Kimi Raikkonen's crash on the first lap.
The race was suspended for one hour while a safety barrier was repaired.
"It's all crazy," Lauda said. "To stop the race for one hour because one of the barriers is damaged is ridiculous."
After the resumption, the race was won by Mercedes' Lewis Hamilton, team-mate Nico Rosberg having retired with a gearbox problem.
The incident occurred when Ferrari driver Raikkonen appeared to lose control of his car and hit the barriers before spinning across the track where he collided with Williams' Felipe Massa.
Both drivers were forced to retire, with Raikkonen taken to the circuit medical centre, but Lauda was critical of the decision to suspend the race.
"Formula 1 is over-regulated," he added. "They are never going to hit [the barrier] again. They take care of every little detail and a lot of people will switch the television off."
The last time a Formula 1 race was red flagged on the first lap was at the 2000 Monaco Grand Prix, where Pedro de la Rosa collided with Jenson Button.