Lewis Hamilton's chance to ruin Nico Rosberg's home race
Last updated on .From the section Formula 1
In stark contrast to the heady thrill of a comeback victory at home in Silverstone, Lewis Hamilton must face Nico Rosberg's vociferous German support at Hockenheim this weekend.
And as if the airhorns and black, red and gold flags of the 120,000 fans packed into the circuit's huge 'stadium section' were not enough to charge the atmosphere for Hamilton's newly married team-mate, last Sunday's World Cup win will be a huge inspiration for the football-mad Rosberg. What a week for the 29-year-old.
Hamilton's fifth victory of the season - and first since the Spanish Grand Prix in May - got his title challenge back on track and he now trails Rosberg, who retired at Silverstone, in the drivers' championship by just four points.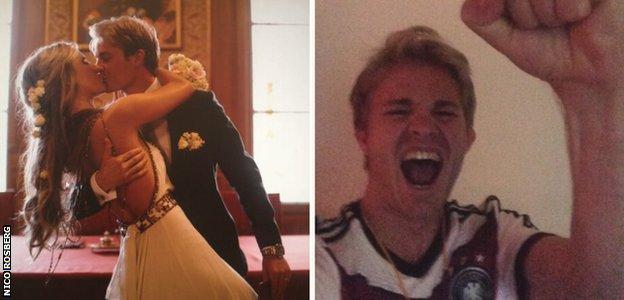 Reasons to watch the German Grand Prix
Mercedes arrive at their home race on the back of eight wins in nine races and with a comfortable lead in the constructors' championship.
The Brackley-based team will be keen to extend that advantage and secure their first home win since Juan Manuel Fangio triumphed in the 1954 German Grand Prix.
Hamilton will have the momentum, following his victory in Britain, while Rosberg will be keen to get back on the podium, having finished in the top two in the first eight races.
Red Bull's Sebastian Vettel targets his second German Grand Prix win, while Susie Wolff will hope her second shot at a drive in first practice lasts more than one timed lap.
Williams' Valtteri Bottas and Felipe Massa will be confident of challenging for a podium place after Bottas finished third in Austria and second at Silverstone, while McLaren will arrived buoyed by their performance in Britain.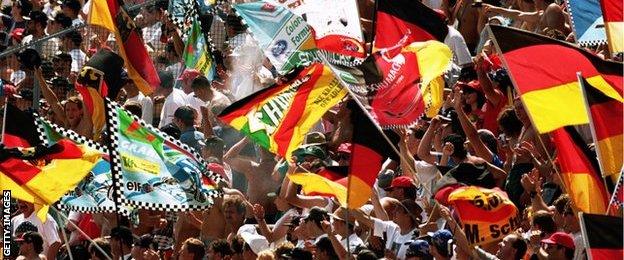 What makes the German Grand Prix different?
Built by Mercedes-Benz in the 1930s as a test track, Hockenheim alternates with Nurburgring as host of the German Grand Prix and is a shadow of its former, classic high-speed self.
In 2002, the circuit, which was famous for its long straights punctuated by slow chicanes, was shortened for safety reasons, with a lap now taking around 73 seconds to complete.
The first part remains fast with two long straights and only two corners but the second features a tight stadium section where high downforce is needed.
Qualifying seems to be important as seven of the last eight winners at Hockenheim have started from the front row of the grid.
The stadium section creates an amphitheatre-like section, with fans - a large proportion supporting Mercedes - flocking to the track to create a spine-tingling atmosphere.
A classic German Grand Prix
Ferrari's Rubens Barrichello will have fond memories of the 2000 German Grand Prix, when he came from 18th on the grid to secure a hugely popular maiden victory.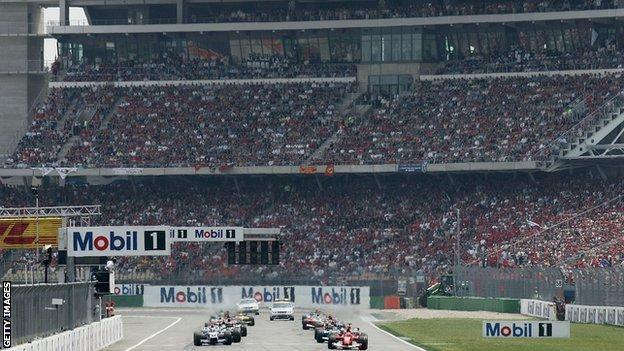 At the start, David Coulthard led from pole position, but there was drama further behind as championship leader Michael Schumacher collided with Giancarlo Fisichella, putting the German out of the race.
Barrichello, however, was having a brilliant race and soon found himself up in fourth place before the safety car was brought out when a protester burst on to the track.
During the stops, Barrichello moved up to third as Coulthard delayed during his pit stop with Mika Hakkinen leading.
Jarno Trulli, running second, drifted out of contention when he was handed a penalty for overtaking while the yellow caution flags were out, promoting Barrichello to second.
But it was when a few spots of rain started to fall that the Brazilian's hopes of victory were boosted.
While Hakkinen pitted for wet-weather tyres, Barrichello gambled by staying out on dry, slick tyres.
Half the track was wet, allowing Hakkinen to catch up, but then the Brazilian would pull away in the second half, which was much drier.
Barrichello clung on to take victory at the 123rd attempt, bursting into tears on the podium as he celebrated a stunning drive.
He wasn't the only one feeling tired and emotional, as most of the spectators that day were still distraught having seen their national football team knocked out of Euro 2000 at the group stage, losing to England in the process.
How times have changed.