British GP: Kimi Raikkonen 'OK' after 150mph crash

By Andrew Benson
Chief F1 writer at Silverstone
Last updated on .From the section Formula 1
Ferrari's Kimi Raikkonen suffered only bruising to his legs in a 150mph crash at the British Grand Prix.
But the team do not know whether he will be fit to drive as planned in this week's test at Silverstone.
The Finn sustained an impact of 47G in the crash - 47 times the force of gravity - when he lost control of his car as he rejoined the track after running wide on the first lap.
"Kimi is OK. There is no major issue," said team boss Marco Mattiacci.
"We checked several times and we will take a decision about the test and what to do."
Raikkonen, the 2007 world champion, was taken to the medical centre after hobbling away from his car with help from marshals after the crash, which stopped the race temporarily.
The incident also took out the Williams of Felipe Massa, who clipped the Ferrari as he took avoiding action when Raikkonen speared back across the track.
"Kimi crashed and he was coming into me, so I turned right and he hit me," said Massa. "It is a weekend to forget."
Marussia's Max Chilton said he was "lucky to be here" after failing to avoid the debris.
"I saw this alloy fly across and it broke the front left brake duct," said the Briton, who went on to finish 16th.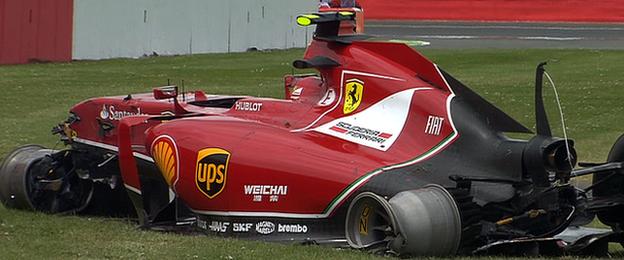 Chilton was given a stop-go penalty for entering the pits too early after the race was red-flagged but claimed: "I did not know the rule."
If Raikkonen cannot take part in testing this week, Ferrari could ask development driver Pedro De La Rosa to run both days.
Alternatively, Fernando Alonso, world champion in 2005 and 2006, could be drafted in.
The Spaniard fought up from 16th on the grid to finish sixth at Silverstone, losing out on fifth place after a 13-lap wheel-to-wheel battle with Red Bull's Sebastian Vettel.
Both complained about each other's driving, but race officials considered their duel to be fair.
Alonso, who had aerodynamic and energy recovery issues with his car, did not want to elaborate on his unhappiness with Vettel.
"If I do, you will say there were a lot of complaints on my side that Vettel overtook me using the outside of the track and I don't want that," he said.
It is forbidden under F1 regulations for a driver to gain advantage by going outside the track limits.
Vettel, who started second and finished fifth, said he was not happy with some of the moves Alonso used to defend his position.
"Twice I thought it was too much into Turn Six," said the four-time champion. "I tried to move around the outside. I was slightly in front.
"I knew he would do everything to stay ahead, but my nose was in front and in that case I dictate the corner radius and he has to adapt, but twice he didn't.
"I went on the brakes and went out of the corner to avoid a collision.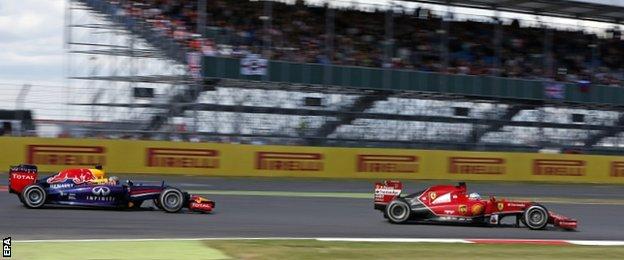 "When you race Fernando, you know it's tough. You know he doesn't give you much room, but in the end I made it through.
"I got the call about respecting track limits. I knew he was complaining in front and then I started to do the same thing."