Lewis Hamilton: British Grand Prix win triggers 'attack mode'

By Andrew Benson
Chief F1 writer at Silverstone
Last updated on .From the section Formula 1
Lewis Hamilton said he would go into "attack mode" in his title battle with team-mate Nico Rosberg after victory in the British Grand Prix.
The Briton closed the gap between the Mercedes drivers from 29 to four points as Rosberg retired for the first time this year.
"The pressure is high but I really feel that now we're back," said Hamilton.
"We'll draw a line under the last nine races and it's attack mode. Start again using my pace and the car's pace."
Hamilton won his home race despite starting sixth on the grid following a mistake in qualifying.
He had aborted his final lap in drizzling rain and fell from pole position as five drivers, including Rosberg, beat his time.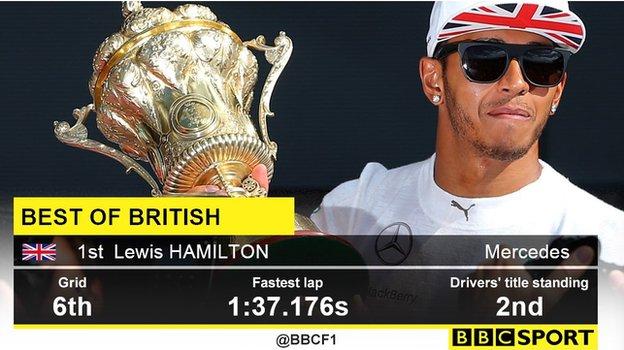 But Hamilton made amends at the start of Sunday's race, moving quickly up the field to second behind Rosberg.
The German's retirement then robbed Hamilton and the fans of another exciting battle for victory.
Up to 120,000 fans saw Hamilton win at Silverstone for the first time since 2008 - a year in which he went on to secure the drivers' title.
"I'll take it as it has come," said Hamilton. "I think today is more just solidifying belief in myself."
Two retirements had left Hamilton trailing Rosberg in the championship.
Hamilton failed to finish the season-opening Australian Grand Prix, which Rosberg won, and then dropped out in Canada as Rosberg finished second to Red Bull's Daniel Ricciardo.
Hamilton said he had spoken to his parents and brother following his disappointing qualifying campaign at Silverstone.
"When you feel like the world is crumbling beneath you, your family and friends help pull you through - and the fans," Hamilton said.
"I was just so disappointed in myself. I really had to pick up, pull my socks up and get on with it."
Hamilton said he believed he could have caught Rosberg even if the German had not suffered his gearbox failure.
But Rosberg felt he was "very much in control".
"The first problems happened after the pit stop and then it just got worse from there," he said.
"I was very much in control until then, which is why it is all the more disappointing."
Asked how he felt about his championship advantage being cut, Rosberg said: "It's disappointing to lose all those points, but it is my home race coming up now and I need to start looking towards that."
The German Grand Prix takes place at Hockenheim on 20 July.
British Grand Prix coverage details