David Coulthard column: Two sides of enigma Lewis Hamilton

By David Coulthard
BBC F1 co-commentator and former F1 driver
Last updated on .From the section Formula 1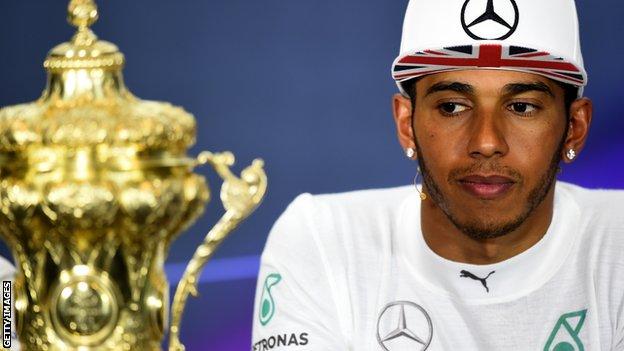 Lewis Hamilton is something of an enigma - sometimes, what you get is someone who appears to be completely lost in his own thoughts, as we saw after his mistake in qualifying at the British Grand Prix.
But then he came back to the circuit on Sunday morning and he was in a completely different place.
He was out on the pre-race driver parade, jumping off the bus, high-fiving the crowd, acting like a professional sportsman.
That means recognising the public, thanking them for their support, going the extra mile.
He had reflected on the mistakes of the previous day, slept on it, and decided he was going to go out there and do his absolute best.
I got a real sense after Hamilton's victory on Sunday that the fans - in a manner similar to the relationship between the Silverstone fans and Nigel Mansell in the past - genuinely inspired him to stop feeling sorry for himself and made him realise who he is, what he has to do and what he should be thankful for.
He had reinvented himself overnight and after that display in the race, there is no question in my mind that whatever strategy Hamilton was on, in like-for-like racing, he was going to beat his team-mate Nico Rosberg.
That's the two sides of Hamilton. On the one hand you fear for him; on the other you marvel at his professionalism.
And with Hamilton, you just know, in the same way as you do with Fernando Alonso, that he is going to drive the car as quickly as it can go.
It is hard as a racing driver when you expect a qualifying session to go one way and then for whatever reason it doesn't.
| Most Grand Prix wins by British drivers | | |
| --- | --- | --- |
| | Season | Wins |
| Nigel Mansell | 1980-1992, 1994-1995 | 31 |
| Jackie Stewart | 1965-1973 | 27 |
| Lewis Hamilton | 2007-Present | 27 |
| Jim Clark | 1960-1968 | 25 |
| Damon Hill | 1992-1999 | 22 |
| Stirling Moss | 1950-1962 | 16 |
| Jenson Button | 2000-present | 15 |
| Graham Hill | 1958-1975 | 14 |
| David Coulthard | 1994-2008 | 13 |
| James Hunt | 1973-1979 | 10 |
It is, at the end of the day, only a sport, but there are times when it's easy to identify more with Bill Shankly's famous saying, that football wasn't a matter of life and death, it was more important than that.
But you've got to go away, put it behind you and get on with it.
That's what Hamilton did. It was a great display from Lewis on Sunday, and it clearly meant a lot to him.
I was conducting the podium interviews at Silverstone and for the first time ever the famous old gold trophy was not presented.
We got down from the podium and went behind the scenes, ready for the drivers to go off for the official news conference and other media, when Lewis saw the trophy and said: "I want to go back out there with it."
There was a bit of discussion with officials about whether he was allowed to, or whether there was time. But in the end, Lewis said: "I want a photograph with this trophy."
That was a really sincere moment.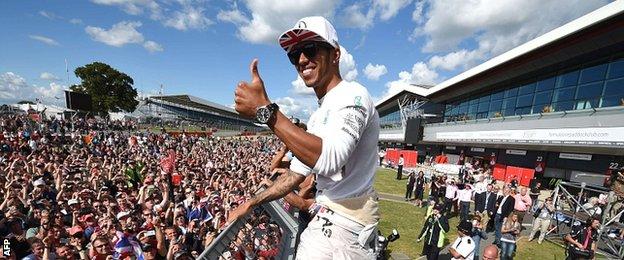 It's all too easy to think modern sport is all about the money or the status.
But nothing was more important to Lewis at that moment than getting the gold trophy, engraved with the names of all those drivers he has admired in the past and holding it up to the crowd on the top of the Silverstone podium.
When Hamilton is at sea - such as when he got pole in Korea in 2011 and didn't smile because he'd split up with his girlfriend - you fear for him.
But after a performance like that on Sunday, the only conclusion is that he is a true sporting icon.
Partly because until Silverstone Hamilton had retired twice and Rosberg had finished every race. It has been a rollercoaster season for Hamilton already, and we have only had nine races.
As his father said in his BBC interview afterwards, Hamilton wears his heart on the sleeve.
Because he is so raw in the way he shows his emotions, it is inevitable to wonder, as I have written in this column before, whether that will be a factor in what makes him a great sportsman, or what ultimately means he comes up short in what might otherwise have been a more fulfilling career.
It is too early to answer that question. But what is interesting about this year is that, his reaction on Saturday at Silverstone notwithstanding, we are in general seeing a much more mature, settled, stable individual.
At the circuits this year, Hamilton is more stripped bare than before.
He has no entourage. His girlfriend Nicole Scherzinger is not making appearances in the way she has in the past. For Hamilton, it is about getting on with the job, just as he did at Silverstone on Sunday.
If I was Rosberg right now, I would be more worried by the way Hamilton handled his comeback from the disappointment of qualifying, and his pace in the race, than I would be about the fact that my championship lead had been more or less wiped out by a gearbox failure.
That means Hamilton is on form, and when he's on form, he's very difficult for anyone to beat.
David Coulthard was talking to BBC Sport's Andrew Benson.