Fernando Alonso-Sebastian Vettel duel was F1 at its best - McNish

By Allan McNish
BBC F1 analyst
Last updated on .From the section Formula 1
The battle between Fernando Alonso and Sebastian Vettel during the British Grand Prix was some of the best racing you will ever see.
It was a fantastic scrap, not just because it was wheel-to-wheel racing for 14 laps, but because it was two world champions having to really work for their living.
Alonso, clearly in a slower car, had to defend in every way he knew how, at the same time as trying to nurse his tyres - which were 10 laps older than Vettel's - to the end.
Vettel, meanwhile, was slower on the straights so had to create a situation in which he was close enough to overtake.
The duel started with Alonso passing Vettel around the outside of Copse after the German had rejoined ahead of the Ferrari following his second pit stop.
It was probably the bravest move I have seen since Mark Webber passed Alonso at Eau Rouge in the 2011 Belgian Grand Prix.
World Championship standings

Nico Rosberg

Mercedes

165

Lewis Hamilton

Mercedes

161

Daniel Ricciardo

Red Bull

98

Fernando Alonso

Ferrari

87

Valtteri Bottas

Williams

73

After 2014 British Grand Prix
Copse is a 180mph corner. Even on your own, it's something else. It's a blind, adverse camber right-hander where the wind affects the car a lot.
Trying to get it right on any lap is difficult. It requires massive commitment.
Then think about going around the outside of someone who clearly does not want to be passed. Vettel kept his nose in right to the last minute, until they had actually turned into the corner.
Yet Alonso kept his foot down, still made the apex and kept the car from running wide on the exit.
That was huge commitment. That move showed a determination that said: "I don't care who you are, or what's happening, I'm coming past."
I was surprised he was able to pull it off, and by how hard Vettel made him work for it.
It was typical of Alonso in that, after the disappointment of qualifying 19th, he was going to drag the Ferrari into a decent position whatever it took.
It was an example of what makes him still probably the best driver in the world, all things considered.
The battle ended with another good move, also at Copse, this time by Vettel on Alonso but on the inside rather than the outside.
The way Vettel finally got past was a carbon copy of what he had done to McLaren's Kevin Magnussen earlier in the race.
Alonso went a little bit wide in Luffield to try to maximise his acceleration by straightening his exit; Vettel stuck his nose on the inside by accelerating a little, where normally you wait.
That surprised Alonso, who squeezed him in, but Vettel kept the throttle in, and gave the Red Bull enough momentum coming out that Vettel was able to hang on and get alongside into Copse.
On the way down the straight, Vettel leaned into Alonso and the Spaniard leaned back. It was intimidation on both sides, but both had enough sense, experience and talent to back out of it when the time was right to do so.
It was a brilliant piece of racing by both, especially after they'd complained on the radio about each other.
Handbags at dawn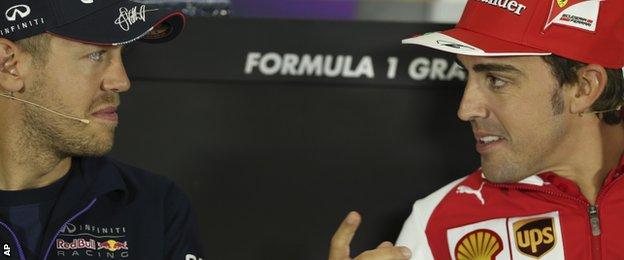 Those radio communications, with each complaining the other was exceeding the track limits illegally and Vettel claiming Alonso's defence was beyond the limits, were handbags at dawn.
Alonso was making sure Vettel knew who was boss after that first move through Copse, and he was certainly not going to make life easy for the reigning champion.
Let's start with the issue of track limits. The rules are clear. The drivers were told at the briefing on Friday that if they ran wide at Copse and Club corners in qualifying, their time from that lap would be disallowed - which happened to Jenson Button.
But in the race, there was a little more latitude.
Alonso was arguing that Vettel was gaining an advantage by running all four wheels off the track, to get him close to the Ferrari going into the zones where the DRS overtaking aid can be used.
He wasn't complaining Vettel was using DRS in the wrong places; he was saying he was breaking the rules on track limits to get him within that crucial one-second DRS activation zone.
Head-to-head

Sebastian Vettel
Fernando Alonso
Age

27

32

Team

Red Bull

Ferrari

Grand Prix debut

2007 United States

2001 Australia

Career wins

39

32

Careers poles

45

22

World titles

4; 2010, 2011, 2012, 2013

2; 2005, 2006
Meanwhile, Vettel said Alonso was running wide to enable him to keep a gap.
Their remarks were aimed at race director Charlie Whiting, in the hope he would intervene and help them in their battle. It is part of the game.
They were both doing exactly the same thing. Both were playing the big picture, and the fastest car won the battle.
The stewards decided to be lenient, and I think that was the right call because it allowed the racing to continue.
Vettel's complaints about Alonso's tactics in defence were baseless. Alonso did nothing wrong. He gave Vettel just enough room, but no more than he needed to.
There was one incident that was a bit tight - the second time Vettel tried to pass on the outside into Brooklands. But although Vettel got three-quarters of the way ahead, by the time they got to the exit it had switched around, Alonso was three-quarters of the way in front himself because he had the shorter line.
Both of them love to race, and they loved that duel. Vettel was obviously happier with the result, but Alonso was very gracious in defeat.
They were right on the limit, but they gave each other just enough room to get the job done. It required a lot of mutual respect so they did not crash, but they gave it.
It's no accident they have six world titles between them. Both have the brain capacity to defend and to attack, to maximise their car, think about the fuel economy and tyre strategy and so on, and still drive on the limit.
However you look at it, it was fantastic - F1 at its best.
A step forward at Williams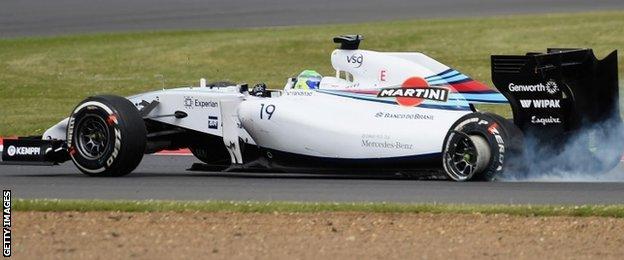 Williams had a really mixed weekend. They had a shocker in qualifying, missing the dry window in the first session and getting knocked out, along with Ferrari. But they made amends in the race.
At the previous race in Austria, they were criticised, including by me, for being too conservative and not going for a win that might have been possible if they had taken a few more risks.
But with the drivers starting towards the back of the grid in Silverstone, they had no choice but to attack, and it worked brilliantly.
Felipe Massa was taken out in Kimi Raikkonen's crash on the first lap, but Valtteri Bottas drove superbly to climb from 14th at the start to finish second.
His race reminded me of his performance at the first grand prix of the season in Australia, where he could have finished second had he not broken a wheel against a wall, but still fought back to fifth.
Bottas was fast and aggressive and made some really strong overtaking moves around the outside of people into Stowe.
And the team's strategy got him on the front foot rather than on the back foot, as they were in Austria.
It's a mentality, and it dragged Bottas forward to the best result of his career. That is a big step forward for Williams.
Now, they believe they can do it. In Austria, I don't think they believed they could.
At Silverstone, they threw caution to the wind, and looked a lot more like the Williams of old - the go-getters, the hungry, the fighters, people who just do not give up until the chequered flag drops.
I think we will see Williams on the attack now. Just watch them next time out in Hockenheim, because that car will be very good at that track.
My driver of the race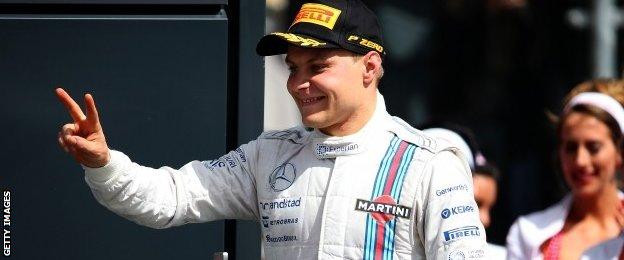 There are three contenders for driver of the race. For the racing, it was Alonso and Vettel.
Lewis Hamilton deserves a mention for coming back from his disappointment in qualifying and taking the first win at Silverstone from outside the top five on the grid since 1975.
But my dad told me when I was a wee boy that it's not the good shots that make the good golfers; it's the good recoveries. And for that reason, it has to be Bottas.
Allan McNish was talking to BBC Sport's Andrew Benson