Formula 1 gossip and rumours from international media
Last updated on .From the section Formula 1
SATURDAY, 26 JULY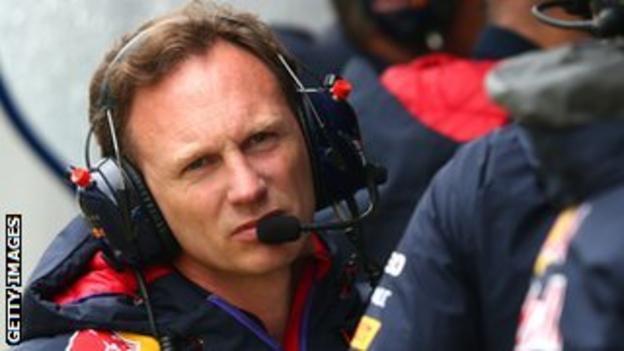 Red Bull team boss Christian Horner has expressed his anger at F1 focusing on "the negatives" within the sport and not helping promote itself. He targeted recent criticism of a poor turnout at Hockenheim and political concerns over the Grand Prix in Russia and the choice of Azerbaijan for a Grand Prix in 2016. Crash.net
But F1 will head to Russia in October after team bosses ruled out a boycott despite the concerns over the crash of Malaysian Airlines flight MH17 in Ukraine, which killed all 298 people on board. PlanetF1
Chairman of Mercedes parent company Daimler, Dieter Zetsche, has pointed the finger at F1 boss Bernie Ecclestone's poor marketing as the reason for the poor turnout at Hockenheim. Inautonews
Lewis Hamilton has shrugged off speculation that German Sebastian Vettel could take his seat with Mercedes for the 2016 season. Sky Sports
Vettel and Red Bull team-mate Daniel Ricciardo go from Hungaroring to Mickey Mouse in a game of word association.Red Bull website
Doubts are being cast over the Lotus future of Frenchman Romain Grosjean with McLaren a possible destination in 2015. F1 Today
THURSDAY, 24 JULY
Lewis Hamilton says he "can't focus more or work harder" as he tries to close the 14-point gap to Mercedes team-mate Nico Rosberg in the drivers' standings. Mercedes
Mercedes co-team boss Toto Wolff does not think Rosberg or Hamilton will care if they win the title because of the controversial final race double points rule, but insists he still does not think the format is fair. ESPN F1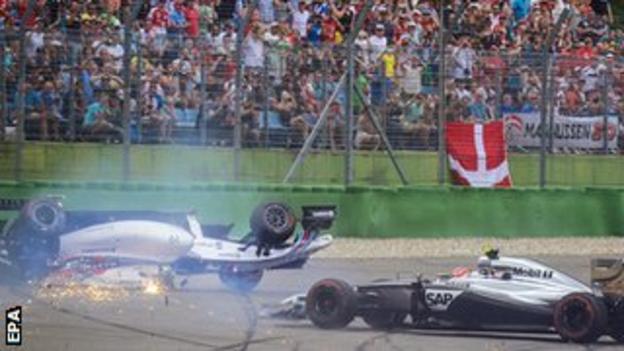 The stewards investigated Williams' Felipe Massa after his first-lap crash at the German Grand Prix with rookie Kevin Magnussen, but not the 21-year-old Dane, despite Massa blaming the McLaren driver for the incident.Daily Telegraph
Reigning world champions Red Bull say there is no point stopping development of this year's Formula 1 car in favour of focusing on their 2015 design because what they learn this year will be relevant for next season.Autosport
Williams' hopes of catching Red Bull in the Formula 1 constructors' championship will be boosted by a big update package coming for this weekend's Hungarian Grand Prix.Autosport
One of the Hungaroring's two DRS zones has been shortened for Sunday's race in Hungary.F1 Fanatic
WEDNESDAY, 23 JULY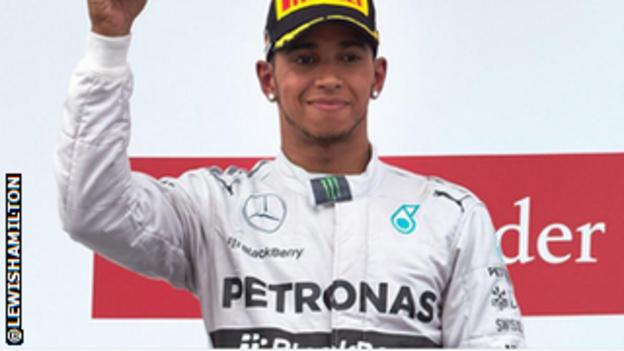 Senior politicians have urged Formula 1 chief Bernie Ecclestone to cancel October's Russian Grand Prix in light of the MH17 air disaster in eastern Ukraine. Daily Telegraph
Ecclestone has signed a reported five-year deal to host a Grand Prix in Mexico at the Hermanos Rodriguez circuit, starting from next season. Adam Cooper F1
Mercedes chief executive Toto Wolff suffered a fractured shoulder, collar bone, elbow and wrist in a cycling accident on Tuesday.Sky Sports
Renault is considering adopting the Mercedes split concept on its turbo, as it makes plans to overhaul its current F1 engine for next season.Autosport
Lotus say driver Romain Grosjean is in their plans for next season, even though they were unable to confirm his seat for 2015 when team-mate Pastor Maldonado was announced last weekend.Formula 1
Ferrari boss Marco Mattiacci has backed Kimi Raikkonen, despite the driver's poor form in 2014.ESPN
TUESDAY, 22 JULY
Mercedes have opened talks with Lewis Hamilton about extending the Briton's deal at the team. The 29-year-old is currently 18 months into his current three-year contract. Daily Mail
Meanwhile, Mercedes feel Hamilton could have finished second instead of third at the German Grand Prix at Hockenheim if he had not damaged his front wing during a collision with former McLaren team-mate Jenson Button. Autosport
Mechanical problems have tested Hamilton this season, but he is hoping for a "clean weekend" in the next Grand Prix in Hungary before the summer break. Independent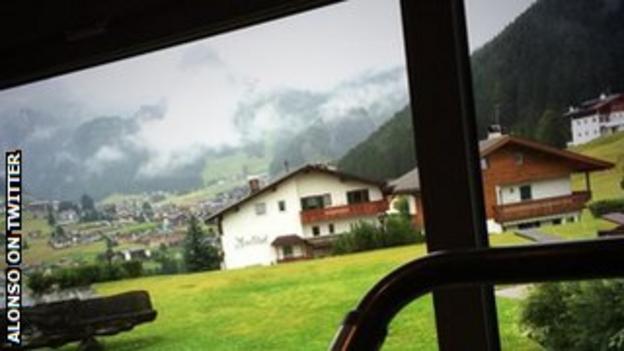 Ferrari driver Fernando Alonso has posted a picture from his training base in Italy and tweeted: "Training days + mental rest in the Italian Alps."
Williams driver Felipe Massa has urged Formula 1's young drivers to calm down following his crash with McLaren's Kevin Magnussen at the German Grand Prix. ESPN
"Germany has a Formula 1 problem" declares one newspaper as attendances for the weekend's Grand Prix at Hockenheim were low compared to past races and the recent British GP at Silverstone. Daily Telegraph
MONDAY, 21 JULY
Nico Rosberg tweeted after winning the German Grand Prix: "What a week!! I got married, Germany won, I signed a new contract with Mercedes AND I just won my home GP."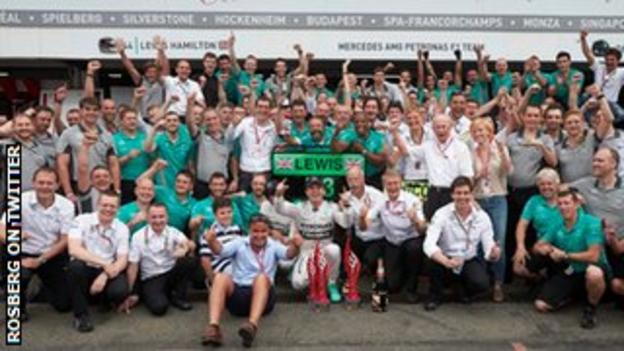 Ferrari and Red Bull considered protesting after Mercedes changed their brake disc supplier following qualifying at the German Grand Prix. Autosport
Deputy team principal Claire Williams believes third-placed Williams can catch Red Bull, in second, in the constructors' standings. Formula1.com
Ferrari driver Fernando Alonso says the team need to improve to be more competitive - and praised Red Bull driver Daniel Ricciardo following their closely-fought duel at Hockenheim. ESPN
SUNDAY, 20 JULY
Jenson Button admitted in a tweet that he may have over-reacted to Lewis Hamilton's over-taking move in the German Grand Prix, which saw the two Britons collide, and praised the excitement provided at Hockenheim.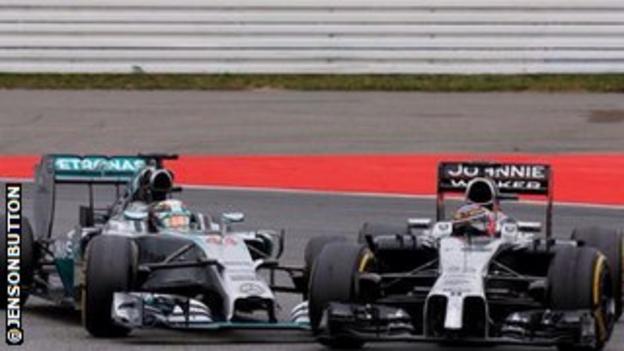 Red Bull chief Christian Horner expressed his surprise that Mercedes were allowed to start on the grid in the German Grand Prix after Lewis Hamilton's crash in qualifying prompted a change of brake discs. Autosport
Williams should have made more of Susie Wolff's practice sessions at Hockenheim, according to three-time world champion and Mercedes non-executive chairman Niki Lauda. F1Today
Formula 1's majority shareholder - private equity firm CVC - could be forced to sell its shareholding next year, meaning a new owner for the sport. Daily Telegraph
THURSDAY, 17 JULY
Mercedes are bracing themselves for some more difficult times in trying to manage Lewis Hamilton and Nico Rosberg now that there is little separating them in the Formula 1 title battle. "They will fight to the end like you would not believe to be world champion - and I will have a hard time," non-executive chairman Niki Lauda said. Autosport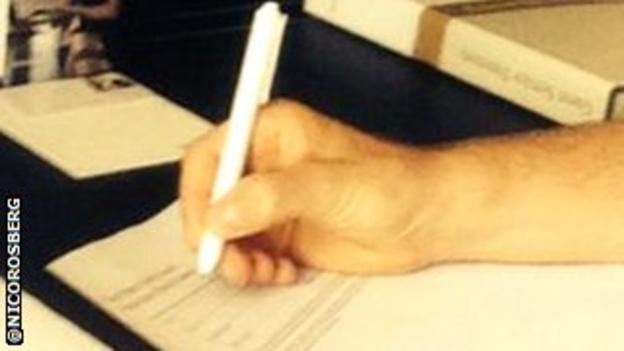 Despite conceding that McLaren will not win a race this season unless Mercedes falter, Jenson Button says his team are still pushing hard. "There is a lot going into this year to see improvements to ensure we start next year strong," he said. PlanetF1
The road-safety lobby is preparing a public-relations offensive against F1 over its links with the alcohol industry, having successfully thwarted FIA president Jean Todt's ambitions of a job at the United Nations.Daily Telegraph
Kimi Raikkonen will be fit for this weekend's German Grand Prix. After bruising his ankle and knee with a 47G impact at the start of the British GP, the Finn sat out Ferrari's post-race Silverstone test but Finnish broadcaster MTV3 said the 34-year-old is fighting fit for Hockenheim. InAutoNews
World Championship leader Nico Rosberg posts a picture of himself signing his new contract with the team and writes on Twitter: "What a week!! I got married, Germany won [the World Cup] and I signed a new contract with Mercedes! Just need to win my home GP now."
WEDNESDAY, 16 JULY
Ferrari's Fernando Alonso says he has "a good feeling" about Sunday's Grand Prix in Germany. He tweeted: "The last two times we had the race in Hockenheim, two victories. This weekend should be a bit more difficult but still, I have a good feeling."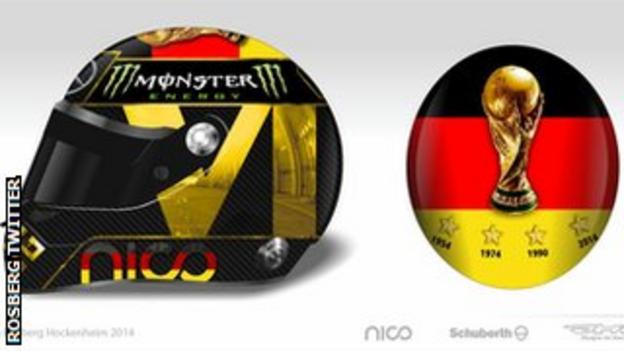 Boss Toto Wolff has played down a spat between Mercedes' race drivers over championship leader Nico Rosberg's nationality, after Lewis Hamilton remarked that the German Grand Prix is "not really Rosberg's home race". Inautonews
Meanwhile, Hamilton says he is in "a happy space" going in to the German Grand Prix and the second half of the season. Telegraphindia
Red Bull's reigning F1 world champion Sebastian Vettel has admitted Mercedes can win every remaining race in 2014. Grandprix
F1 teams are not expected to reach an agreement on FRIC (Front and Rear Interconnected) suspension systems ahead of the German Grand Prix.ESPN
TUESDAY, 15 JULY
McLaren racing director Eric Boullier says the team's recent mini-revival has shown that there's no need for them to attempt a more radical overhaul of their car. Sky Sports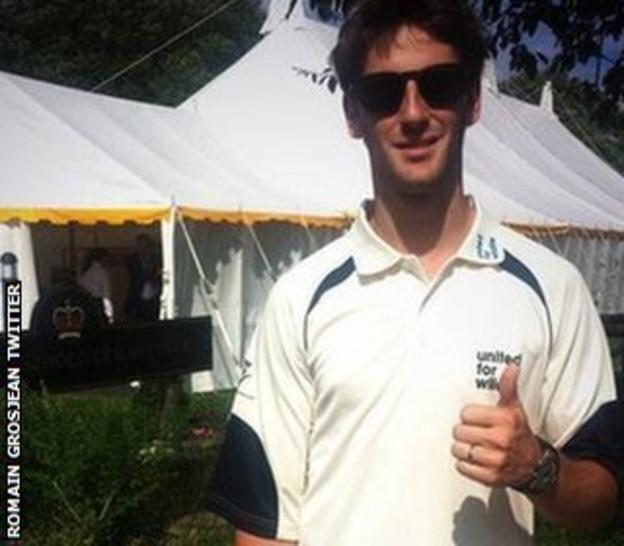 McLaren has become the first Formula 1 team to confirm intentions to remove its FRIC suspension system for this weekend's German Grand Prix at Hockenheim. Autosport
Force India's chief operating officer, Otmar Szafnauer, says there is "zero" chance of Formula 1 teams coming to a unanimous agreement to continue running FRIC suspension systems in 2014. Sky Sports
Daniel Ricciardo doesn't think Hockenheim, the venue for this weekend's Grand Prix in Germany, "asks particularly big questions of the driver". Formula 1
Sauber has been faced with "additional work we didn't need" as a result of Giedo van der Garde's crash in testing at Silverstone. Crash
Governing body the FIA insists titanium is being fitted underneath next year's cars primarily for safety reasons, not solely to create sparks. Grand Prix